News
4th FAI World Cup of Indoor Skydiving Recap
Singapore displayed indomitable skill, winning every category its flyers entered, and the U.S. had a spectacular showing in FS and VFS. Teams from the Czech Republic and Switzerland also won titles.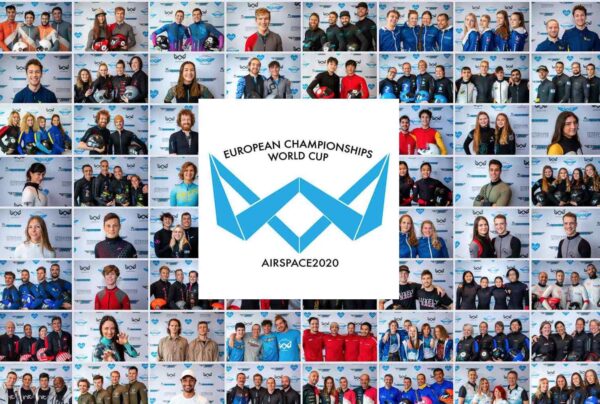 Image Credit: Airspace
April 11, 2022
Owen Clarke
The highly anticipated 4th FAI World Cup of Indoor Skydiving finished up Sunday, April 10, with over 300 flyers from 21 nations coming together to compete in a vast array of indoor bodyflight disciplines.
Though the absence of Russian, Belarussian, and Ukrainian flyers saw the number of flyers shrink dramatically (down from over 400 initial entrants), the event remained one of the largest indoor skydiving competitions in history.
Singapore clinched a stunning four first-place finishes, one in every discipline the country entered. The United States and the Czech Republic also put on a strong showing, and Switzerland won gold in 4-way Dynamic.
4-way and 2-Way Dynamic: A Narrow Race
Though they led the way after qualifiers, the American Aspire 4-way Dynamic team (made up of American hotshots James Rogers and the Wittenburgs—Noah and Kaleigh—alongside French transplant and former World Champion Léo Blanchon), narrowly missed out on a gold medal to a Swiss team from RealFly tunnel.
The LUXFLY Aspire 2-way Dynamic team (a duo consisting solely of the Wittenburgs) kept up their lead from qualifiers on, however, and edged out German and Spanish teams for the gold.
4-way FS and VFS: The USA Takes Gold, Hurricane Factory Belgium wins Female and Youth
The 4-way Formation (FS) and Vertical Formation (VFS) competition welcomed a massive number of teams, with over two dozen in the former and a dozen in the latter.
Two American teams won gold here, the longstanding legends Arizona Airspeed (Skydive Arizona/SkyVenture) and SDC Core (Skydive Chicago), respectively. Both teams have won multiple international competitions in the past.
"We attacked each round at this meet and set a new Airspeed record-high average of 34.6," the Airspeed flyers reported on Instagram. "We want to congratulate the young French team for kicking our butts on round two! It was an absolute pleasure to see the International FS community finally competing again."
View this post on Instagram
"It's all about finding the calm in the chaos," SDC Core posted following Round 8, which saw them take a narrow lead above Polish and Italian teams. They held this lead over the following two rounds to clinch the win. "Finished up an exciting day, started down a point, went up a point, down a point, and finished up a few points. Talk about a battle. Each round [we're] changing positions."
Meanwhile, the Female and Junior 4-way FS competition resulted in two teams from the Hurricane Factory tunnel in the Czech Republic (the Cubs and the Flying Rebels), taking gold.
Singapore Reigns Supreme
Solo Freestyle (Adult and Junior), 2-way and 4-way Dynamic Junior:
Of the 10 disciplines at the 4th World Cup of Indoor Skydiving, Singapore won a whopping four, which also happened to be every category its flyers entered. The tiny island nation is home to only a single tunnel, iFLY Singapore, but it's also one of the world's largest tunnels, at 16.5 feet (5 m) wide and 56.5 feet (17.2 m) tall.
Singaporean flyers won both the Solo Freestyle and Solo Freestyle Junior comps, with Kyra Poh taking gold in the former and Kai Minejima-Lee in the latter.
For the 20-year-old Poh, the win marked her fourth World Cup medal. She beat out 19 other flyers to secure it with a spectacular finals performance, maintaining a tight lead on Polish Maja Kuczyńska (silver) for the entirety of the five-round competition.
View this post on Instagram
For the 12-year-old Minejima-Lee, who edged out American Sydney Kennett (the 4x U.S. Freestyle Junior champ) by less than a point to clinch his win, it was a debut World Cup performance.
In addition to the solo wins, Minejima-Lee paired with Vera Poh (Kyra's younger sister) to win 2-way Dynamic Junior, and the pair combined with Isabelle Koh and Jordan Lee to win 4-way Dynamic Junior, as well. In the latter competition, they managed to out-fly Team Volaré, the American female 4-way team.
View this post on Instagram
The Singaporeans were already on a tear leading up to the World Cup, having won four gold medals in last month's Belgian Open. That competition was also held at Airspace, the tunnel that hosted the World Cup, and the Singaporeans used it as a training ground since the Belgian tunnel is significantly smaller than their 16.5-foot tunnel at home.
"After a two-year break, it really felt good to be competing again," Minejima-Lee wrote on Instagram following his wins.
"So super proud of the kids, as well as their coach [Yi Xuan]," Kyra Poh added alongside a photo of her with the two other Solo Freestyle medalists, Kuczyńska and Latvia's Tom Ivans.
Kuczyńska, whose second-place performance against Poh netted her the European World Championship Solo Freestyle win, was reportedly pleased with the result. "I'm really happy with how it all worked out," she wrote. "My last round was the cleanest out of all my rounds and I couldn't be happier with my routine. Thank you everyone for the amazing support!"
⸻
Stay tuned here at ISS for updates and exclusive interviews with some of the World Cup flyers about their performance in Belgium last week and what's next!
Published: April 11, 2022 | Last Updated: April 12, 2022
Written by,
Owen Clarke
Owen Clarke
is an American action sports and adventure travel journalist. In addition to serving as an executive editor at Indoor Skydiving Source, he is an editor-at-large for
Climbing
magazine and lead writer for the adventure guiding outfitter
Benegas Brothers Productions
. He also writes for Backpacker, Outside, SKI, and Trail Runner, among other publications.
Don't miss an update!
Join our mailing list for the latest indoor skydiving updates delivered directly to your inbox.
"*" indicates required fields