Features
The Biggest Event in the History of Indoor Skydiving?
The Airspace Indoor Skydiving in Belgium is hosting the 4th World Cup. It's a monumental comeback moment for our sport. We spoke with Airspace for the inside scoop.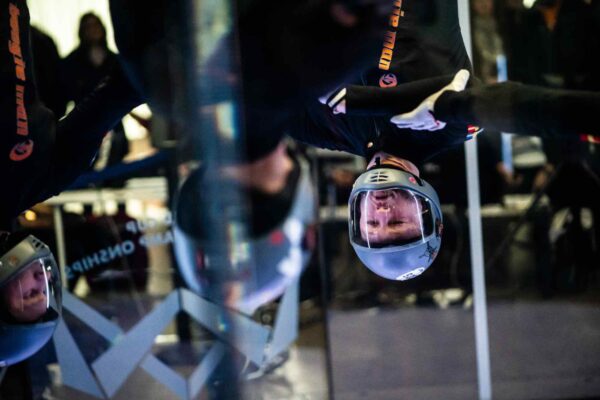 April 4, 2022
Owen Clarke
Eight years ago, a small group of flyers from an even smaller group of countries gathered in Texas for the inaugural World Cup of Indoor Skydiving at iFLY Austin.
Back then it would've been hard to imagine the scene today at Airspace Indoor Skydiving, in Charleroi, Belgium, where the 4th World Cup of Indoor Skydiving (and the 2nd European Indoor Skydiving Championships) will kick off this week.
The Airspace wind tunnel facilities, located next to Brussels-Charleroi Airport, already include a dedicated restaurant. Now they're surrounded by a swarm of food trucks and other vendors, all gathering for the competition. A massive multi-room hardshell tent has been erected outside the tunnel to accommodate award ceremonies, a DJ, a full-service bar, a gala dinner, parties, an athlete booth, and more.
Making all this come together wasn't that simple, however. For Airspace, the battle to hold the World Cup has been a long, drawn-out affair.
The bid for the event was written in 2017 and awarded in 2018, then originally scheduled for April 2020. Due to COVID-19, it was rescheduled to October 2020, then canceled again, and then Airspace had to rebid all over again. Sheesh.
But finally, five years later, the 4th World Cup of Indoor Skydiving is really happening.
A Rapidly Growing Sport
"The sport has grown a lot in the past years," Håvard Flaat, Airspace's operations manager, told Indoor Skydiving Source via Zoom this week. "My first flight in a wind tunnel was in 2004, in Paris. At that time, it was the only tunnel in Europe."
Fast forward to 2022. France alone is now home to approximately 20 tunnels, and the continent of Europe houses a hell of a lot more.
Flaat also organized the first-ever dynamic indoor skydiving competition 10 years ago, and comparing the competitive side of our sport back then to now, he said, is simply mind-boggling. "Just scratching together all the best flyers in the world at that time gave us around 10 teams, barely. And there was no such thing as a Junior category, there was no such thing as 2-way Dynamic…"
"If I could have imagined the skill that flyers have now," he continued, "and that there were going to be 12-year-olds flying today at a much higher level than we adults were flying then… Well, I guess it's something that I never would've imagined," he said, laughing.
"10 years ago the Dynamic discipline was looked at as impossible unless you were professional. Today we have 34 different teams coming to compete in the Dynamic category at the World Cup."
Flyers from Across the Globe
With an original roster of over 400 athletes, the World Cup would've been far and away the largest indoor skydiving event ever held.
Unfortunately, Russia's invasion of Ukraine has put a slight damper on proceedings. More than 70 of the registered flyers (nearly ¼ of all participants) hailed from Russia, and Russian flyers have been banned from international competitions by the World Air Sports Federation (FAI). As a result, the number of flyers sits around 330, Flaat said, comparable to the number of participants in the 2019 3rd World Indoor Skydiving Championship.
There are still a whopping 21 nations attending (down from 24, since Russia and Belarus have been banned, and Ukraine will no longer be able to attend, either).
These 21 countries span the entire globe, from the United States to Brazil to Israel to South Korea. The latter country didn't even have its own wind tunnel until FlyStation Korea popped up in 2019 (and now they have two!). But despite this relatively recent start in the sport, they've already managed to field a team for the World Cup.
The full listing of nations represented at the World Cup follows:
Austria, Belgium, Brazil, Canada, Czech Republic, France, Germany, Hungary, Israel, Italy, South Korea, Latvia, Lithuania, Netherlands, Poland, Singapore, Spain, Sweden, Switzerland, United Kingdom, and the United States.
A Monumental Moment for Our Sport
Although it won't have as many participants as originally planned, with well over 300 flyers journeying from more than 20 nations around the world to compete, the event will be one of the largest competitions in the history of our sport.
When you take into account the war in Ukraine, and consider that much of the last two years have essentially put the industry on pause due to coronavirus concerns, this is even more impressive.
It might no longer be the biggest event in terms of the pure number of flyers, but it's certainly one of the most important competitions indoor skydiving has ever had.
In short, it's indoor skydiving's comeback bid.
"This event is crucial for the industry," said Flaat. "We need to get the machine of the community going again, after these last few years. That's the best thing about these competitions. We all get to come together from around the world and connect."
This is perhaps the most important aspect of indoor skydiving, in Flaat's opinion. Flyers can come to the sport from all ages, all cultures, all races, all walks of life. Even the physically disabled can easily participate. "This sport, for me, has removed all boundaries and connected me with people from all around the world," he said. "Any prejudice I grew up with to any nationality or culture is completely gone because of indoor skydiving."
"Events like this one are important to make sure that those walls don't come up again," he said, in light of the restrictions necessitated by the coronavirus and now the ongoing war in Ukraine.
Flaat was reluctant to comment one way or another on whether he believed the FAI's ban of Russian athletes was the right call. "That's not my focus, whether it was the right decision or not," he said. "I have many friends in Russia and also in Ukraine. Those friends I have only because of skydiving and indoor skydiving."
"We always talk about the 'skydiving family,'" Flaat said. "But it's a real thing. We truly are really one big skydiving family, from around the world. Borders or nationalities don't matter. We just want to fly."
⸻
Readers can stay tuned for updates on the 2022 World Cup and European Championships on the Airspace Indoor Skydiving website and Facebook page.
Check in with Indoor Skydiving Source for the latest as the competition gets underway on April 7!
Published: April 4, 2022 | Last Updated: April 4, 2022
Written by,
Owen Clarke
Owen Clarke
is an American action sports and adventure travel journalist. In addition to serving as an executive editor at Indoor Skydiving Source, he is an editor-at-large for
Climbing
magazine and lead writer for the adventure guiding outfitter
Benegas Brothers Productions
. He also writes for Backpacker, Outside, SKI, and Trail Runner, among other publications.
Don't miss an update!
Join our mailing list for the latest indoor skydiving updates delivered directly to your inbox.
"*" indicates required fields