Athlete Spotlight
Sydney Kennett Talks World Cup and Growing Pains in Competitive Indoor Skydiving
The young American flyer gives us the lowdown after taking silver in the 4th FAI World Cup of Indoor Skydiving.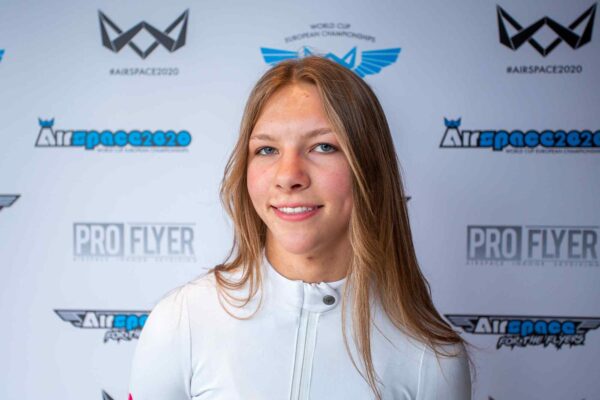 June 16, 2022
Owen Clarke
15-year-old Sydney Kennett is one of the strongest flyers in both the United States and the world, and a 4x USA Junior Freestyle Champion. Along with over 300 other indoor skydivers from around the world, Kennett flew in the 4th Indoor Skydiving World Cup in April, at the spectacular Airspace tunnel in Charleroi, Belgium.
She narrowly lost the Solo Freestyle Junior gold medal to the 13-year-old Singaporean Kai Minejima-Lee. Both flyers were making their World Cup debut. The two flyers were neck and neck for most of the competition, with Kennett edging Lee out 15.6 to 15.5 in the first round, then falling slightly behind, before tying scores in the final round. In total, she scored 63.5 to Lee's 64.3, an astoundingly narrow margin. (Readers can check out our exclusive post-comp interview with Minejima-Lee HERE.)
Indoor Skydiving Source caught up with Kennett a few weeks after the event, as she settled back in at home in Colorado, to hear about the World Cup and what's next! She spoke about her training, how it felt to compete internationally post-COVID, and the nebulous scoring system for Freestyle.
View this post on Instagram
How did you feel heading into the competition? Did you feel like you had prepared/trained enough? Were you confident?
I felt pretty well prepared, but I was nervous because I had not competed in a world competition in over two years. I really enjoyed my routine because we came up with some ideas that no one had ever seen or tried before, including a lot of tricks done in two directions, and I had fun flying it, so I had fun going into it.  I still get super nervous for a few minutes before the flying starts, but once it starts, I usually feel right at home.
How did it feel competing internationally? What other international competitions have you been to in the past?
It was a super amazing feeling. I'm so grateful that I'm able to travel the world to compete and it was a really good experience overall. I went to the 2019 World Championships and the 2019 and 2020 Wind Games before the world shut down because of COVID [but] this was my first World Cup experience.  
I also feel like the whole competition scene is going through some growing pains, at least for Freestyle.  I used to do gymnastics a ton, and in that sport, there is a code of rules/tricks that specifically lays out how difficult each trick is. That way when you compete, you know ahead of time what your difficulty score is (and that's a huge part of the judging score). In indoor skydiving, we don't have that, so unfortunately it isn't super transparent how scores are calculated, and that showed at this World Cup.  None of the athletes agreed with the scoring, even the athletes that had good scores. I hope that the sport continues to grow and mature so that doesn't happen anymore. 
But the best part of it all is just the people I get to meet.  There are a lot of supportive people that watch my videos online that will come up to me and offer encouragement.  It's cool to feel like I've had some impact on flyers around the world like that.
Have things felt "different" competing post-COVID?  How did it feel at Airspace?
The Airspace tunnel was gorgeous.  It looked like a piece of art, or maybe like an Apple store.  With respect to COVID—this year did feel a lot different. There are a lot of new people and a lot of the old people sadly don't compete anymore because COVID hit a lot of people financially. So that was tough. It was nice seeing everyone at the competition, though. 
It was a lot smaller crowd at Airspace than it would have usually been. But everyone was super stoked to be there and the party after the competition was awesome, with a DJ and everything.  The Airspace crew and volunteers did an amazing job. Everything stayed on schedule and they were all so kind.  Håvard [Flaat, Airspace's tunnel manager] was such a nice person and I was impressed because I know how much pressure they were under to make the competition run smoothly… and it did!!!
Was the Russian war mentioned much? Lots of indoor flyers are from Russia, and they were obviously all banned— was that something people talked about?
I was very bummed that the Russian and Belarusian fliers were banned.  I don't think that was the right way to make a statement about the war going on.  If anything, we need to be around those we are friends with even more and more. I know I have learned so much over the years because of being around my international friends and different cultures, and I think the world needs more of that, not less.
There were only [three] Solo Freestyle Junior flyers, right? That's a bummer, but were there any silver linings to the fact that you only had two other competitors to go up against?
To be honest, I was really sad about it. I almost felt like it wasn't the right time to have a competition, because something like a third of the competitors weren't there. I also get that promises had been made and Airspace had put in a ton of work to make this happen—so I was happy to be there too. It was a jumble of emotions.
You and Kai [Minejima-Lee] had a pretty tight race. Have you competed against him before?
Yes, we competed against one another at the Wind Games.  It was a tight race and the Singapore team brought awesome cheering and hype to the crowd which is always nice to see and hear.
What do you think you could've done differently?
Unfortunately, I know that my routine had much more difficulty than what was represented by the difficulty scores and that, unfortunately, [made] the difference in our results.  I did really well and didn't hit the wall except once so that was good. 
Every year, the tension caused by the fact that no one has any idea how [scores] are calculated—unlike say, gymnastics where the difficulty per trick is written down in black and white—continues to grow.  It used to be that one or two athletes were not happy. This year, it was just about all of them. All of the competitors thought the difficulty scores were completely off base. I was approached by most of the competitors and they said the same thing. My family has a ton of experience with gymnastics and it is black and white in that sport. 
We continue to fight for a code of scores or list of tricks with difficulty for indoor skydiving, because people are getting tired of it and it turns so many people off to Freestyle, which is unfortunate.
Winning a silver medal at the World Cup is incredible. How do you feel about that result?
I was really just glad that everyone could finally be at a competition again, more than anything. I wished my friends from Russia and Belarus could have been there too.
Finally, what's next for you?
Lots of camping and dirt biking this summer!!! I want to get better at track riding. I am also working a lot on my new sport: pole vaulting. I'm also excited for the new Colorado Springs tunnel, and have been flying Dynamic again and hope to maybe compete in that again next year.
Readers can check out another interview with Kennett last fall (before her fourth U.S. Nationals Junior Freestyle victory) HERE!
Published: June 16, 2022 | Last Updated: June 16, 2022
Written by,
Owen Clarke
Owen Clarke
is an American action sports and adventure travel journalist. In addition to serving as an executive editor at Indoor Skydiving Source, he is an editor-at-large for
Climbing
magazine and lead writer for the adventure guiding outfitter
Benegas Brothers Productions
. He also writes for Backpacker, Outside, SKI, and Trail Runner, among other publications.
Don't miss an update!
Join our mailing list for the latest indoor skydiving updates delivered directly to your inbox.
"*" indicates required fields