News
Nation's Tallest Wind Tunnel Now Open in Colorado Springs
The 14-foot (4.3 m) recirculating iFLY tunnel opened to the public on March 12. At 40 feet high, it's also the highest glass wind tunnel in the country.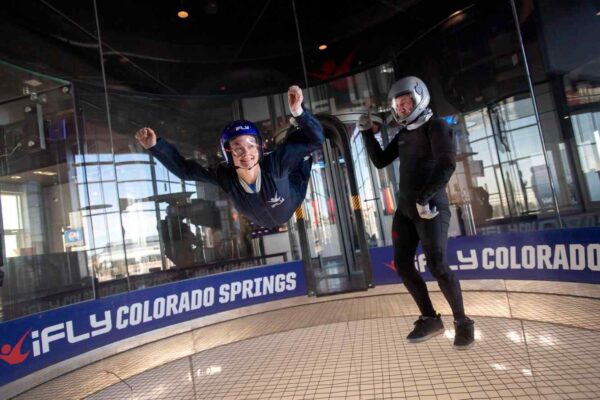 Image Credit: Christian Murdock, The Gazette
March 24, 2022
Owen Clarke
The indoor flyers in the Rocky Mountain State now have access to an all-new tunnel to hone their bodyflight skills, after an iFLY tunnel opened in Colorado Springs last week. With the total tunnel height measuring a whopping 40 feet, it's also now the tallest in the country.
The Colorado Springs iFLY, located in the Polaris Pointe entertainment complex, joins the 50-some-odd tunnels now open in the United States but is still only the second wind tunnel in the state of Colorado.
Previously, the only option for Colorado flyers was the longstanding iFLY Denver octagonal tunnel, which originally opened as a SkyVenture tunnel in 2006 and is one of the oldest American tunnels still in operation.
Colorado-based competitive flyer Syndey Kennett (read our recent Q&A with Kennett here), a 4x US Junior Freestyle Champion, was one of the first flyers in the tunnel last weekend. "I really can't believe it is true!" she wrote on Instagram following the tunnel's inaugural day. "There is a new tunnel in town people and it is BEAUTIFUL!"
Kennett will likely be spending extensive time in this tunnel in the coming weeks, as she prepares for the highly-anticipated 2022 FAI Indoor Skydiving World Cup in Charleroi, Belgium alongside James Rogers, Kyra Poh, and other champions.
As an iFLY tunnel, most flyers will know what to expect here (the usual iFLY rates, restrictions, protocols, and so on will apply), but the tunnel complex in Colorado Springs is much more upscale than the relatively barebones iFLY Denver operation. It also houses a full bar and pizza oven, an outdoor deck looking out on a spectacular alpine vista, a conference room, and several rows of vaulted seats to watch those in flight.
The tunnel is attracting more than the usual array of one-off tourists, birthday parties, and professional flyers, as well. Marketing and sales manager Catherine Moore told The Gazette that the U.S. Air Force Academy (USAFA) parachute team and the 10th Special Forces Group stationed at Fort Carson have already booked time to use the tunnel.
The Colorado Springs iFLY is run by a trio of retired Air Force colonels, Michael "Omar" Bradley, Joel Maynard, and Karl "Korky" von Kessel. All three graduated from the USAFA in 1979, and intend to use the tunnel as a supplement to USAFA training due to its close proximity to the academy (it sits directly across the I-25 highway).
Flyers can find the tunnel at 281 Kaycee Case Place, Colorado Springs, CO 80921, or contact them by phone at (719) 400-4359. More information is available on the iFLY Colorado Springs website.
Published: March 24, 2022 | Last Updated: March 24, 2022
Written by,
Owen Clarke
Owen Clarke
is an American action sports and adventure travel journalist. In addition to serving as an executive editor at Indoor Skydiving Source, he is an editor-at-large for
Climbing
magazine and lead writer for the adventure guiding outfitter
Benegas Brothers Productions
. He also writes for Backpacker, Outside, SKI, and Trail Runner, among other publications.
Don't miss an update!
Join our mailing list for the latest indoor skydiving updates delivered directly to your inbox.
"*" indicates required fields