Athlete Spotlight
Q&A w/ Kai Minejima-Lee: The Young Flyer Speaks On His Spectacular World Cup Entry
The 13-year-old Singaporean flyer gave ISS the lowdown on his country's success in the recent World Cup (four gold medals!), what it means for him, and what's next.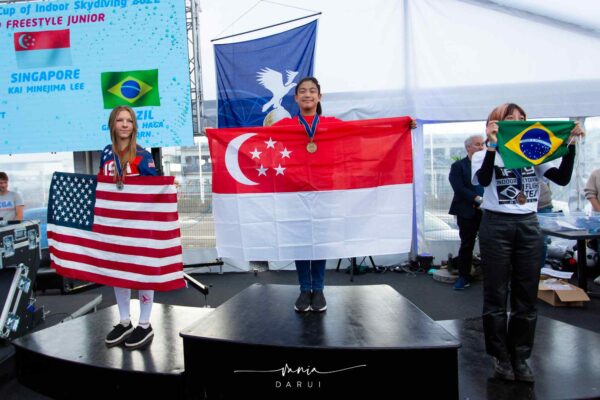 May 13, 2022
Owen Clarke
The 4th World Cup of Indoor Skydiving, held at Airspace Charleroi, in Belgium, saw several nations take home gold medals in 10 separate categories, but perhaps no country saw bigger success than Singapore. The tiny island nation, home to only a single tunnel, iFLY Singapore, won four gold medals (one in every category it entered).
Singaporean flyers took home gold in Solo Freestyle (Kyra Poh) and Solo Freestyle Junior (Kai Minejima-Lee) in addition to both 2-way Dynamic Junior and 4-way Dynamic Junior. The former two events saw Minejima-Lee pairing with Vera Poh, Kyra's younger sister for the 2-way gold medal and later with Isabelle Koh and Jordan Lee for the 4-way gold.
In total, the 13-year-old Minejima-Lee managed to win a whopping three gold medals for his home country, all during his first World Cup event!
Below, we speak with Kai to hear about his recent victories and what's next.
Indoor Skydiving Source & Kai Minejima Lee
So Kai, how did you feel heading into the competition? Did you feel prepared enough? Were you confident?
Yeah, I was excited to be competing again and also kinda nervous. I was training every day at iFLY Singapore a month before the World Cup so I think I was as prepared as I could be. 
Did I feel confident? No. Because you know everyone had been training but because you haven't seen them for so long, you don't know what you're up against. I learned to focus on just doing my best, so that was a cool takeaway from the competition. I was also super excited to see my friends again after two years because that's a long time (when you are my age).
Funny Story: I went to say hi to some friends and they were pretty aloof. My mom told me they probably didn't recognize me and sure enough, after like two minutes they came up to me and were like "Is that you Kai…we didn't recognize you!" I guess I grew a lot. 
This was your first World Cup, right? How did that feel? Did it feel "bigger" than other competitions you've flown in?
Yeah, my teammate Vera and I were finally old enough to take part in the World Cup! It definitely felt bigger and more serious. We usually mess around a lot more at other competitions, but at the World Cup everyone was quite serious and it was more intense for sure. But everyone was relaxed at the after-party and we all got to hang out with our friends. It was fun.
You and the other Singaporean flyers trained in the Airspace tunnel before the competition, right? How is the Airspace tunnel different from your tunnel back home in Singapore?
Yeah, our home tunnel definitely feels different. Apart from the size (iFLY Singapore is a 16-footer, Airspace is 14.) The wind feels different too… But I think that's the same difference you will find with all tunnels. 
Did you have to make any changes to your routine to fly at Airspace?
I did. The orientation of the lines and the facing of the judges at Airspace are different from the positions of my home tunnel, so I had to change certain moves to make sure I was facing the right way and also added some transitions to help the changes in my routine flow better.
There ended up being only a few Youth Solo Freestyle flyers, right? Obviously, that's kind of a bummer, but did it make it less stressful, knowing you only had two other competitors?
That was a bummer! I was looking forward to meeting some new friends but unfortunately, that didn't happen.  The number of competitors—or rather the lack of—absolutely did not make it less stressful! One particular flyer is a very strong competitor and she beat me in the last competition we were at together. So really, I had to work extremely hard. But honestly, who would want to 'win' a competition by default? It just would not be satisfying. You have to fight for your win!
Winning not one, but three gold medals at the World Cup is truly incredible, and Singapore did a spectacular job too—with four golds total! How do you feel about that result?
I could not be happier with that outcome! Best feeling in the world!! I'm proud of myself, but also so, so, so grateful to have such great teammates. It really is a testament to what it takes. Our team literally had a village behind us all the way. Our home tunnel has been AMAZING and so accommodating, we have the best support from our mentors Kyra and Yixuan, and our moms and dads all played an active role. BEST TEAM EVER!
Finally, what's next for you? Are you heading back to Singapore? Any more competitions coming up?
A well-deserved break and a proper birthday celebration! (I turned thirteen a couple of days before the World Cup.) I am currently in Paris visiting as many museums as I possibly can before going home in the first week of May. I have no immediate plans for any competitions right now but with the world opening up [after COVID-19], I'm sure there will be a competition or two before the World Championships next year!
Anything else you'd like to share with our readers?
Did I mention I have the best team ever? (High-five Vera, Izzy, and Jordan!)
⸻
Note: ISS readers, stay tuned for another upcoming Q&A with Kyra Poh, to hear about her experience in the competition, too!
Published: May 13, 2022 | Last Updated: May 13, 2022
Written by,
Owen Clarke
Owen Clarke
is an American action sports and adventure travel journalist. In addition to serving as an executive editor at Indoor Skydiving Source, he is an editor-at-large for
Climbing
magazine and lead writer for the adventure guiding outfitter
Benegas Brothers Productions
. He also writes for Backpacker, Outside, SKI, and Trail Runner, among other publications.
Don't miss an update!
Join our mailing list for the latest indoor skydiving updates delivered directly to your inbox.
"*" indicates required fields