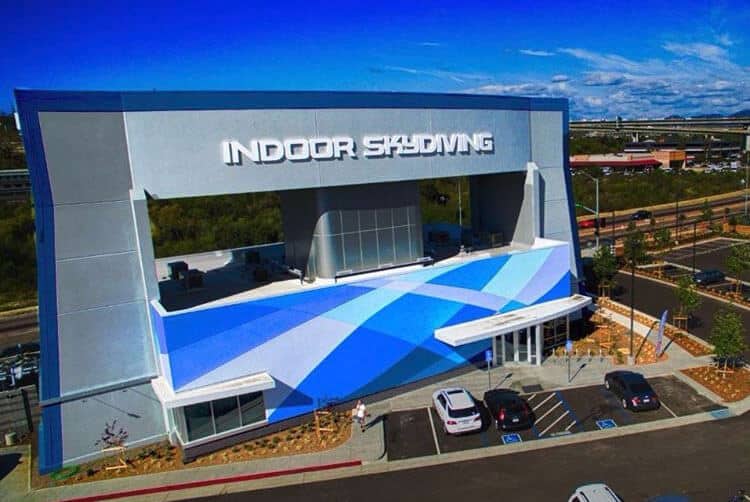 Mon - Wed: 10am to 9pm
Thurs: Closed
Fri: 10am - 9pm
Sat: 8am to 11pm
Sun: 10am - 9pm
Tunnel Overview
---
This iFLY franchise location serves the El Paso, Texas area with a 14-foot recirculating tunnel. The location is set up to be skydiver-friendly, catering to pro-flyers and first-timers alike. The facility sits next to the Top Golf location near the I-10 in West El Paso. This 'single story' medium tunnel opened to the public on April 2nd, 2019.
Flyer Information
---
Gear & Training
You will be provided with all the equipment you need. This includes a jumpsuit, helmet, goggles and earplugs. Check out our
Gear Guide
if you're interested in taking your own equipment with you.
Facility Offerings
Group/Event Hosting
Party Rooms
Conference Facilities
Catering Available
Educational Programs
What is Indoor Skydiving Video
What is Indoor Skydiving? - How & Where to fly!
Age Limit
Flyers must be at least 3 years old.
Weight Limit
Flyers must be less than 300 lbs.
Flyers over 260 lbs must contact the facility before flying.
You should not fly if you are pregnant or have previous shoulder dislocations.
More Questions About Flying?
The Experience
The entire first time flight experiences take roughly 1-2 hours. After arriving and checking in, you take part in a personalized training session before gearing up to fly. During your flights your instructor teaches you to fly your body. You take turns flying one at a time with other first time flyers.
Pricing
First Time Flyers
2 Flights: $59.95
3 Flights: $76.95
4 Flights: $95.95
5 Flights: $112.95
For first time flights we recommend between 2 and 6 minutes of flight time per person. This gives you enough time to understand the basics of flying your body and is plenty of time for a great experience. For more pricing information, read our
pricing article
.
Technical Information
---
Instructor Rating System
Manufacturer
Tunnel Type
Recirculating
Open Since
Apr, 2019
Flight Chamber Style
Round Wall-to-Wall
Flight Chamber Diameter
14ft (4.3m)
Flight Chamber Height
N/A
Top Wind Speed
N/A
Tunnel Competitions & Events
---
No Upcoming Camps, Competitions or Other Events
If you know of an upcoming event at this or any location, please submit it through our event submission form
Travel & Accommodation
---
Nearby Airports
El Paso International Airport
Hotel Options Nearby
Car Hire
We recommend using
rentalcars.com
to compare rates and find the best deal for your car hire.
Nearby Tunnels
No Other Tunnels Found within a 150 Mile Radius of this Location
Reviews
---
Awesome trainer/first time flyer
Nickname
:
Carollynn
Review Date
: July 20, 2020

5
/
5
Stars
Brian at ifly El Paso is awesome. He made my step daughters experience so fun. We went back twice and he never disappoints.
---
Great Experience
Nickname
:
New to Flying
Review Date
: August 19, 2019

5
/
5
Stars
This is an awesome place. If you are interested in skydiving you must check this place out. The staff and instructors are friendly and helpful. Did not make me feel foolish, I am new to this. I would highly recommend this place!
---
Beginner Flyer
Nickname
:
Beginner Flyer
Review Date
: August 5, 2019

5
/
5
Stars
This was an awesome experience. I have already signed up for coaching and additional flights. iFly should be on your to do list, so much fun.
---
Great service
Nickname
:
Justflyingman
Review Date
: June 11, 2019

5
/
5
Stars
The staff is one of the things that stands out when you come to this brand new tunnel! Everyone is soo happy and ready to answer questions. You can genuinely notice people enjoy their job at this place and that positive attitude rubs off with every flyer. Prices are pretty good when compared to other Iflys'. I will be coming back very soon EP
---