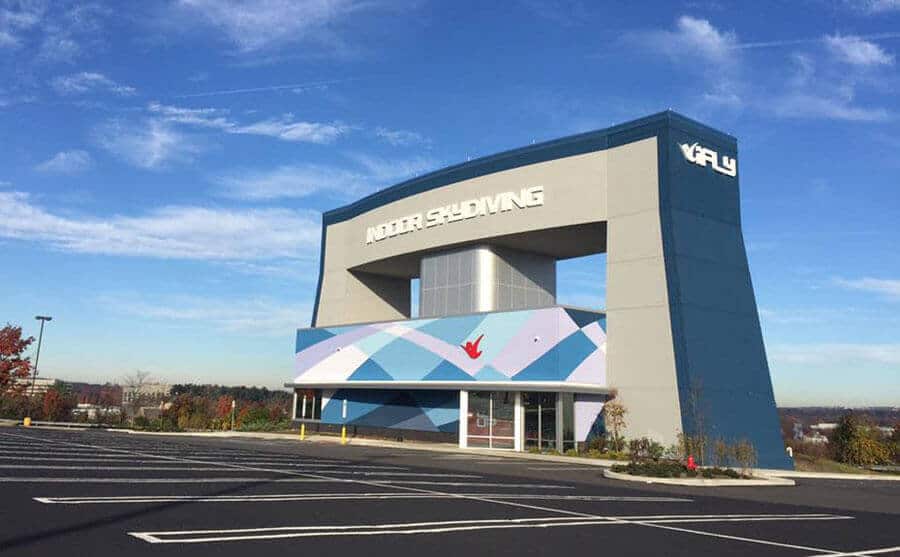 Mon - Fri: 10am to 9pm
Fri: 10am to 11pm
Sat: 9am to 11pm
Sun: 9am to 10pm
Reserve a Flight
Indoor Skydiving Source may receive a commission for bookings.
iFLY Baltimore Overview
---
WJZ Weekend Edition: iFLY Indoor Skydiving Now Open In Baltimore
iFLY Baltimore, also frequently called iFLY White Marsh, is the perfect place to experience the thrill of indoor skydiving. Located at the Avenue at White Marsh, a shopping center and entertainment district just outside of downtown Baltimore, this facility brings the excitement of free-falling to the city. With a state-of-the-art vertical wind tunnel and experienced instructors, adrenaline junkies can get their fix right here in Maryland.
Opened in August 2016, iFLY Baltimore is a 14-foot (4.3 m) recirculating tunnel and the 54th SkyVenture/iFLY wind tunnel to open worldwide. It offers an unrivaled experience with features such as a large viewing area for spectators, instructional videos, and customized packages for all levels of flyers—from first-timers to seasoned pros. During each flight session, an expert instructor will be by your side throughout the entire process and provide tips on how to achieve a better flight experience based on your level and abilities.
What truly sets iFLY Baltimore apart is its commitment to safety and customer service excellence. From start to finish, guests are always taken care of with quality instructions; certified gear; professional staff; temperature-controlled airflow; specialized flying suits; top quality safety equipment; merchandise available for purchase after flights and more! So come join us at iFLY Baltimore – we guarantee you won't regret it!
iFLY Baltimore is the first and only place to go indoor skydiving in Baltimore, although there are a number of other iFLY locations within close driving distance, including iFLY Montgomery (also in Maryland), iFLY King of Prussia in Pennsylvania, and iFLY Loudoun in Virginia.
iFLY Baltimore Flyer Information
---
The Indoor Skydiving Experience
The entire first time flight experiences take roughly 1-2 hours. After arriving and checking in, you take part in a personalized training session before gearing up to fly. During your flights your instructor teaches you to fly your body. You take turns flying one at a time with other first time flyers.
What is Indoor Skydiving Video
What is Indoor Skydiving? - How & Where to fly!
Indoor Skydiving Gear & Training
You will be provided with all the equipment you need. This includes a jumpsuit, helmet, goggles and earplugs. Check out our
Gear Guide
if you're interested in taking your own equipment with you.
Age Limit
Flyers must be at least 3 years old.
Weight Limit
Flyers must be less than 300 lbs.
Flyers over 260 lbs must contact the facility before flying.
You should not fly if you are pregnant or have previous shoulder dislocations.
Pricing
Pricing:
Off-Peak 2 Flight Package: $69.99
On-Peak 2 Flight Package: $89.99
3 Flight Package: $114.99
4 Flight Package: $139.99
5 Flight Package: $164.99
Additional Options:
Group, Party and Event Hosting
Flight Photos & Videos
High Flights (See: What is a high flight?)
For first time flights we recommend between 2 and 6 minutes of flight time per person. This gives you enough time to understand the basics of flying your body and is plenty of time for a great experience. For more pricing information, read our
pricing article
.
Facility Offereings
Group/Event Hosting
Party Rooms
Conference Facilities
Catering Available
Educational Programs
FAQs
Ready to Fly!?
Reserve a Flight
Wind Tunnel Information
---
Instructor Rating System
Manufacturer
Tunnel Type
Recirculating
Open Since
Aug, 2016
Flight Chamber Style
Round Wall-to-Wall
Flight Chamber Diameter
14ft (4.3m)
Flight Chamber Height
N/A
Top Wind Speed
N/A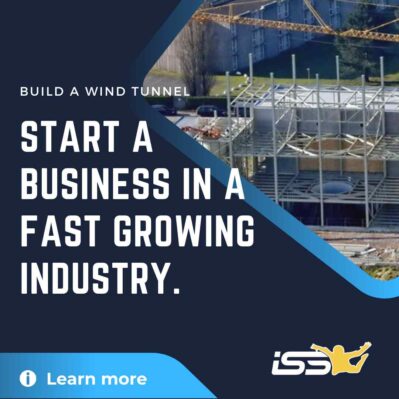 News & Articles Related to iFLY Baltimore
---
No News Updates or Articles for this location.
iFLY Baltimore Competitions & Events
---
No Upcoming Camps, Competitions or Other Events
If you know of an upcoming event at this or any location, please submit it through our event submission form
Tunnels Near iFLY Baltimore
iFLY Baltimore Reviews
---
Awesome Experience
Nickname
:
Frenda
Review Date
: May 3, 2022

2
/
5
Stars
This experience was awesome! The staff was amazing and our flight instructor was superb when working with a client who had last minute jitters. That client enjoyed themselves as much as we did.
---
Not worth it
Nickname
:
No refunds
Review Date
: February 24, 2019

1
/
5
Stars
Booked a large group. Was told that younger kids would love it. Well 4 of them were so scared that they wouldn't go. Asked if I could get a refund and was told no but I could add their flight time to other flyers. Not only was this not communicated to the staff but I got an attitude when I told them that we had extra flights owed to us. We were so beyond our reservation time that we had to change our dinner reservations. I wrote iFly about this situation and never got a response. Poor customer service.
---
Sooooo much fun!!!!
Nickname
:
Mum
Review Date
: July 8, 2017

5
/
5
Stars
My second iFly flight with Patrick G. as my instructor ... he is THE BEST!!!! What a great team at iFly Baltimore - so many nice humans there!! I can't wait to fly again.
---
Amazeballs
Nickname
:
Mr. Man
Review Date
: June 21, 2017

5
/
5
Stars
Had an amazing time, very addictive! Awesome staff and instructors!
---
Amazing instructors and so much fun! Will definitely be coming back!
Nickname
:
Kat
Review Date
: May 7, 2017

5
/
5
Stars
---
Nickname
:
Unhappy mom
Review Date
: February 17, 2017

1
/
5
Stars
Long waits. Completely disorganized and understaffed. Waited and waited past reservation time.
---
Zero customer service
Nickname
:
Jane
Review Date
: February 16, 2017

1
/
5
Stars
I booked a flight with a voucher but due to a family emergency need to reschedule. I have emailed, called, and left voicemails to attempt to do so with NO RESPONSE. I'm about to have $140 totally wasted because no one replies. Huge problem!
---
Freakin' Awesome!
Nickname
:
Moody
Review Date
: January 26, 2017

5
/
5
Stars
200% Adictive! First time trying it, I'm hooked. The people there are extremely helpful. They want you to have a good time and YOU will!
Just do it!
200% Adictive! First time trying it, I'm hooked. The people there are extremely helpful. They want you to have a good time and YOU will!
Just do it!
---
What a day for my son and I
Nickname
:
Ron Z
Review Date
: August 31, 2016

5
/
5
Stars
What a great place. The staff was very helpful. Our Flight instructor was Aaron we had a lot of kids in our group and he handled it really well. Kind of pricey but really worth it. It really put the WOW in my day. Thanks iFly. (See video above!)
---
Amazing experience!
Nickname
:
Hooked on Flying
Review Date
: August 19, 2016

5
/
5
Stars
What a wonderful staff to make you feel comfortable and super pumped for a once-in-a-lifetime experience, that'll make you want to do it more than just once! My whole family, including my 4 yr old., can't wait to go back! Highly recommend this place.
---
Great flight
Nickname
:
Seal79
Review Date
: August 16, 2016

5
/
5
Stars
Finally in Baltimore a great place for indoor skydiving
---