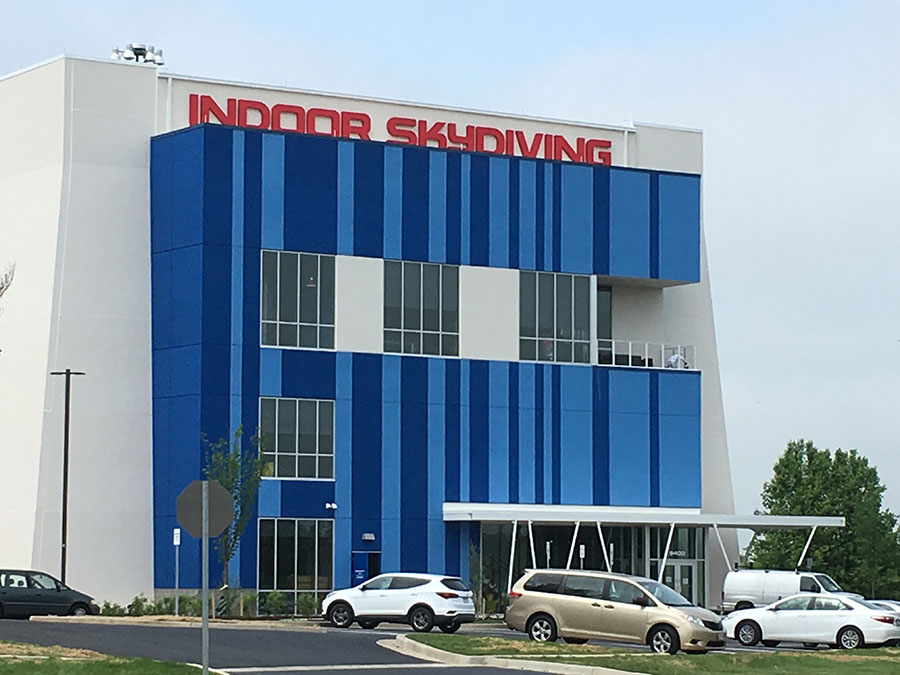 Wednesday - Sunday: 11am to 7pm
Reserve a Flight
Indoor Skydiving Source may receive a commission for bookings.
iFLY Montgomery Overview
---
iFLY Montgomery (also known as iFLY Gaithersburg) is a 14-foot (4.3 m) recirculating tunnel that opened in Gaithersburg, Maryland in May 2018. The tunnel facility is three stories tall, with a 67-foot Generation 6 SkyVenture model tunnel. It is the second indoor skydiving destination to open in Maryland, after iFLY Baltimore, which opened in August 2016.
iFLY Montgomery is only around a dozen miles northeast of iFLY Loudoun, across the Potomac River in Ashburn, Virginia. However, traveling between the two tunnels requires a circuitous 40-minute drive south to where the I-495 crosses the Potomac on the American Memorial Bridge near McClean. iFLY Montgomery is also quite close to iFLY Baltimore. The older Maryland tunnel is less than an hour away to the northeast.
iFLY Montgomery Flyer Information
---
The Indoor Skydiving Experience
The entire first time flight experiences take roughly 1-2 hours. After arriving and checking in, you take part in a personalized training session before gearing up to fly. During your flights your instructor teaches you to fly your body. You take turns flying one at a time with other first time flyers.
What is Indoor Skydiving Video
What is Indoor Skydiving? - How & Where to fly!
Indoor Skydiving Gear & Training
You will be provided with all the equipment you need. This includes a jumpsuit, helmet, goggles and earplugs. Check out our
Gear Guide
if you're interested in taking your own equipment with you.
Age Limit
Flyers must be at least 3 years old.
Weight Limit
Flyers must be less than 300 lbs.
Flyers over 260 lbs must contact the facility before flying.
You should not fly if you are pregnant or have previous shoulder dislocations.
Pricing
Pricing:
2 Flight Package: $79.95
3 Flight Package: $101.95
4 Flight Package: $127.95
5 Flight Package: $149.95
Additional Options:
Group, Party and Event Hosting
Flight Photos & Videos
High Flights (See: What is a high flight?)
For first time flights we recommend between 2 and 6 minutes of flight time per person. This gives you enough time to understand the basics of flying your body and is plenty of time for a great experience. For more pricing information, read our
pricing article
.
Facility Offereings
Group/Event Hosting
Party Rooms
Conference Facilities
Catering Available
Educational Programs
FAQs
Ready to Fly!?
Reserve a Flight
Wind Tunnel Information
---
Instructor Rating System
Manufacturer
Tunnel Type
Recirculating
Open Since
May, 2018
Flight Chamber Style
Round Wall-to-Wall
Flight Chamber Diameter
14ft (4.3m)
Flight Chamber Height
N/A
Top Wind Speed
N/A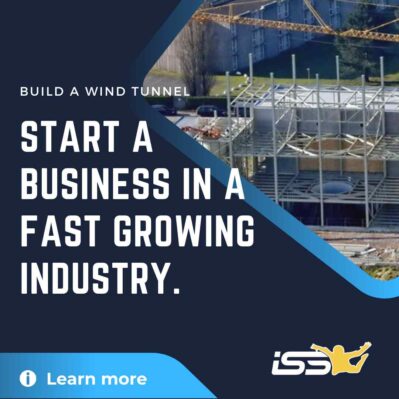 News & Articles Related to iFLY Montgomery
---
No News Updates or Articles for this location.
iFLY Montgomery Competitions & Events
---
No Upcoming Camps, Competitions or Other Events
If you know of an upcoming event at this or any location, please submit it through our event submission form
Tunnels Near iFLY Montgomery
iFLY Montgomery Reviews
---
Disappointed
Nickname
:
GI
Review Date
: July 11, 2022

2
/
5
Stars
They rushed it, combining the sessions because they had too many people. My kid did not enjoy it.
---
The Upsell is aggressive
Nickname
:
Geoff
Review Date
: October 5, 2020

2
/
5
Stars
The manager Heidi so aggressively tried to up sell us for the high fly experience that my 11 and 14 year old became focused pretty much only on that. She tried 6 times in a 5 minute conversation while checking in and told my kids they won't get a full experience without it... it got to the point that I had to tell her to stop. Not everyone has unlimited funds and the used car sales approach is very off putting; everyone else there was very nice and professional.... Heidi threw me a picture voucher when i complained to try to make it right although that is not what she pitched to my kids over and over, and didn't resolve the problem she created. Heidi's approach partially spoiled this for my kids and me... thanks Heidi
---
Dishonest
Nickname
:
Professor
Review Date
: September 21, 2020

1
/
5
Stars
My wife and so came here a couple weeks ago. When we were done, we explained to out flight instructor that we wanted to get passes to bring each of our kids over the next few months. The instructor told us to buy a pass. We did. We booked for my daughter and came back with her. They informed us we had bought a pass that could only be used one time. We paid for 10 flights and got 3. They riipped us off. The General Manager Heidi said there was nothing she could do. They have a pass for 5 flights that does exactly what we needed. She could have reimbursed the purchase and then allowed us to buy that one. She could have let my daughter fly this time and given us 4 vouchers for our other children. She could have let my daughter fly and told us to just bring all of the other next time and cancelled the voucher on this one. There is a difference between a business and a business leader who thinks to solve issues and a business and leader that just says "there is nothing we can do" when they mess up. Heide and ifly Montgomery is the latter not the former.
---
BEWARE HIGH PRESSURE SALES TACTICS & HIGH FLYING IS EXTRA $$$
Nickname
:
Gardener20878
Review Date
: January 31, 2020

1
/
5
Stars
Please beware if you call to inquire, the high pressure sales tactics are terrible. They won't stop talking until they get your credit card they won't let you off the phone so you will have to be prepared to hang up on them politely after trying to tell them 'thank you' several times and they keep talking. Second, be aware that the flight purchases are only for VERY LOW FLYING (5 to 6 feet off the ground). If you want mid-level or high flight experiences, you're going to have to pay ADDITIONAL - A LOT OF EXTRA MONEY $$$ as an 'add-on fee'. The photos are very deceptive, so don't think it's going to be a really amazing wow experience unless you pay a lot more!
---
Poor service
Nickname
:
You momma
Review Date
: December 8, 2019

1
/
5
Stars
On November 29, 2019 I called ifly in Gaithersburg to cancel a slot for November 30 at 1430hrs, due to circumstances beyond my control I wasn't able to participate. The scheduler asked do I want to reschedule but I decline because I didn't know when I was able to make it to Gaithersburg. So he told me that the manger will credit my account and it will take 5days. Its been 5 days no refund nor receipt nor phone/email saying anything. Also I was unaware that they will charge my credit card a day or two before my time slot. Please be aware of this fraudulent activity that they are displaying. I will look for other activities to do in montgomery county md. First and last time with them.
---
Great way to learn a new skill.
Nickname
:
Baracuda
Review Date
: December 15, 2018

5
/
5
Stars
Wanted to learn a new skill without the risk. Loved it so much, I have gone back every week since. My instructor Sasha is an amazing trainer. Even introduced an old friend to indoor skydiving. Try it out. You will not be disappointed.
---
Dope tunnel
Nickname
:
Flight
Review Date
: November 20, 2018

5
/
5
Stars
Smooth wind, plenty of space (and more) to do dynamic flying. Awesome and knowledgeable staff.
---
Amazing Flight
Nickname
:
Excellent Flights
Review Date
: October 14, 2018

5
/
5
Stars
It was our first time and we didn't know what to expect. We were celebrating my son's birthday and it turned out to be amazing. At the onset, I was so impressed and pleased with Drew, who helped to handle my online reservation. He was both courteous and professional and got my reservation straightened out quickly as I inadvertently double booked. Everyone in the flight party had a fun time. The flight staff were great and very organized. We will definitely be back in the near future for more flight training skills. Thanks for an amazing time!
---
1st time was Incredible!
Nickname
:
skydivers
Review Date
: September 2, 2018

5
/
5
Stars
We've got a skydiving history :) 1st time indoors and could not have had more fun or been more impressed with staff! Excellent, professional customer service and our instructor Libby was phenomenal! We'll be back for sure, easy cause we live in Rockville!
---
Great first flight
Nickname
:
Happy customer
Review Date
: August 3, 2018

5
/
5
Stars
Great 1st time experience! Beautiful facility with well trained and caring staff. Highly recommend
---
Father's Day
Nickname
:
Anonymous
Review Date
: June 19, 2018

1
/
5
Stars
So I purchase a flight for my husband for Father's Day and reserve a time of 3:30. We get there and they are running 20 minutes behind and there at least 15 people that also have a 3:30 reservation. If I'm given an appointment for a specific time, I don't also expect someone 15 other people to have the same reservation or for you to be this much behind on a day filled with reservations for everything.
---
Pleasant & Welcoming
Nickname
:
NewFly
Review Date
: June 11, 2018

5
/
5
Stars
Came in on a whim during the weekend, and was warmly welcomed by the staff & coaches.
Despite the other review; the cost was typical for most tunnels + its location close to the city. You can easily buy packages for more time at a fraction of the cost.
Came in on a whim during the weekend, and was warmly welcomed by the staff & coaches.
Despite the other review; the cost was typical for most tunnels + its location close to the city. You can easily buy packages for more time at a fraction of the cost.
---
Had a great time at Gaithersburg iFly
Nickname
:
gLeaf
Review Date
: June 11, 2018

5
/
5
Stars
Gave this a try and had a really good time. Went with my wife and 4 kids aged 6-13. Ash was our instructor and he was really good. Made it a fun time for everyone.
---
Waaaaay overpriced!!÷
Nickname
:
Flyer no more
Review Date
: June 4, 2018

1
/
5
Stars
Almost $100 for a few minutes of "flying". When my son started to enjoy it - he was told it was over.
---