Essential Information
What is a High Flight?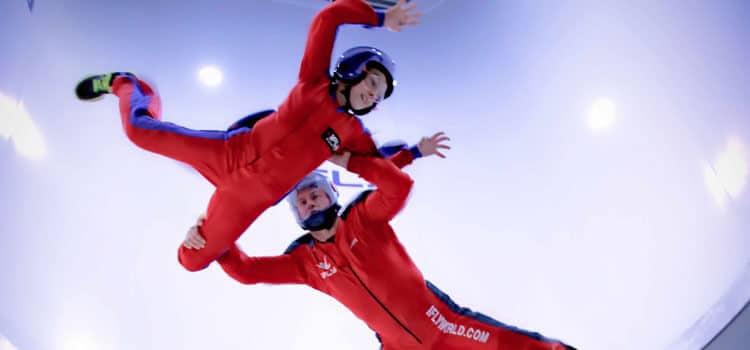 August 30, 2014
Indoor Skydiving Source
A high flight is commonly referred to as the BEST part or the 'grand finale' of a first time indoor skydiving experience. First-time flyers are typically flown within arms reach of the instructor, roughly 3-6 feet about the net. This allows the instructor to communicate with the flyer and keep them in a safe range within the tunnel. Commonly at the end of the last flight for each flyer, the tunnel instructor teaching the class will fly the flyer up and down within the wind tunnel. Normally the instructor fly's the student in a rising and falling pattern while turning. The high flight normally rises at the highest point somewhere between 10-20 feet above the net within the flight chamber.
High Flights from Tunnel to Tunnel

Most modern wind tunnels offer high flights either as a part of their first-time package or as of the recent past, at an extra charge. We outline high flight information on each tunnel profile page.
The best advice we can give is to plan on purchasing a high flight if it is not already included in your package.
Prices for high flights usually run ~$10 per flyer. Upwards of 85% of first-time flyers participate in high flights in tunnels which offer them as an extra charge. With those numbers, you can imagine that it is definitely worth planning on purchasing the add-on if the tunnel you plan to fly in charges for it. Alternatively, you can save yourself some money by finding a tunnel that includes high flights in their first-time package prices.
You can see an example of a high flight in this video:
Ready to start flying? Find a wind tunnel near you!
Published: August 30, 2014 | Last Updated: December 2, 2021
Written by,
Indoor Skydiving Source
Don't miss an update!
Join our mailing list for the latest indoor skydiving updates delivered directly to your inbox.
"*" indicates required fields