FULLFLY Bordeaux Overview
---
Votre simulateur de chute libre à Bordeaux
At FULLFLY Bordeaux you can experience the ultimate thrill without stepping foot outside! Our state-of-the-art wind tunnel is the perfect way to get your adrenaline pumping. The 4.3m diameter flight chamber, built using the Strojirna Litvinov technology, offers an unbeatable skydiving experience in a safe and controlled environment. Whether you're an experienced skydiver looking for off-season training or a thrill seeker wanting something unique to do on rainy winter days, this is the place for you!
Our facility also provides top-notch amenities, such as four bedrooms with five beds each and fully equipped bathrooms, so you can rest and relax after a long day. You'll also find everything you need to start your adventure – from specialized equipment to individual flight instructors who will help make sure you have a safe and enjoyable journey. And if that wasn't enough, we offer packages tailored specifically to meet your needs and budget – so there's no excuse not to come give it a try!
If indoor skydiving has been on your bucket list of thrilling experiences, then look no further than FULLFLY Bordeaux. Our professional team of experts are here to make sure that you get the most out of our wind tunnel and have an unforgettable time every time! So don't wait any longer – come join us today for the ultimate high-flying experience!
FULLFLY Bordeaux Flyer Information
---
The Indoor Skydiving Experience
The entire first time flight experiences take roughly 1-2 hours. After arriving and checking in, you take part in a personalized training session before gearing up to fly. During your flights your instructor teaches you to fly your body. You take turns flying one at a time with other first time flyers.
Indoor Skydiving Gear & Training
You will be provided with all the equipment you need. This includes a jumpsuit, helmet, goggles and earplugs. Check out our
Gear Guide
if you're interested in taking your own equipment with you.
Age Limit
Flyers must be at least 5 years old
Weight Limit
130 kg
You should not fly if you are pregnant or have previous shoulder dislocations.
Pricing
First-Time Flyers, 2 flights:
Adults – 70€
Kids – 39€
Proflyers:
15-minute package – 260€
For first time flights we recommend between 2 and 6 minutes of flight time per person. This gives you enough time to understand the basics of flying your body and is plenty of time for a great experience. For more pricing information, read our
pricing article
.
Facility Offereings
Group/Event Hosting
Party Rooms
Conference Facilities
Bar
Restaurant
FAQs
Wind Tunnel Information
---
Instructor Rating System
Manufacturer
Tunnel Type
Recirculating
Open Since
July 2022
Flight Chamber Style
Round Wall-to-Wall
Flight Chamber Diameter
14ft (4.3m)
Flight Chamber Height
42.7 ft (13 m)
Top Wind Speed
177 mph (285 km/h)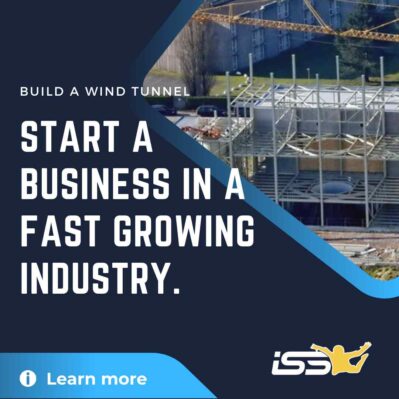 News & Articles Related to FULLFLY Bordeaux
---
No News Updates or Articles for this location.
FULLFLY Bordeaux Competitions & Events
---
No Upcoming Camps, Competitions or Other Events
If you know of an upcoming event at this or any location, please submit it through our event submission form
Tunnels Near FULLFLY Bordeaux
FULLFLY Bordeaux Reviews