Flydust Indoor Skydiving Overview
---
Vidéo de chute libre en soufflerie (HD) – Flydust
Flydust is the perfect place for anyone looking to experience the thrill of skydiving without ever leaving the ground! Located in Les Sables d'Olonnes, France, Flydust offers a semi-portable Tornado model wind tunnel, similar to other French tunnels from Airfly, with levels of aerodynamic intensity that mirror those found in free fall. Whether you're a beginner or an experienced skydiver, Flydust has something for everyone.
Flydust opened its doors to the public on September 11th, 2016. For first-time-flyers, they provide expertly trained instructors and all of the necessary safety precautions to ensure a safe and enjoyable experience. As you take off into the air, the instructors will guide you through each step – from your first flight to honing your skills as a pro skydiver. As you become more comfortable in the tunnel, challenge yourself by practicing flips and flying on your stomach or back.
The wind tunnel is located at the Aube Parachutisme skydiving dropzone which makes it a great option for those considering their AFF course to get comfortable controlling their bodies in the air before making the jump.
Advanced flyers won't be disappointed either! At Flydust, experienced skydivers can make use of their 4-meter platform and practice their own dives and stunts with plenty of room to move around.
Whether you want to try something new or want to brush up on your advanced skydiving skills, Flydust is sure to be a thrill for everyone involved! So why wait? Book today and fly high at France's only indoor wind tunnel facility!
Flydust Indoor Skydiving Flyer Information
---
The Indoor Skydiving Experience
The entire first time flight experiences take roughly 1-2 hours. After arriving and checking in, you take part in a personalized training session before gearing up to fly. During your flights your instructor teaches you to fly your body. You take turns flying one at a time with other first time flyers.
Indoor Skydiving Gear & Training
You will be provided with all the equipment you need. This includes a jumpsuit, helmet, goggles and earplugs. Check out our
Gear Guide
if you're interested in taking your own equipment with you.
Age Limit
Flyers must be at least 4 years old.
Weight Limit
From 20 kg to 120 kg max
You should not fly if you are pregnant or have previous shoulder dislocations.
Pricing
First Time Flyers
Kids 2 flights: €45
2 flights: €67
3 flights: €87
2 double duration flights: €105
3 double duration flights: €145
Groups:
4–9 people (3 flights each): €77 / person
10 or more people (3 flights each): €72 / person
For first time flights we recommend between 2 and 6 minutes of flight time per person. This gives you enough time to understand the basics of flying your body and is plenty of time for a great experience. For more pricing information, read our
pricing article
.
Facility Offereings
FAQs
Wind Tunnel Information
---
Instructor Rating System
Manufacturer
Tunnel Type
Propeller Below
Open Since
Sept, 2016
Flight Chamber Style
Round Wall-to-Wall
Flight Chamber Diameter
8.2ft (2.5m)
Flight Chamber Height
20 ft (6.1 m)
Top Wind Speed
170 mph (274 km/h)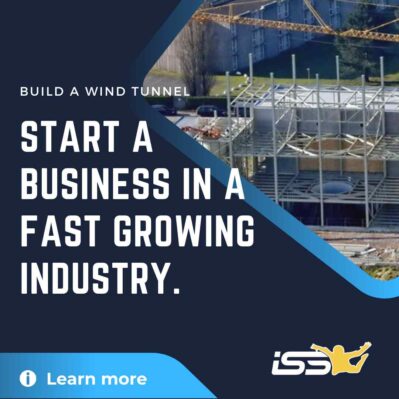 News & Articles Related to Flydust Indoor Skydiving
---
No News Updates or Articles for this location.
Flydust Indoor Skydiving Competitions & Events
---
No Upcoming Camps, Competitions or Other Events
If you know of an upcoming event at this or any location, please submit it through our event submission form
Tunnels Near Flydust Indoor Skydiving
Flydust Indoor Skydiving Reviews