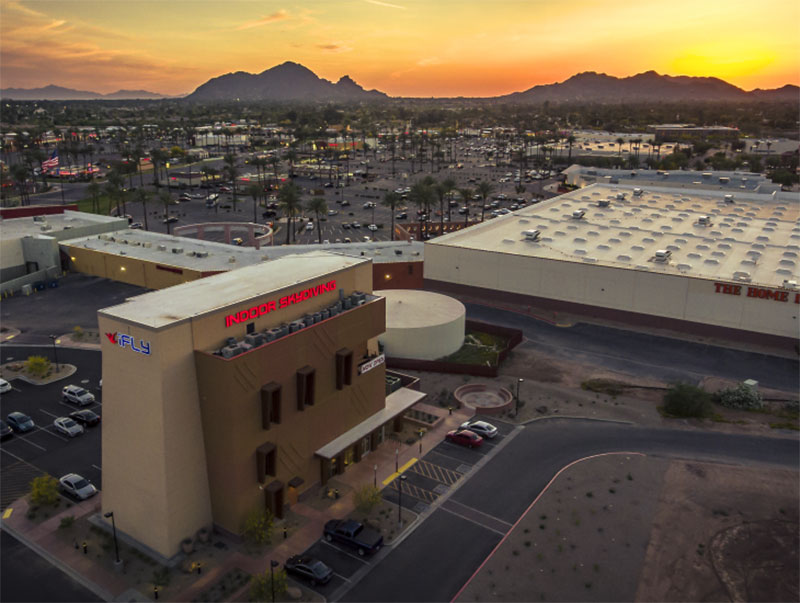 Mon - Thurs: 10am to 10pm
Friday: 10am to 11pm
Saturday: 9am to 11pm
Sunday: 9am to 10pm
Indoor Skydiving Source may receive a commission for bookings.
Tunnel Overview
iFLY Phoenix has opened to the public as of January 28th, 2017. The tunnel is a 14 foot diameter, tall model similar to the first of its kind found in Texas at iFLY Austin.
iFLY World has built their first Arizona based indoor skydiving facility at the The Pavilions At Talking Stick Shopping Center in Scottsdale, Arizona. The wind tunnel is to join the expanding shopping center development. Notable in this development is the cancellation of the Fliteshop project which was due to sit less than 2 miles to the north in the OdySea in the Desert development.
Flyer Information
Gear & Training
You will be provided with all the equipment you need. This includes a jumpsuit, helmet, goggles and earplugs. Check out our
Gear Guide
if you're interested in taking your own equipment with you.
Facility Offerings
Group/Event Hosting
Party Rooms
Conference Facilities
Catering Available
Educational Programs
What is Indoor Skydiving Video
What is Indoor Skydiving? - How & Where to fly!
Age Limit
Flyers must be at least 3 years old.
Weight Limit
Flyers must be less than 300 lbs.
Flyers over 260 lbs must contact the facility before flying.
You should not fly if you are pregnant or have previous shoulder dislocations.
More Questions About Flying?
The Experience
The entire first time flight experiences take roughly 1-2 hours. After arriving and checking in, you take part in a personalized training session before gearing up to fly. During your flights your instructor teaches you to fly your body. You take turns flying one at a time with other first time flyers.
Pricing
Pricing:
2 Flight Package: $79.95
3 Flight Package: $101.95
4 Flight Package: $127.95
5 Flight Package: $149.95
Additional Options:
Group, Party and Event Hosting
Flight Photos & Videos
High Flights (See: What is a high flight?)
For first time flights we recommend between 2 and 6 minutes of flight time per person. This gives you enough time to understand the basics of flying your body and is plenty of time for a great experience. For more pricing information, read our
pricing article
.
Ready to Fly!?
Technical Information
Instructor Rating System
Manufacturer
Tunnel Type
Recirculating
Open Since
Jan, 2017
Flight Chamber Style
Round Wall-to-Wall
Flight Chamber Diameter
14ft (4.3m)
Flight Chamber Height
N/A
Top Wind Speed
N/A
Related News & Articles
No News Updates or Articles for this location.
Tunnel Competitions & Events
No Upcoming Camps, Competitions or Other Events
If you know of an upcoming event at this or any location, please submit it through our event submission form
Travel & Accommodation
Nearby Airports
Phoenix Sky Harbor International Airport (PHX) - 14 mi
Phoenix-Mesa Gateway Airport (AZA) - 33 mi
Hotel Options Nearby
Car Hire
We recommend using
rentalcars.com
to compare rates and find the best deal for your car hire.
Reviews
---
Staff is RUDE
Nickname
:
Mandy
Review Date
: January 5, 2020

1
/
5
Stars
Great concept but unfortunately this business is not what it could be. Fliers are rushed and minor children are sent through the process alone. The worst is they are not forthright with extra fees. If you must go PAY IN CASH! It is sad that the $100 flight price is not enough but they then swindle you out of extra money by pressuring minors to okay charges to your credit card. Hopefully management is reviewed and policies are reinforced better in the future. Luckily for now my credit card company is able to return the fraudulent charges
---
obnoxious staff
Nickname
:
liz
Review Date
: February 21, 2019

1
/
5
Stars
I had trouble finding "I fly" - it's in a very obscure location- so was 5 minutes late. The young girl who checked me in very rudeIy stated that you I was told to come 15 minutes early (I wasn't) and that I should have called to get directions if I was lost. obnoxious and unnecessary.
---
Amazing Experience!
Nickname
:
Alisa
Review Date
: February 14, 2019

5
/
5
Stars
I'm still flying and it's two days later! I can't put into words how incredible this experience was. I attended the All Abilities program with my adult daughter who has autism. The entire staff was amazing, from the registration desk to the equipment counter (thanks guys for knowing our sizes without even asking us!) The instructors were very skilled in working with our special 'kids' (there were literally all ages!). I am so proud of my daughter and she is so proud of herself! The flight itself was not a roller-coaster type of feeling. Except for the noise and power of the wind, it really feels like swimming in air. It is the most freeing type of feeling and really is indescribable...
---
Scam
Nickname
:
Jen
Review Date
: February 3, 2019

1
/
5
Stars
After my first flight, I was offered a great price on a return flight. I bought a 6-flight return package and was told I could split it up anyway I wanted. Upon my return I was told it was 2-person max. Completely disappointed. This is an amazing experience, but don't get scammed by the return flight package.
---
Nickname
:
Birthday fun
Review Date
: December 3, 2018

5
/
5
Stars
8 year old granddaughter's birthday party there was great. The staff was attentive and the party room was relaxing and accommodating with plates, napkins, and drinks. The girls were happy and excited to get two turns each of "flying" and got to choose a photo and a video of their "flight". Worthwhile if one can afford the experience.
---
Very fun and challenging!
Nickname
:
Louie Lou
Review Date
: February 25, 2018

5
/
5
Stars
Great time. This was my second trip to IFly Phoenix. Instructor Amberly was upbeat and professional. The instructors do a nice job in helping you refine your "flying" abilities inside the tunnel. There was a team spirit among the flyers waiting their turn as high fives were hit after each person's flight. I hope to return soon and practice turns. I recommend buying a return flight voucher following your flight if you plan on returning. It is about half the cost of your first flight.
---
First flight
Nickname
:
Greg
Review Date
: December 30, 2017

5
/
5
Stars
Nathan was the Sh*t ... cool and patient instructor. I look forward to bringing my family again ... Great guy to work with ...
---
it is so fun
Nickname
:
laughing8446
Review Date
: November 20, 2017

5
/
5
Stars
---
Nickname
:
Paula
Review Date
: September 22, 2017

4
/
5
Stars
Short amount of time for an expensive flight. I experienced a cheaper rate both in California in two separate locations two separate dates. Hopefully more customers will take advance of this experience at a responsible cost.
---
Awesome experience
Nickname
:
Gran Kathie
Review Date
: July 1, 2017

5
/
5
Stars
My grandkids, 12 and 15, were a bit hesitant as to what to expect. One will try anything and one is cautious and has to check things out thoroughly before trying anything new. After their 2 flights they were beaming from ear to ear. When asked how they liked it both responded with an overwhelming "AWESOME". Can't wait to go again.
---
My new favorite activity
Nickname
:
Neonspyke
Review Date
: July 1, 2017

5
/
5
Stars
Very friendly and knowledgeable staff. Very exciting entertainment and gives me goals to work on and new stuff to learn. I wish I could go once or twice a month.
---
What a great experience!
Nickname
:
Fads Pro
Review Date
: June 29, 2017

5
/
5
Stars
I took my Fred Astaire professionals and we had an amazing time! Staff were incredible.
---
Best Fathers Day
Nickname
:
Jim
Review Date
: June 19, 2017

5
/
5
Stars
We went as a family and had a great time. Staff did a great job. I would go back again
---
United Airlines or IFLY?
Nickname
:
Fun Flyer
Review Date
: May 10, 2017

1
/
5
Stars
The flight experience is fun, the front desk customer service was equivalent to a United Airlines Flight. Seriously, for the money, I would have expected a better customer service experience. It's clear that the administrative staff cares about money period. They need to make it clear that the two minute flying experience is two one minute attempts, and not one second more. The flying staff was great. And it is fun.....but....they even try to upsell......I would not do again.....
---
My Daughter Couldn't Stop Grinning!!!
Nickname
:
Smilin'IFlyMom
Review Date
: March 12, 2017

5
/
5
Stars
At the end of her Spring Break I surprised my 13 year old daughter with a trip to iFLY. We got there well before her flight time, and after receiving her instructions and suiting up she was eager to go. She had two turns in the tunnel, the second one took her very high up, and the whole time she was grinning from ear to ear!! She LOVED it. If you are an adventurer or just have adventurous kids, take them-it's really worth it, your kids will love it. My daughter can't wait to go again!!
---
Very nice place
Nickname
:
neonspyke
Review Date
: February 4, 2017

5
/
5
Stars
Everyone I talked to was nice and friendly. Our instructor was knowledgeable and helpful. Flying in the wind tunnel is so exciting and fun, we will definitely be coming back. I already got more flights for return visits.
---
Great First Flight
Nickname
:
Dustinbullard
Review Date
: February 2, 2017

5
/
5
Stars
Seriously some of the funniest and nicest staff I have met at a public place! Super chill vibe, very organized and laid back, great prices!! Definitely get out and try this SO BADASS!
---