Ice Mountain Indoor Skydiving
Monday–Thursday: 10 AM–10 PM
Friday–Saturday: 10 AM–11 PM
Sunday: 10 AM–10 PM
Subscribe
Review Now
Ice Mountain Indoor Skydiving Overview
---
Are you looking for an adrenaline rush? Have you ever dreamed of flying? Then come to Ice Mountain Indoor Skydiving and experience the thrill of wind tunnel skydiving! Our 15-meter-tall wind tunnel is one of the tallest in the world and can create airspeeds of up to 300 km/h using four powerful turbines. Plus, our state-of-the-art temperature control system ensures the air inside stays at a comfortable 23°C.
Safety is always our top priority, so before you fly we will give you a full safety briefing as well as instructions on flight signals and communication. Afterwards, all participants receive personalized flight certificates that they can take home as proof of their achievement.
At Ice Mountain Indoor Skydiving, we want your experience to be truly memorable from start to finish! After your session, you can kick back and relax with free Wi-Fi access in our lounge bar or grab a snack or drink while browsing through photos and videos taken during your session that are available for purchase for € 9.00 per person via QR code at reception.
The wind tunnel, which uses Indoor Skydiving Germany technology, opened its doors to the public on March 4th, 2016 and is just one of the many attractions at Ice Mountain Adventure Park.
So come to Ice Mountain Indoor Skydiving today and discover a thrilling new way to get your adrenaline pumping!
Ice Mountain Indoor Skydiving Flyer Information
---
The Indoor Skydiving Experience
The entire first time flight experiences take roughly 1-2 hours. After arriving and checking in, you take part in a personalized training session before gearing up to fly. During your flights your instructor teaches you to fly your body. You take turns flying one at a time with other first time flyers.
Indoor Skydiving Gear & Training
You will be provided with all the equipment you need. This includes a jumpsuit, helmet, goggles and earplugs. Check out our
Gear Guide
if you're interested in taking your own equipment with you.
Age Limit
Minimum of 4 years old.
Weight Limit
130kg Maximum
You should not fly if you are pregnant or have previous shoulder dislocations.
Pricing
First Time Flyers
Adults:
2 flights: €59
3 flights: €79
4 flights: €99
5 flights: €119
Kids:
2 flights: €49
3 flights: €69
For first time flights we recommend between 2 and 6 minutes of flight time per person. This gives you enough time to understand the basics of flying your body and is plenty of time for a great experience. For more pricing information, read our
pricing article
.
Facility Offereings
Group/Event Hosting
Party Rooms
Catering Available
Bar
FAQs
Wind Tunnel Information
---
Instructor Rating System
Manufacturer
Tunnel Type
Recirculating
Open Since
Early 2016
Flight Chamber Style
12 Sided Wall-to-Wall
Flight Chamber Diameter
14ft (4.3m)
Flight Chamber Height
49.2 ft (15 m)
Top Wind Speed
186 mph (300 km/h)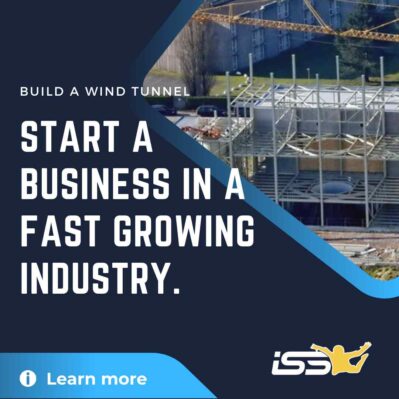 News & Articles Related to Ice Mountain Indoor Skydiving
---
No News Updates or Articles for this location.
Ice Mountain Indoor Skydiving Competitions & Events
---
No Upcoming Camps, Competitions or Other Events
If you know of an upcoming event at this or any location, please submit it through our event submission form
Tunnels Near Ice Mountain Indoor Skydiving
Ice Mountain Indoor Skydiving Reviews
---
awsome
Nickname
:
bird brains
Review Date
: March 30, 2016

5
/
5
Stars
very nice adventure park!
---