News
The Big Apple Scores Its First Wind Tunnel
The biggest city in the United States is finally getting its own wind tunnel, an iFLY in Long Island City.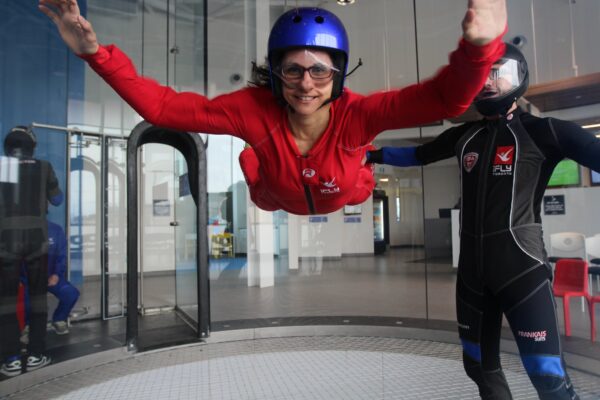 May 30, 2022
Owen Clarke
You'd probably be surprised to hear that New York City has never had a wind tunnel, but it's true. iFLY operates nearby tunnels in Yonkers (iFLY Westchester) and across the Hudson River in New Jersey (iFLY Paramus), which opened in 2015 and 2018, respectively. But until now, the biggest city in the United States of America (and one of the largest cities in the entire world) has never had a wind tunnel!
An upcoming iFLY location in Queens will change that, nestled right at the entrance of the Midtown Tunnel.
After pondering sites in Manhattan, Brooklyn, and other locations in Queens, iFLY signed a lease for a 6,800-square-foot facility in Long Island City, Queens. The iFLY property will cover two floors and will be housed inside of a larger space, a 50,000-square-foot parking lot that is under renovation to become an expansive entertainment and retail center. The lot is located at 10-04 Borden Avenue and spans over three stories with 6,000 square feet of outdoor space. The VOREA Group (a prominent New York developer) and private developer Andru Coren are spearheading the project together.
"The site is on display to more than 60 million cars between the Queens-Midtown Tunnel and the Pulaski Bridge that connects you to Brooklyn. So it was really a flagship for [iFLY] and they felt that site was the spot to make a presence in New York," Adam Joly, VOREA's Head of Business Development, told The Real Deal.
"With more than 60,000,000 annual vehicles between the Queens Midtown Tunnel and the Pulaski Bridge, 10-04 Borden Ave presents commercial end-users with the ability to create an incredibly visible presence within NYC," says Peter Papamichael VOREA's principal. "[Having] iFLY as an anchor to the project will bring an immense amount of foot traffic and attention to the site."
While construction on the larger 10-04 Borden Avenue space isn't estimated to be completed until fall or winter 2023, the iFLY wind tunnel facility will be operational by summer, if all goes according to plan. Once opened, iFLY Long Island will join iFLY Westchester as the second tunnel in the state of New York.
Published: May 30, 2022 | Last Updated: June 6, 2022
Written by,
Owen Clarke
Owen Clarke
is an American action sports and adventure travel journalist. In addition to serving as an executive editor at Indoor Skydiving Source, he is an editor-at-large for
Climbing
magazine and lead writer for the adventure guiding outfitter
Benegas Brothers Productions
. He also writes for Backpacker, Outside, SKI, and Trail Runner, among other publications.
Don't miss an update!
Join our mailing list for the latest indoor skydiving updates delivered directly to your inbox.
"*" indicates required fields