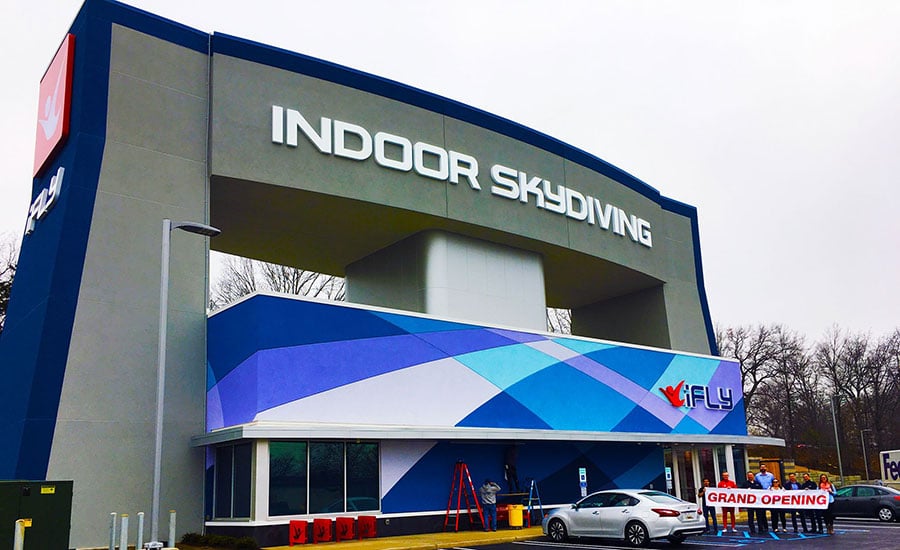 Mon - Thurs: 10am to 9pm
Fri: 10am to 11pm
Sat: 8am to 11pm
Sun: 8am to 9pm
Reserve a Flight
Indoor Skydiving Source may receive a commission for bookings.
iFLY Paramus Overview
---
iFLY Paramus is a 14-foot (4.3 m) recirculating wind tunnel that opened in April 2018. This Generation 7 model is the first and only indoor skydiving location in New Jersey, though there are several other wind tunnels close by, including iFLY Westchester in Yonkers, New York, which is only a 20-minute drive across the Hudson River. To the southwest, iFLY King of Prussia, in Philadelphia, Pennsylvania, is a two-hour drive. iFLY Paramus is located off Route 4, next door to the Bergen Town Center shopping district, home to a plethora of restaurants, shops, and attractions.
iFLY Paramus Flyer Information
---
The Indoor Skydiving Experience
The entire first time flight experiences take roughly 1-2 hours. After arriving and checking in, you take part in a personalized training session before gearing up to fly. During your flights your instructor teaches you to fly your body. You take turns flying one at a time with other first time flyers.
What is Indoor Skydiving Video
What is Indoor Skydiving? - How & Where to fly!
Indoor Skydiving Gear & Training
You will be provided with all the equipment you need. This includes a jumpsuit, helmet, goggles and earplugs. Check out our
Gear Guide
if you're interested in taking your own equipment with you.
Age Limit
Flyers must be at least 3 years old.
Weight Limit
Flyers must be less than 300 lbs.
Flyers over 260 lbs must contact the facility before flying.
You should not fly if you are pregnant or have previous shoulder dislocations.
Pricing
Pricing:
2 Flight Package: $89.95
3 Flight Package: $114.95
4 Flight Package: $143.95
5 Flight Package: $168.95
Additional Options:
Group, Party and Event Hosting
Flight Photos & Videos
High Flights (See: What is a high flight?)
For first time flights we recommend between 2 and 6 minutes of flight time per person. This gives you enough time to understand the basics of flying your body and is plenty of time for a great experience. For more pricing information, read our
pricing article
.
Facility Offereings
Group/Event Hosting
Party Rooms
Conference Facilities
Catering Available
Educational Programs
FAQs
Ready to Fly!?
Reserve a Flight
Wind Tunnel Information
---
Instructor Rating System
Manufacturer
Tunnel Type
Recirculating
Open Since
Apr, 2018
Flight Chamber Style
Round Wall-to-Wall
Flight Chamber Diameter
14ft (4.3m)
Flight Chamber Height
N/A
Top Wind Speed
N/A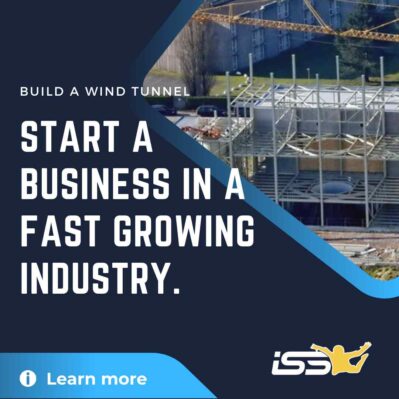 News & Articles Related to iFLY Paramus
---
No News Updates or Articles for this location.
iFLY Paramus Competitions & Events
---
No Upcoming Camps, Competitions or Other Events
If you know of an upcoming event at this or any location, please submit it through our event submission form
Tunnels Near iFLY Paramus
iFLY Paramus Reviews
---
Horrible experience. Save your money
Nickname
:
Regina
Review Date
: February 23, 2022

1
/
5
Stars
I showed up 8 minute late. They tried to get away on not rebooking and no refunds. I started to get louder. 2 out of 3 people were able to go, which made the little one super nervous. The little one had a terrible experience and they refuse to give a refund of pictures, although they did not provide any pictures.
The manager is nasty , doesn't care. If I knew earlier, I wouldn't have wasted my time. Save your money and go somewhere else. I was willing to reschedule same day and wait an hour or two , and they still weren't having it. It's 8 minutes , that's ridiculous.
---
Horrible Service
Nickname
:
Sullivan
Review Date
: August 30, 2021

1
/
5
Stars
Horrendous service. I needed to cancel and requested a refund. They literally do everything to make sure you can't cancel. They were very nasty and in the times on COVID and I called for 3 days to try to cancel due my son being sick. Not worth the hassle in these times. When any sign of cold requires people to isolate.
---
Just waiting for closing date !!!
Nickname
:
Crashfixr
Review Date
: July 23, 2018

1
/
5
Stars
If you enjoy spend loads of money and being nickeled and dimed to death every step of the way , this place is for you !!! Everything is an up sell !!! I took my 14yr old son here , spend a few hundred 1st day , when you are leaving they sell you your 2nd visit for slightly less then the 1st time , they knew I paid 1st time for the last 30 sec of high fly , but didn't offer or mention buying that in 2nd visit . So we are back now for 2nd Visit & here go the upsells , I bought 10 min , but to go higher for 30 seconds is an up sell , I ask can he go less min and go higher , NO !!! I'm done , this place needs to value the few customers the do have or severely lower there prices !!! I'd be surprised if they make it 5 yrs , Should be gone in 1 !!! ( I've spent almost $500 between both visits , you would think they would throw in a perk and keep the customer happy ... NOT !!! )
---
Poor Customer Service
Nickname
:
Mo
Review Date
: June 21, 2018

1
/
5
Stars
I went online to book a flight for my 13 year old for the first time. I was required to book 2 flights. So, I called to see if I could just book 1 flight. I asked the woman was there a reason I had to book 2 & rudely she says because that's what we require in our policy. Gratefully, I can afford the $200 for 2 minutes of flight time, however, when I call and ask a question, I expect to get an answer that makes sense for what I'm asking. Not some BS because you really dont have an answer. & you don't like that I questioned what I would be paying for. I'm spending my money, I should be able to ask questions without getting nasty, snobby responses. I'd rather spend more money with better customer service than to deal with people who don't know how to speak professionally to a potential customer over the telephone.
---
A little different from the one in PA
Nickname
:
Hope
Review Date
: May 27, 2018

4
/
5
Stars
I took my daughter here in paramus NJ, it was cool. I have flew at the one in King of Prussia in PA and its awesome! I am not sure if the dont use enough wind speed in NJ but everyone didnt seem to float individually, everyone ended up lower to the ground. One lady hit the floor and they had to grab her. They use two guys instead of just one instructor for the flight and high flight, not sure why. In PA it is one instructor for eveything. My husband and I were floating mid level and flew individually they measured the weight of each of us perfectly. In Nj I just didnt get why every one was flying so low, I dont think they determined correctly on how much wind pressure of everyone was almost on the ground flying. That was my only issue there in NJ. Try out the one in PA its great!
---
Amazing!!
Nickname
:
Erin
Review Date
: April 14, 2018

5
/
5
Stars
My fiancé and I went to the i fly today in Paramus, NJ! It was such an incredible experience! We both had a great time, such an adventure! Our instructor Devin made us feel comfortable and safe all while having the time of our lives! Thank you for such an experience! Definitely would do again!
---
Best gift ever
Nickname
:
Cancunmom
Review Date
: April 14, 2018

5
/
5
Stars
Best gift ever ! Memories are made with adventure.
---
Nickname
:
Gabetheboss21
Review Date
: March 18, 2018

5
/
5
Stars
Best place ever
---