News
USA's First All-Female Indoor Skydiving Team to Compete in 2022 FAI World Cup
Teenagers Gianna Keuer (15), Jill Knutson (15), Kianna Adamson (15), and Bella Capra (13) will represent the US at the FAI World Cup in Belgium next April.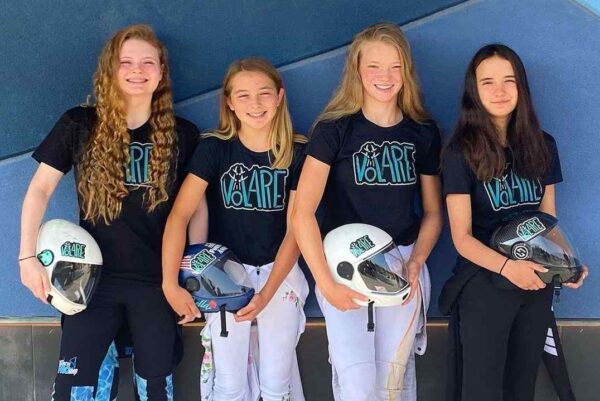 Image Credit: Team Volare @volaregirls_
January 3, 2022
Owen Clarke
The United States' first all-female skydiving team to qualify for an international competition will head to Belgium in 2022, to compete in the Fédération Aéronautique Internationale (International Aeronautical Federation/FAI) Indoor Skydiving World Cup. The event promises to be the biggest indoor skydiving competition to date, with well over 400 indoor skydivers from around the world participating.
The all-female Team Volare (a verb meaning "to fly" in Spanish) consists of four teenage girls from four different states across America. They are Gianna Keuer (15), of Barrington, Illinois, Jill Knutson (15), of Stamford, Connecticut, Kianna Adamson (15), of Denver, Colorado, and Bella Capra (13), of Portland, Oregon.
The quartet won silver at the 2021 US Indoor Skydiving Nationals in El Paso earlier this year, securing a slot to represent the United States at the 2022 FAI World Cup next April. "Volare girls are fierce competitors, and really represent the strength of what young women can do through hard work and supporting each other," said Mike Wittenburg, their coach, in a press release.
Knutson and Capra's 2-Way Dynamic team, Team Rosewater, also clinched a bronze medal at the same competition and will compete in the 2-Way Dynamic event at the World Cup. "Representing the USA at the World Cup of indoor body flight in not only one, but two events is a dream come true!" Knutson said.
Originally scheduled for April 2020, but postponed due to COVID-19, the FAI World Cup will take place from April 5 to 10, 2022, at the AirSpace 14-foot (4.3 m) recirculating tunnel in Charleroi, south of Brussels. The event will house the 2nd European Indoor Skydiving Championships, in addition to the 4th annual FAI Indoor Skydiving World Cup.
Eligible flyers will compete for both the World Cup and European Championship in three separate disciplines: Formation Skydiving, Dynamic (Free and Speed), and Freestyle.
You can learn more about the three disciplines with information directly from the competition site below:
FORMATION
In formation skydiving (FS and VFS) teams of four try to complete as many drawn formations as possible within the working time. The team with the highest accumulated score after 10 rounds wins. Teams will be competing in FS 4-Way open, female and junior as well as Vertical Formation Skydiving (VFS) open.
DYNAMIC
Dynamic consists of speed and free rounds. The free round is an artistic expression of the teams' flying skills to music. The speed round is a race against the clock. The competition follows a tournament knockout system where the team that makes it through every battle wins the competition. Teams will be competing in 4-Way and 2-Way Dynamic Open and Junior. New this year is that the Dynamic 4-Way competition will be speed only. 
FREESTYLE
Freestyle is an individual discipline. The athletes perform three free routines to music as well as two compulsory routines where they are scored on how well they perform compulsory moves. The athlete with the highest accumulated score after five rounds wins. The athletes will be competing in Freestyle Open and Freestyle Junior.
Published: January 3, 2022 | Last Updated: January 28, 2022
Written by,
Owen Clarke
Owen Clarke
is an American action sports and adventure travel journalist. In addition to serving as an executive editor at Indoor Skydiving Source, he is an editor-at-large for
Climbing
magazine and lead writer for the adventure guiding outfitter
Benegas Brothers Productions
. He also writes for Backpacker, Outside, SKI, and Trail Runner, among other publications.
Don't miss an update!
Join our mailing list for the latest indoor skydiving updates delivered directly to your inbox.
"*" indicates required fields