News
iFLY to Open New Wind Tunnel in Miami
The Miami iFLY location will be the only wind tunnel currently operating in the Magic City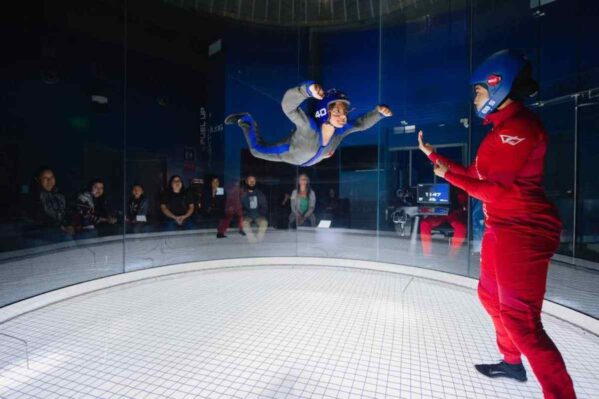 September 17, 2021
Owen Clarke
American wind tunnel manufacturer iFLY has announced a new location in Miami, Florida, which is slated to incorporate the brand's cutting-edge Gen 9 technology.
"I couldn't be more excited to bring this experience to Miami," Jimmy Marks, the owner and a Florida native, told blooloop. "Everyone dreams they can fly and soon iFLY will make that dream come true. Our expert instructors will teach you everything you need to know to literally take flight in our indoor wind tunnel.
"With easy access to all of Miami and close proximity to the newly opened River Landing shopping and dining complex, iFLY will deliver the dream of flight to family outings, date nights, and school field trips. Additionally, the size of the wind tunnel will allow skydivers and indoor skydiving athletes a chance to hone their skills in the Magic City."
The iFLY Miami tunnel, like all Gen-9 iFLY tunnels, will be a 14 ft (4.3m) recirculating tunnel with four fans.
From iFLY:
The Gen 9 – 14R4 is iFLY's most innovative redesign to date and the new flagship prototype of the industry-standard 14-foot tunnel. As an exemplary model for all entertainment, sport, and military users, the Gen 9 was redesigned for both the skydiver and the tunnel owner. The model provides a flight chamber suitable to the most elite of competitions.
iFLY Miami will be located at 1501 NW North River Drive, Miami, FL 33125. The brand already has four active Florida wind tunnels, in Jacksonville, Tampa, Orlando, and Fort Lauderdale.
AERODIUM Technologies formerly operated an outdoor 9ft (2.8m) open flow wind tunnel, SuperFlight, at Jungle Island in Miami, but that facility is now temporarily closed. As such, when the new Miami iFLY opens, it will be the city's only active wind tunnel.
"We're thrilled to be adding Jimmy Marks and his central Miami project to the iFLY family," said an iFLY spokesperson. "With a global operational background and a passion for indoor skydiving, Jimmy [Marks] is the ideal franchise owner.  As the demand for experiential entertainment grows coming out of the pandemic, we're seeing more and more demand for new franchisees like Jimmy, with the intention of becoming multi-franchise owners."
Don't miss an update!
Join our mailing list for the latest indoor skydiving updates delivered directly to your inbox.
Written by,
Owen Clarke
Owen Clarke
is an American action sports and adventure travel journalist, with particular focus on mountaineering and adventure motorcycling. He is a Contributing Digital Editor for
Climbing
and
Gym Climber
magazines, and a lead writer for the adventure film company
Benegas Brothers Productions
. He has summited over 50 major mountains around the world, from the Southern Alps of New Zealand to the Peruvian Andes to the Moroccan Atlas. He is also Editor-in-Chief of his own digital publication,
Dead Foot Collective
.
Published: September 17, 2021 | Last Updated: September 17, 2021