AERODIUM Technologies

About AERODIUM Technologies
Jean St. Germain founded AERODIUM in Canada in 1979 by building the first vertical wind tunnel for human flight. The company was acquired by AERODIUM Latvia in 2008 with the current headquarters in Riga, Latvia. Today they are the only company that manufactures a full range of tunnel types – open flow, wall-to-wall (open flow), recirculating, and custom design – all of which have been successfully built in various locations around the world.
In addition to traditional tunnel installations, AERODIUM has created a market for wind tunnel rentals. These applications are perfect for marketing events as well as shows and performances. Highlights include:
Torino Winter Olympic Games Closing Ceremony of 2006, a flight show seen by millions.
A recirculating tunnel was built for the World Expo along with three open tunnels on the roof of the pavilion for night shows in 2009.
Custom tunnel built into a stage of a traveling Peter Pan musical.
Custom tunnel on a movie set for the filming of the final fight of Jackie Chan's movie "Chinese Zodiac".
"Sweetness Simulator" at the Chicago NFL Draft in 2015.
Gravity Indoor Skydiving features the tallest glass flight chamber in the world at 12 m/ 39.4 ft. Opened in 2015
A custom designed 4.3 m /14 ft recirculating tunnel with no walls was built for Shanghai Disney Resort as part of the stage at the Pirates of the Caribbean show: Eye of the Storm: Captain Jack's Stunt Spectacular in 2016.
Built the world's largest vertical wind tunnel, AERODIUM Peryton, used for the filming of "Mission Impossible: Fallout"
AERODIUM aspires to bring the joy of indoor skydiving emphasizing on overall tunnel design and atmosphere to create an unique concept making the experience not only interesting, but as an unforgettable adventure to flyers – (first time and pro-flyers) and spectators alike.
Services Offered
Cooperation Options - Outright sales; Franchise; License
Military - Specialized work for military customers.
Rental – for temporary locations, seasonal rental, events, movies and shows
Other Services – Installation, supervision, training (technical and operational), maintenance, IT system
AERODIUM also works with clients on custom designed tunnels for permanent shows.
Tunnel Types Offered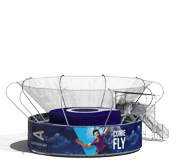 Open-Air
Open-air wind tunnels for public entertainment, shows, and marketing events. Indoor integration possible.
Sizes from 6.9 - 18 ft diameter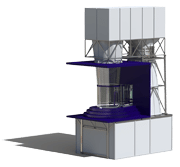 Enclosed
Season-independent indoor tunnels for public entertainment, professional indoor skydiving, military training, and large scale shows.
Sizes from 9 - 17.1 ft diameter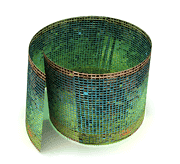 Custom Made
Wind tunnels for unique applications built on a per-project basis.
Sizes & Prices depending on application.

AERODIUM Technologies Wind Tunnels (35)
Key: Announced Under Construction Open to the Public