Essential Information, Features
The Magic of Vegas Indoor Skydiving, the USA's Oldest Commercial Wind Tunnel
In an industry where modern technology reigns supreme, Vegas Indoor Skydiving soldiers on, operating a single, one-of-a-kind wind tunnel that's been welcoming fliers for nearly 40 years.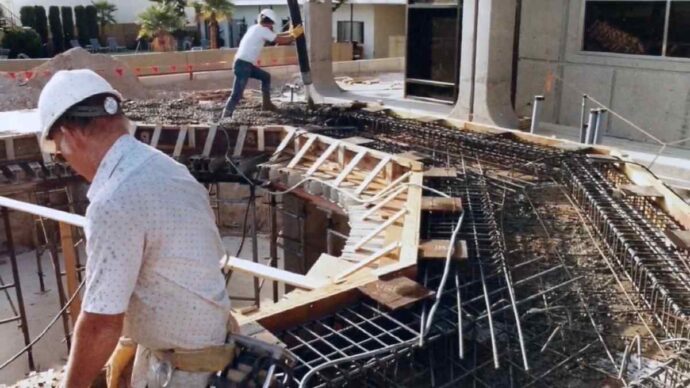 September 30, 2021
Owen Clarke
Vegas Indoor Skydiving is (and always has been) the only wind tunnel in Sin City and the state of Nevada. This is fairly impressive in and of itself, considering the wealth of outlandish tourist attractions found in Las Vegas, from offroad racing tracks to roller coasters to machine-gun ranges to the "Erotic Heritage Museum."
You'd think there'd be a few wind tunnels, right? I mean, Chicago has three now, and there are five in Southern California.
But no, there's only one, and it's the same one that's been in town for almost 40 years. That's not all though. Vegas Indoor Skydiving's wind tunnel was also the first commercial wind tunnel built in the United States of America (a nation now home to over 60 wind tunnels, more than any other country in the world).
It's also "the oldest attraction in Las Vegas," and has an official certificate from the city to prove it.
"The only things here before us were the casinos and the hookers," Founder and CEO Keith Field explained in my recent visit to Vegas Indoor Skydiving.
The Birth of Vegas Indoor Skydiving
Constructed and opened in 1982, the Vegas Indoor Skydiving tunnel was built on the site of an old bank right off the Las Vegas Strip, and the bank vault has been integrated into the building's design, forming part of the front desk where visitors can sign in. Simply put, the wind tunnel is a Las Vegas institution, with a rich history in the city.
Oscar Goodman, the city's former mayor and husband to current mayor Carolyn Goodman, was the attorney that helped get the tunnel up and going in 1982. Many current city councilmen were instructors at Vegas Indoor Skydiving in college. Countless Vegas Indoor Skydiving staff alumni are now doctors, lawyers, firefighters, politicians, orthodontists, and more throughout the city.
The tunnel originally ran for four years, before closing for four years after a spate of accidents.
"The company that opened it back then just didn't realize the danger in it. They had over 400 reported injuries in those first four years," said Fields, who began as an instructor at the wind tunnel in the early 90s and has now owned and operated it for 16 years.
Vegas Indoor Skydiving's wind tunnel isn't just the oldest in the United States, though. It's the oldest operating commercial wind tunnel in the USA, and only the second wind tunnel built for human flight in history (read more about the history of the vertical wind tunnel here).
"More than anything, I'm most proud of the time we've been here in Vegas," Fields said. "We've seen casinos built and torn down, all while we've maintained what we're doing, teaching people to fly."
The Vegas tunnel originally only played second fiddle to Jean St-Germain's tunnel in Montreal, which opened in 1978 (St-Germain's brand is now AERODIUM Technologies). This Canadian wind tunnel was later rebuilt as an outdoor tunnel, before being dismantled in 1998.
What Makes Vegas Indoor Skydiving Special
The Vegas tunnel is quite different from the iFLY (previously, SkyVenture) tunnels that populate much of the rest of the United States. For starters, it's powered by a 1,000-horsepower electric motor attached to the propeller from a DC-3 aircraft, creating wind speeds up to 120 mph (193 kph) as opposed to the latest Generation 9 wall-to-wall recirculating tunnels operated by iFLY, which can crank up to over 160 mph (257 kph).
Also, the wind column at Vegas Indoor Skydiving is only 12ft (3.7m) in diameter and 22 ft (6.7 m) high, in comparison to iFLY's new standard 14 ft [4.3 m] Gen 9 tunnel. That said, the Vegas tunnel is actually several feet larger than the wind column itself, due to a small padded ring around the edge, where participants and instructors can stand while not flying. In other words, it's not a wall-to-wall tunnel, and one of the few of its kind still operating in the United States.
This makes the wind tunnel experience arguably more enjoyable for groups of friends and families, particularly first-time fliers. Although you may be flying in the air column alone (or with an instructor), you're not in the wind tunnel alone. Your friends and family are just a couple of feet away, separated by nothing but air. They could reach out and touch you if they wanted (though this surely is not advised).
The tunnel walls are also almost entirely padded, as well, save for a few glass viewing slits. When instructors and other trained fliers fly they can bounce off the walls (and crash into them if need be) without injury, participating in a distinctly different style of wind tunnel flying than one can experience in wall-to-wall tunnels.
"Our tunnel is very kid-friendly because everything is padded," Fields said. "The floor is trampoline style, too. It's quite soft."
Great Design for First-Timers
All told, Vegas Indoor Skydiving offers a unique flying experience that can't be found at most modern tunnels. As mentioned above, however, the wind tunnel operates at significantly lower speeds than most modern tunnels, so it's mostly first-time skydivers who attend. Experienced wind tunnel fliers generally steer clear, opting for the more modern, advanced tunnels.
"Around 90% of our fliers are tourists and first-timers," said Fields. "This is both because of our location right off the strip, so we get lots of tourists, and because the tunnel is just older. Of the remaining 10%, it's about 50/50 Las Vegas locals vs. experienced people."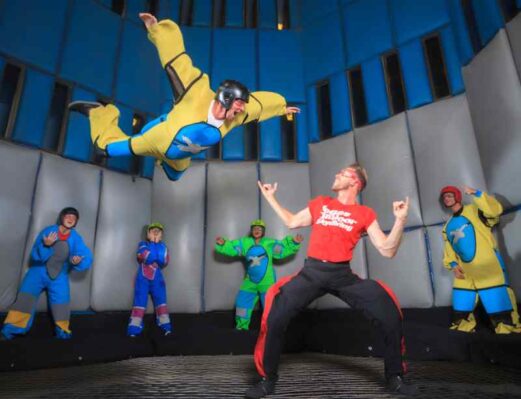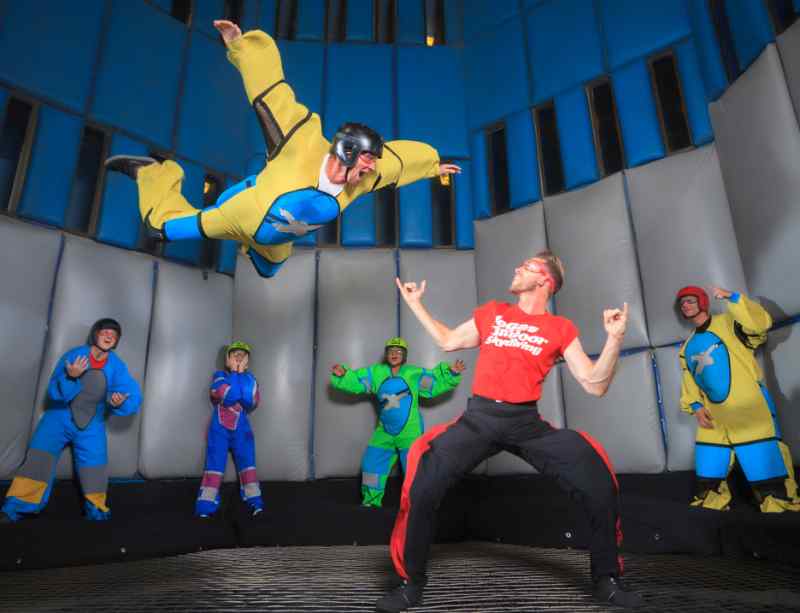 Fields and his team were open about the fact that they can't afford to compete with the casinos and other well-known Las Vegas attractions for pricey ad space. The tunnel survives mostly on word-of-mouth and the fact that it's the only attraction of its kind in Vegas.
"But hey, we all love what we do," Fields said. "We come to work every day knowing people's dreams are gonna come true here. I mean, we're teaching people to fly, to break the bonds of gravity."
"We're someone's vacation magic," added instructor and mechanic Andy Chidester, who is so passionate about Vegas Indoor Skydiving that he has the wind tunnel's logo tattooed on his arm.
Indoor Skydiving Competition in Vegas
Despite the obvious competition iFLY presents to his tunnel, Fields and his team have nothing but kind words for the monolithic brand, which now has commissioned 89 tunnels in 19 countries. "They've made it more efficient, they've really helped bring the sport to the masses," he said.
Tentative plans have formed and fallen apart for years to bring an iFLY tunnel to Las Vegas, but even if it does happen, he doesn't see iFLY as a threat.
"Look, definitely they're our competition, but there are 58 million people each year visiting this town. That's a big pie. How many casinos are in town? How many shows? Having another indoor skydiving facility in town is only going to create awareness for the industry. It's going to be two brands contributing advertising money to grow the sport instead of one."
"I just want the industry to grow," he added. "I remember back in the day, you guys [ISS] came and interviewed me, and you asked me, 'Where do you see the sport in the future years?' and I said, 'I see it being maybe four or five tunnels in the world… and now there are 268 tunnels!"
"Besides, there's a lot of love in this industry all around. Our company motto is 'Share the love.' You fly in a wind tunnel, and total strangers become your friends. If someone comes in and they're an iFLY guy, we're just like, 'Oh cool! Let's go fly!' We send people to iFLY all the time when they leave us and want to continue the sport when they go back home."
Fields called his tunnel, "a workhorse," noting that the facility's power bill is astronomical, especially on busy summer days. "It's way, way less efficient than the modern tunnels," he said. That said, he reportedly has no plans to upgrade the tunnel to a more modern design, because Vegas Indoor Skydiving was grandfathered in under the original license from 1982, so it'd require them to make a slew of changes to bring everything up to modern code.
"Look, we're making ends meet, and we're having fun," he said. "That's what counts, right?"
The wind tunnel is open seven days a week and has no age limit, so long as fliers are above 40 pounds (18kg). They offer "Learn to Fly" two-flight packages at $85, with repeat flights at $40, as well as pricier packages including photo service and a t-shirt, among other add-ons. You can find out more about Vegas Indoor Skydiving on their website.
Published: September 30, 2021 | Last Updated: September 30, 2021
Written by,
Owen Clarke
Owen Clarke
is an American action sports and adventure travel journalist. In addition to serving as an executive editor at Indoor Skydiving Source, he is an editor-at-large for
Climbing
magazine and lead writer for the adventure guiding outfitter
Benegas Brothers Productions
. He also writes for Backpacker, Outside, SKI, and Trail Runner, among other publications.
Don't miss an update!
Join our mailing list for the latest indoor skydiving updates delivered directly to your inbox.