Athlete Spotlight
Kyra Poh First-Ever Indoor Skydiver Awarded Sport Excellence (Exclusive Q&A)
The honor comes just after Poh won big at the 4th Indoor Skydiving World Cup. ISS spoke with Poh post-comp for the lowdown.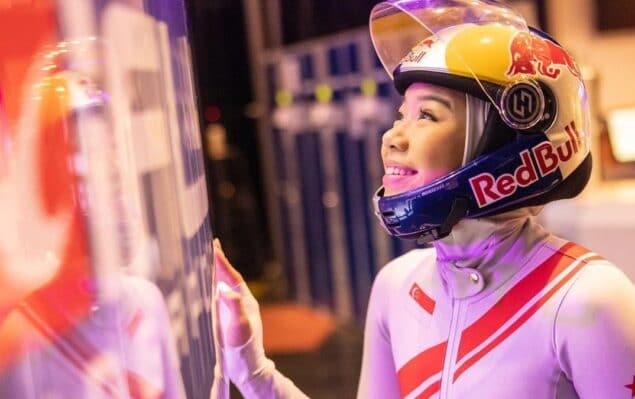 June 10, 2022
Owen Clarke
Kyra Poh has been on a tear lately. The Singaporean flyer recently trounced 18 of the best indoor flyers in the world to win a Solo Freestyle gold medal at the 4th Indoor Skydiving World Cup in Charleroi, Belgium. Now, just a few weeks later, she announced that she was one of 17 athletes awarded Singapore's 2022 Sport Excellence Scholarship (spexScholarship).
This marks the first time in the award's nine-year history that it's been given to an indoor skydiver (or any athlete that does not compete in major international events such as the Olympics, Asian Commonwealth, and Southeast Asian Games). "I am particularly glad that we have extended the spexScholarship to Kyra Poh, an indoor skydiving athlete who has excelled at the world level in a sport that does not feature in the major Games," said Minister for Culture, Community and Youth Edwin Tong. "I hope that this will encourage a more diverse group of athletes to strive for sporting excellence in the coming years."
"I know this scholarship is going to help me in my skydiving journey and push my sport to a whole new level," Poh wrote on Instagram. "I am so grateful for this and I'm excited also for the doors that are open for the future generation in our sport of INDOOR SKYDIVING!"
View this post on Instagram

Although it's the first time that an athlete from a niche sport like indoor skydiving has earned the scholarship, it's not surprising that Singapore gave it to Poh. She and other Singaporean flyers have dominated the world stage in indoor skydiving recently, taking home a whopping four gold medals at the World Cup (a gold medal in every event they entered).
Poh's 13-year-old teammate Kai Minejima-Lee won three golds in the World Cup, both in Junior Solo Freestyle and team events (check out our recent Q&A w/ Kai HERE).
Indoor Skydiving Source caught up with Poh on the phone after her World Cup win (before she announced her spexScholarship award). Unfortunately, she caught COVID-19 just days after her win, but she still managed to give us the details.
First of all, how are you feeling? You're a World Cup champion, but now you have COVID…
Yeah! I feel fine now. I think there were a few cases after the ceremony. But it was really nice we all managed to compete it out, and everyone managed to see each other after three years.  
That was my next question… How did it feel to come back after all this time and see everyone? Did it feel like it did before COVID or does it still feel "different"?
Seeing everyone was the same. We've been friends for a long time, so it wasn't any different!
But competing was different. Before COVID I was under 18, so I could've qualified for Juniors but just decided to compete in Open. Now I'm 20 years old, so I had to compete in Open. There was no excuse, the pressure was on. It felt like a lot more pressure.
Also, it does feel like things have grown for Singapore and me. In Singapore [bodyflight] used to be a really niche sport, but because of all the awareness we're getting, it's become much bigger. That's something I'm really happy about, and I hope the sport spreads more in Asia. During this World Cup we had one Korean team, but before that, it was usually just us and China. So that was nice.
My personal career has also grown, because of Red Bull [Poh signed with the brand in 2019, and regularly attends Red Bull events, like the recent Plane Swap stunt]. Being able to have those opportunities to skydive, and indoor skydive, it's something I'm grateful for. 
Singapore did well at this World Cup. How does it feel to represent your country and win big like that?
I feel really proud of myself and the kids. We worked hard. This group of kids that started, some of them joined us originally just for fun on Saturdays. We do this thing on Saturdays where we give free dynamic lessons to anyone who wants to join, just to give back. They started as a group of four just trying it out for a week or two, then started to get more serious. And we managed to send two extra Junior teams to the World Cup as a result of that training, and that's awesome.
Indoor skydiving often seems like it's really expensive and hard to break into. It's hard to do unless you have some financial backing. What's your advice for young people who want to fly but don't have the funds?
Of course, indoor skydiving isn't as cheap a sport as swimming or running or something. I'd say try it out once and get experience. iFLY and other tunnels have kids' clubs, which can help the cost. A lot of people that I grew up with eventually ended up working in the tunnels to get flight time. There are ways to make it work if you're really passionate.
You flew in the Airspace earlier this year, in the Belgian Open, right? Had you flown in the tunnel before then?
I went for the Belgian Open in 2018 as well, but I didn't do Freestyle, I was doing Duos then. But yeah, we went to Airspace late last year to train before the World Cup. Since it was the kids' first time competing in a World Cup, we wanted them to not have too much pressure when they arrived. So we did the Belgian Open before to get them used to the tunnel orientation and wind speed. Every tunnel is different in size and power.
Do you think practicing at Airspace before was part of why Singapore did so well?
Mostly, I think the Singapore team just put in a lot of hard work. We were in the tunnel every single day, training from the afternoon to the night. I don't think I did anything else for a month other than fly and stretch [laughs]. 
We really pushed ourselves hard. But I also think training at Airspace in particular and going for the competition in Belgium beforehand helped ease our nerves a bit and made our training more efficient. We already knew the wind speed and everything. 
It must've been tough for the younger Singapore flyers like your sister [Vera Poh-13] and Kai, being their first World Cup and all. How did they handle it?
They were amazing! Actually, my old 2-way Dynamic partner [Yi Xuan], who decided recently she wanted to retire from competing, came as a coach for the kids, helping them with their 2-way Dynamic and 4-way Dynamic, making sure their mentality was strong, all of that. So that was huge. 
Did it feel strange without the Russian and Ukrainian flyers? Did people talk about the war much?
We lost a lot of competitors from Russia. In Junior, there were supposed to be enough teams for an actual event, but we only had three countries, Brazil, Singapore, and the U.S. so it wasn't an actual event. But no, there wasn't any discussion about them not being there.
What's next for you?
I'm going to the US for a month to start skydiving again. I've taken a two-month break from skydiving just training in the tunnel, and I've never been to the U.S. besides a week in New York. I want to step up my career in the sky more. I'm definitely going to continue focusing on both indoor and outdoor skydiving. My goal is to be a World Champion in the tunnel and in the sky so… We shall see.
Published: June 10, 2022 | Last Updated: June 10, 2022
Written by,
Owen Clarke
Owen Clarke
is an American action sports and adventure travel journalist. In addition to serving as an executive editor at Indoor Skydiving Source, he is an editor-at-large for
Climbing
magazine and lead writer for the adventure guiding outfitter
Benegas Brothers Productions
. He also writes for Backpacker, Outside, SKI, and Trail Runner, among other publications.
Don't miss an update!
Join our mailing list for the latest indoor skydiving updates delivered directly to your inbox.