Features, Tunnel Talk
Aerodium Kyiv – Even Wars Can't Stop Us
A story of true grit and determination to achieve excellence in the face of adversity.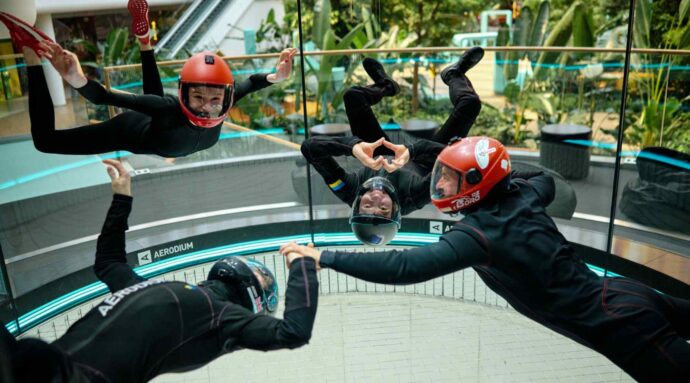 Image Credit: Aerodium Kyiv
August 23, 2023
Charlie Centa
Aerodium is a company that has earned a reputation for innovation in the indoor skydiving industry.
From opening the very first public wind tunnel for indoor skydiving in the late 70s, to pushing the boundaries of indoor skydiving with their open-air designs (can we even call it indoor skydiving anymore?), Aerodium has always been at the forefront of wind tunnel design and manufacturing.
But earlier this year, they finally wrapped up what might just be their biggest project yet…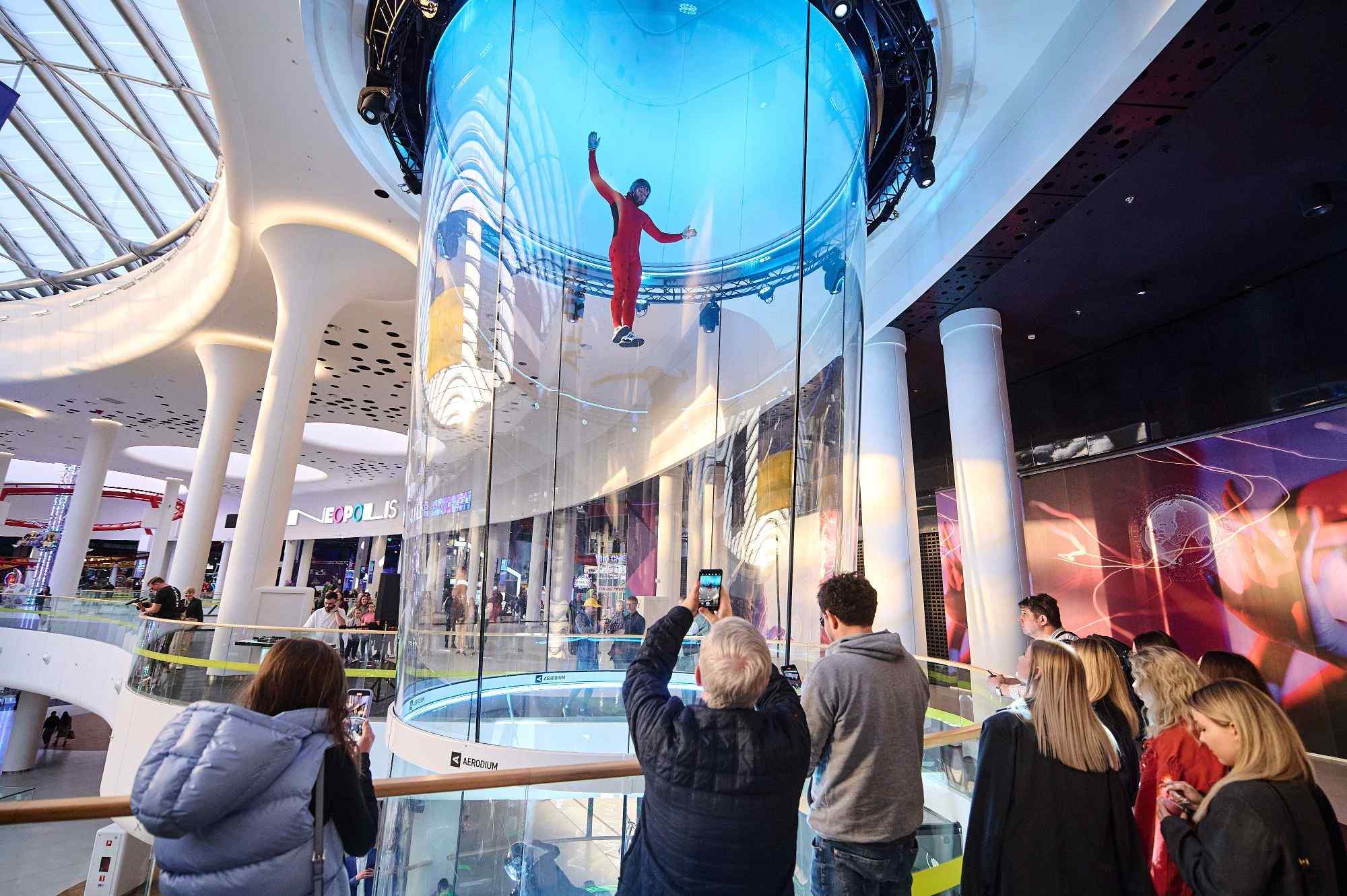 Ukraine's Aerodium Kyiv
So, what's so special about the latest wind tunnel from the Aerodium crew?
Well… What's not special about it?
The way it was built, who built it, where it was built, the technology, the community… simply put Aerodium Kyiv is a marvel of engineering and human spirit.
The chances of this project actually being pulled off in a war-torn country seemed next to none on more than one occasion. But the resilience of the team at Aerodium and the people of Ukraine has given them the strength to overcome every obstacle along the way.
In April 2023, after 11 years of adversity, the state-of-the-art indoor skydiving facility finally opened its doors to the public.
Despite taking over a decade to build and surviving two wars, Aerodium Kyiv is one of the most technologically advanced wind tunnels of its time. The 20-meter tall flight chamber is located at the heart of the new Respublika mega-mall and features 10 meters of annealed glass, spanning two stories.
Equipped with active air cooling and innovative noise reduction, this new Aerodium wind tunnel stands tall and proud, much like the people involved in bringing this wind tunnel project to fruition.
So gather around the campfire as Ivars Beitans, CEO and Owner of Aerodium, shares a story or two about this masterpiece of a wind tunnel…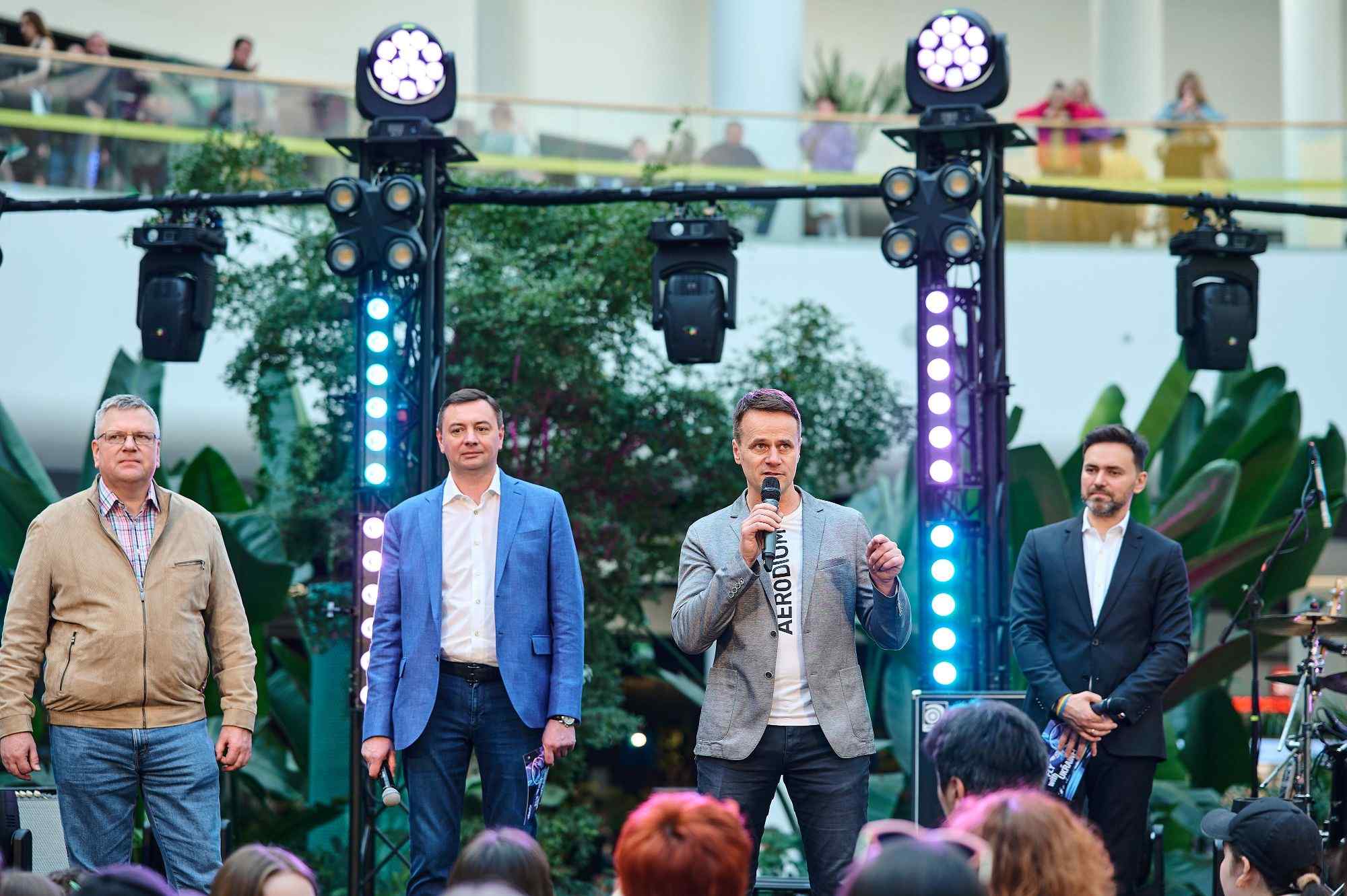 There are a growing number of vertical wind tunnels in Ukraine. What made you choose to build a tunnel in Kyiv?
"Kyiv is a big city with 3.5 million residents and another 2 million workers from all around Kyiv. This is a big enough market to sustain a big size professional wind tunnel.
This project has been started since 2012 already and was planned as a key feature for the newly built shopping mall.
However, due to the war in 2014, the shopping mall construction was stopped back then.
Then, after eight years, it was decided to finalize the shopping mall and wind tunnel for 2022. All works were in progress and the tunnel was scheduled to open in March 2022. However, due to another invasion by Russia, the project was not opened in time again."
In February 2022, Russia launched an invasion on Ukraine, attempting to take over Kyiv in the first year. What stage was your project at and what were your initial thoughts and feelings, both as a company and as friends of people from Ukraine?
"We have done a lot of work together during these years with our Ukrainian team and we knew these people firsthand. I have even offered them shelter if they decide to flee from Ukraine to Latvia.
We were among the first to start supporting the Ukrainian army and civilians. We have donated a significant amount of money in the first days when their dedicated account was announced by the president. Also, we organized and sent a truck with food to Severodonetsk.
So if we talk about feelings – our support was unconditional, and emotions were really high to do the most for them to survive, and to win this battle for freedom."
Were you concerned for the safety of your staff or contractors working on the construction of the tunnel?
"This was indeed an issue, because from the start of the war in 2022 Kyiv has been a target of bombing several times. Thus finding staff willing to relocate to Ukraine and to join the local team there was challenging. Luckily we found our head instructor from the UK and after a short test visit with our engineers, they were ready to return to Kyiv for a month to finish the work on the tunnel.
Overall the situation during the construction remained worrying as every week there were air strike warnings, however, it soon became apparent that the real threat wasn't substantial. By the time we were doing final works, a year had passed since the outbreak of war and people would not even hide in the subway stations upon hearing alarms anymore, simply ignoring them. There were many false alarms, but also the vast majority of rockets were being shot down."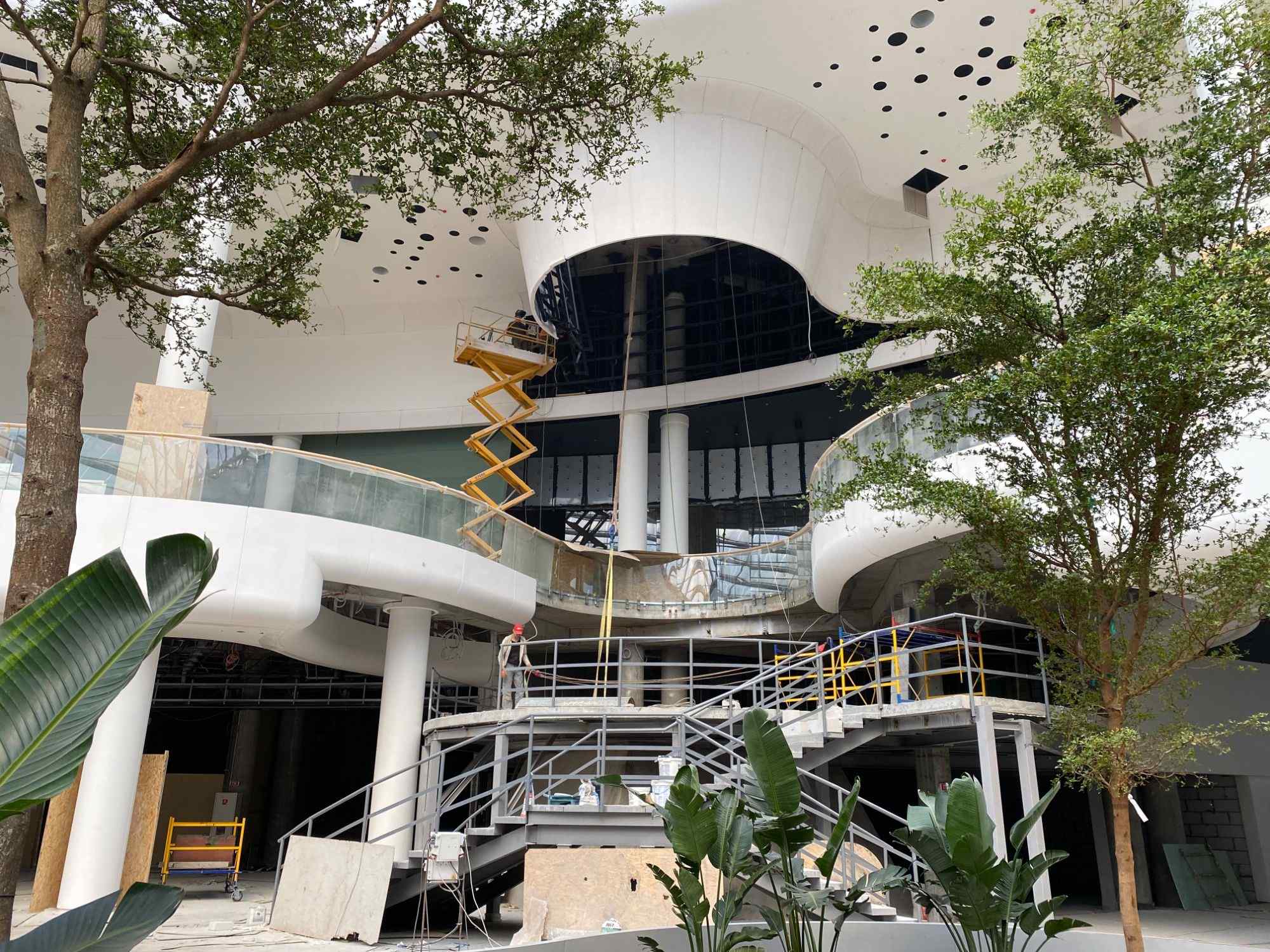 Was there a time when you thought that there was no way the project could continue?
"We have always believed in the victory of Ukrainians.
After one year of war, when Russians were already kicked out from the Kyiv region, it was decided to finalize the development and to start operations at the end of April 2023."
When you began work again, what new safety protocols did your team put into place?
"There was a general safety protocol from the shopping mall, where the wind tunnel was being installed. Upon hearing an alarm all people had to leave the building and head to a special safe area. The warnings usually stayed in place for about 2h, after which the work would continue."
What was the most challenging aspect of developing this wind tunnel?
"The origins of the project date back to 2012 and the concept was very unique for the time. The idea of integrating a wind tunnel right in the middle of retail space was not common. The most difficult part was to find a compromise between the best possible placement and exposure of the wind tunnel and the requirements of retailers around it. The management, however, understood the benefits of such an attraction and the competitive advantage it provides."
Can you describe one or more important/difficult decisions that you had to make while working on this tunnel?
"Another challenge was the long time span of the project. The design and technology implemented at the start of 2012 were already outdated by 2021 when the project was restarted. Several large-scale upgrades needed to be made e.g. frameless 11m tall extra thick glass design, newest safety features, active cooling instead of passive. Some of the earlier constructions had to be replaced entirely as they were not supporting the new design. As a result of these upgrades, the tunnel is among the most modern in Europe in many aspects like glass chamber height, safety technologies, low noise level, and features a very laminar airflow."
What unforeseen benefits or opportunities have arisen since opening this indoor skydiving facility in Kyiv?
"Ukraine is a country with around 37 million inhabitants and indoor skydiving was not developed up until now. All enthusiasts and sports flyers had to go abroad to neighboring countries in central Europe. With restrictions in place and males being unable to travel abroad, the tunnel is the only place where they can train. Interestingly, the statistics of the first three months show that the most popular PRO flier bookings are for a 5-hour training session.
As for opportunities, the wind tunnel features all the latest technologies and inventions and has one-of-a-kind features and design that cannot be found anywhere else in Europe. For us, it is thus a showroom model of our capabilities and we hope that after the war is over people will be able to travel to Ukraine and experience our tunnel in all its glory."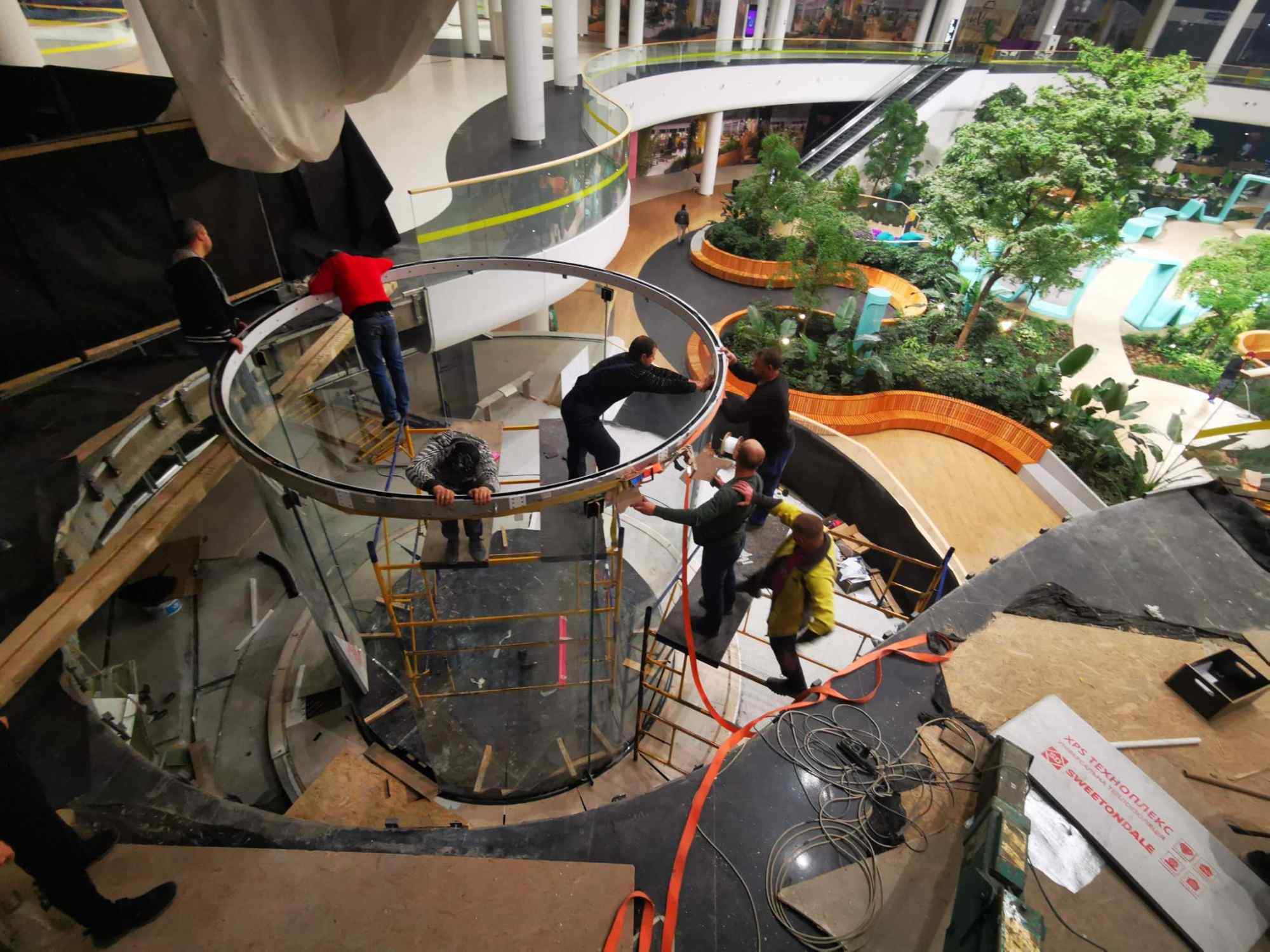 Have there been any moments that made you proud or inspired by all of your hard work coming together during the construction and development of the tunnel?
"The most memorable moment was the spectacular opening ceremony which had a total budget of 100,000 EUR and featured local celebrities, influencers, performances, and a local patriotic band. It was also important for us to open this location despite the ongoing war and unclear business outlook in the particular economic situation. To come up with a business plan given unknown variables wasn't easy. Thanks to the high motivation of the stakeholders we managed to include the best technology without cutting any corners and we are proud to see very positive feedback from customers and great sales figures.
We are proud to open a new business, to provide work opportunities for people, and to pay taxes to the Ukrainian government in this very challenging time."
In 5 years time, where do you see the future of Ukraine and the indoor skydiving industry within the country?
"As a part of our pricing policy, we are offering a 50% lower price for children up until age 12, compared to standard pricing. As a result, almost half of the customers in the tunnel are children. We do believe that introducing the world of indoor skydiving at a young age will also allow for building up a significant indoor skydiver community in the future. We are also sponsoring a few of the most promising local athletes to increase the popularity of the sports and to give an opportunity for the youth."
How has the response to your facility been so far from local community members and skydivers?
"The response has been excellent so far. They especially praise the height of the glass as well as the safety of the tunnel, thanks to which there haven't been any accidents. Last but not least, skydivers appreciate the current pricing level of the tunnel, which is around 20% lower than average pricing around East Europe. The prices are kept lower on purpose to make indoor skydiving more affordable for the nation, which has been already suffering from the ongoing war.
The new tunnel is the largest, most modern, and most attractive in Ukraine. There are two more tunnels in this country, made by Russian companies, but since the opening of Aerodium Kyiv, their business has been struggling despite much lower prices. Some of their top instructors are even coming to Aerodium Kyiv to train their students. Due to the limitations in the smaller tunnels and strikingly different levels of experience."
Are there any exciting new projects or developments that Aerodium is currently working on?
"With Covid19 pandemic out of the picture, the global entertainment industry is booming and Aerodium's outlook is splendid. Several wind tunnels are being built in Saudi Arabia, an amazing open-air wind tunnel concept is coming to Las Vegas later this year, and there are other indoor wind tunnel projects in progress in South Korea, China, and Kuwait."
—
Want to learn more about Aerodium and the work they do? Find out more and contact their team here.
Published: August 23, 2023 | Last Updated: August 31, 2023
Written by,
Charlie Centa
Charlie Centa is the owner of two of the world's leading skydiving websites: indoorskydivingsource.com and sister site, skydivingsource.com. Originally from the UK, he now lives in sunny Spain where he spends his time between living in a van in the mountains climbing and skiing, and working on his websites. When he's not doing either of those things, Charlie can be found writing witty bios about himself!
Don't miss an update!
Join our mailing list for the latest indoor skydiving updates delivered directly to your inbox.
"*" indicates required fields