Features
10 Things to Do in Las Vegas Strip
Our executive editor has lived in Sin City for six months now. Here, he lists his 10 favorite things to do on the Las Vegas Strip (besides indoor skydiving).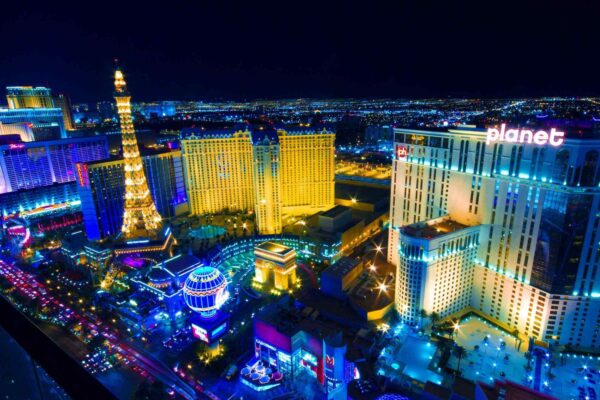 March 2, 2022
Owen Clarke
Everyone knows about the fountains at the Bellagio and the canals at the Venetian. But there are a lot more exciting attractions and things to do on the Las Vegas Strip, and in the city in general. If you only head to the well-known, jam-packed tourist attractions, you're missing out on a lot (and you're constantly rubbing shoulders with hundreds of sweaty, obnoxious, often-drunk tourists). No fun.
I've lived in Sin City for the last six months, reporting on a variety of the sights and sounds here, so I've found more than a few cool spots in town. So, even though we usually focus on wind tunnels here at Indoor Skydiving Source, today I've decided to give you a few options for other things to do in the Las Vegas Strip.
1. Play Blacklight Mini-Golf
If you're looking to relax from all the partying a bit, two of Vegas' classic casinos offer laidback blacklight mini-golf, each with its own unique theme (KISS and The Twilight Zone, respectively). You can rock out to the screaming guitar licks and raucous noise of Ace Frehley, Gene Simmons, and Co. at the Rio, or spook yourself at the Twilight Zone course in Bally's.
These courses are indoors and set far in the back of their home casinos, so they're away from the crowds and usually a pretty chill experience. I've been to each of them several times, and our group is often the only one there. Prices are under $10, and both courses are pretty similar, but the KISS course exclusively plays KISS music at full volume non stop… So if you aren't a massive KISS fan, I suggest you check out The Twilight Zone course if you only have time for one.
2. Get Lost in Omega Mart
Forgive me, I know we're only at #2, but we're going to head (slightly) off of the Strip for a second. That's because "Omega Mart" isn't just one of the coolest things to do in Las Vegas strip, it's one of the most unique attractions in the entire country. Located in the AREA15 recreational complex west of the I-15, this "interactive, mind-bending immersive art experience" was proudly awarded the title of "Best Date You've Ever Taken Me On" by my girlfriend (though admittedly that bar may be quite low).
Seriously though, Omega Mart is wild. You're let loose into a trippy, futuristic supermarket, which opens into a variety of other sci-fi settings, and then you have to explore your surroundings, finding clues and solving puzzles to uncover a conspiracy involving a nefarious Amazon-esque mega-corporation. It's like a cross between an escape room and an EDM music festival, while being on acid all the while. There's also a dedicated cocktail bar inside the Omega Mart, which serves up a variety of wacky futuristic drinks.
3. Experience the "Willy Wonka Factory" of Booze
Also located in Area 15, Lost Spirits Distillery Tour was named "Willy Wonka of Booze" by Playboy and "Disneyland for Liquor" by WIRED. If you're a connoisseur of strong spirits, you can't pass this up. Essentially, it's a distillery tour, but you're transported through a variety of wild environments, from a submarine to a hologram cabaret show to an eerie medieval chapel, while tasting the liquors. Most of the sequences are literary-themed, designed around classic works such as 40,000 Leagues Under the Sea and The Picture of Dorian Gray.
4. Jump from the Strat
Skydiving (indoor or outdoor) isn't the only way to get your adrenaline rush in Vegas. You can also perform a "SkyJump" from the highest building in town, the 1,149-foot-tall Strat (formerly known as the Stratosphere), which is also the highest observation tower in the United States.
You'll tie in, then jump from over 800 feet above the Strip into a controlled freefall, reaching speeds over 40 miles per hour. It's not a true bungee jump, but it's incredibly thrilling, and one of the wildest things to do in the Las Vegas Strip, by far. The outfitter holds the Guinness World Record for the highest commercial decelerator descent facility (AKA the highest "SkyJump" in the world).
If you do go, try to show up between 3:00 pm and 5:00 pm for their "Happy Hour" so you can grab 20% off your SkyJump ticket and a free shot of liquor at the bar inside the observation deck, 108 Drinks.
5. Get Kinky at the Erotic Heritage Museum
Billed as "The World's Most Provocative Museum," 24,000-square-feet of erotic history is laid out in these halls, which were put up by a preacher and pornographer, working in cohort to "build a sex-positive exhibition space." The museum houses a variety of erotic artifacts, fine art, and film, but don't get the wrong idea. This isn't just some banal dildo warehouse. The museum has housed exhibits covering everything from West African tribal deities to the works of Hieronymus Bosch to the life of Roman Emperor Tiberius.
6. See the Lights Up Close at the Neon Museum
More a neon graveyard than a traditional "museum," the nonprofit Neon Museum is home to dozens upon dozens of derelict neon signs from Las Vegas history. If your idea of a fun thing to do in the Las Vegas Strip is simply seeing the exotic signs, then you'll find more than your fair share here, and from all periods of Vegas history, too.
You can visit the museum both day and night, but stop by after dark for the best experience. Every sign in the collection is displayed with its own unique story, covering the people who created it, what inspired it, when and where it was made, and the role it played in the city's distinctive history.
7. Visit the Pinball Hall of Fame
Gaming and history enthusiasts alike won't want to pass this up. This 25,000-square-foot warehouse right off the Las Vegas Strip displays the world's largest pinball machine collection, with every machine completely open to the public to play. Machines are present from every decade of pinball history, from the 1950s up to the 1990s and present day. It's extremely cheap to play (most games cost no more than a quarter) and the museum is a nonprofit, too, so all excess proceeds go to charity.
8. Gulp Giant Goblet Cocktails at the Sugar Factory
Ever wanted to devour a $40-cocktail the size of a softball, rimmed with sweet and sour gummy candy… the Sugar Factory is for you. If the Lost Spirits Distillery is the Willy Wonka of Booze, then this is just your traditional "Willy Wonka" experience. (Although there's plenty of booze here too. It's Vegas, after all.)
I visited this unique bar and restaurant on assignment for Gym Climber magazine back in August and came away vowing to never spend that much on a cocktail again. The location is definitely unique, however, with a gumdrop rock climbing wall, exotic desserts, and drinks designed by a variety of celebrities, from Nick Jonas to Pitbull to the Rock. It's one of the more interesting places to grab a drink on the Las Vegas Strip, but be prepared to lighten your wallet a little bit.
9. Experience the City's Sordid Past at the Mob Museum
You might've known Vegas was controlled by the mob back in the day, but The Mob Museum will take your knowledge to another level, with multiple floors of exhibits detailing all the criminal activity in the city's past, from the mid-1800s to the present day. The museum also touches on fictional depictions of the city, like Scorcese's classic mobster flick Casino and the iconic Vegas-set Bond film, Diamonds are Forever. After your visit, don't forget to visit the museum's speakeasy, hidden deep underground beneath its halls behind a disguised door, for a clandestine drink.
10. Go Indoor Skydiving!!!
Look, I know I said I wouldn't mention indoor skydiving here, but hell, it's what we're all about here at ISS. Besides, Vegas Indoor Skydiving isn't just your usual copy-and-paste iFLY location. The 40-year-old tunnel, powered by a 1,000-horsepower electric motor attached to the propeller from a DC-3 aircraft, is the oldest commercial wind tunnel in the United States, and only the second wind tunnel in the world built for bodyflight. Check out our feature on this one-of-a-kind tunnel! It's probably the best thing to do in the Las Vegas Strip, and it's right in the middle of the action, just across the Strip from Resorts World.
Published: March 2, 2022 | Last Updated: March 4, 2022
Written by,
Owen Clarke
Owen Clarke
is an American action sports and adventure travel journalist. In addition to serving as an executive editor at Indoor Skydiving Source, he is an editor-at-large for
Climbing
magazine and lead writer for the adventure guiding outfitter
Benegas Brothers Productions
. He also writes for Backpacker, Outside, SKI, and Trail Runner, among other publications.
Don't miss an update!
Join our mailing list for the latest indoor skydiving updates delivered directly to your inbox.
"*" indicates required fields