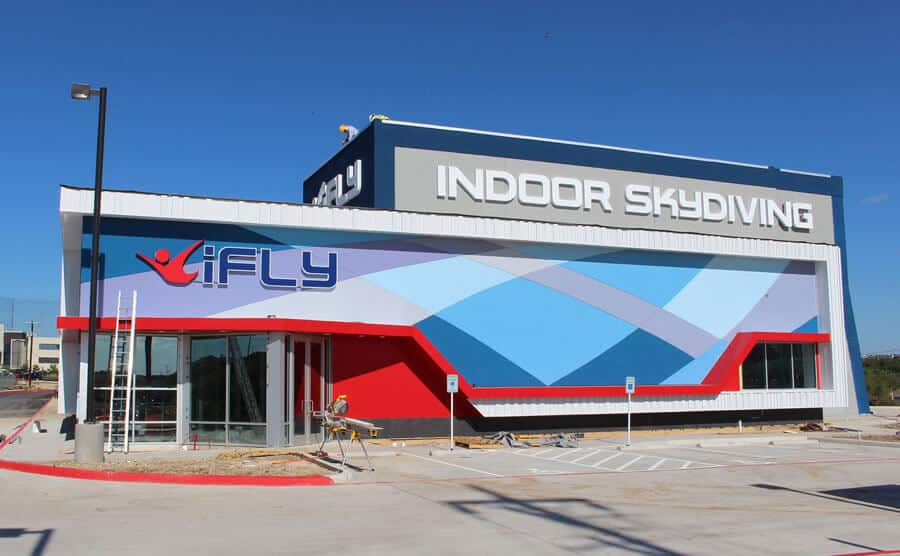 Mon - Thurs: 10:00am to 9:00pm
Friday: 9:00am - 9:00pm
Saturday: 8:30am - 11:00pm
Sunday: 10:00am - 10:00pm
Indoor Skydiving Source may receive a commission for bookings.
Tunnel Overview
This location opened to the public on May 18th, 2016
A new announcement points to iFLY building a location in Roseville – near Sacramento, California. Plans were confirmed for the location with iFLY representatives recently. This location will make the 5th iFLY branded location, and 6th total wind tunnel in California. Currently there are 2 operational iFLY wind tunnels in Hollywood and Union City with another privately operated tunnel at Perris Valley. Announced are this location plus iFLY Ontario and iFLY San Diego.
Flyer Information
Gear & Training
You will be provided with all the equipment you need. This includes a jumpsuit, helmet, goggles and earplugs. Check out our
Gear Guide
if you're interested in taking your own equipment with you.
Facility Offerings
Group/Event Hosting
Party Rooms
Conference Facilities
Catering Available
Educational Programs
What is Indoor Skydiving Video
What is Indoor Skydiving? - How & Where to fly!
Age Limit
Flyers must be at least 3 years old.
Weight Limit
Flyers must be less than 300 lbs.
Flyers over 260 lbs must contact the facility before flying.
You should not fly if you are pregnant or have previous shoulder dislocations.
More Questions About Flying?
The Experience
The entire first time flight experiences take roughly 1-2 hours. After arriving and checking in, you take part in a personalized training session before gearing up to fly. During your flights your instructor teaches you to fly your body. You take turns flying one at a time with other first time flyers.
Pricing
Pricing:
2 Flight Package: $69.95
3 Flight Package: $89.95
4 Flight Package: $111.95
5 Flight Package: $131.95
Additional Options:
Group, Party and Event Hosting
Flight Photos & Videos
High Flights (See: What is a high flight?)
For first time flights we recommend between 2 and 6 minutes of flight time per person. This gives you enough time to understand the basics of flying your body and is plenty of time for a great experience. For more pricing information, read our
pricing article
.
Ready to Fly!?
Technical Information
Instructor Rating System
Manufacturer
Tunnel Type
Recirculating
Open Since
May, 2016
Flight Chamber Style
Round Wall-to-Wall
Flight Chamber Diameter
12ft (3.7m)
Flight Chamber Height
N/A
Top Wind Speed
N/A
Tunnel Competitions & Events
No Upcoming Camps, Competitions or Other Events
If you know of an upcoming event at this or any location, please submit it through our event submission form
Travel & Accommodation
Nearby Airports
Sacramento International Airport (SMF)
Hotel Options Nearby
Car Hire
We recommend using
rentalcars.com
to compare rates and find the best deal for your car hire.
Reviews
---
Pros/Cons
Nickname
:
Flyer/ Mother
Review Date
: December 1, 2018

2
/
5
Stars
I brought my daughter for her 10th birthday along with her brother, sister, and father. Needless to say the whole flying experience was awesome. It was definitely fun and something new for the whole family. I ended up purchasing the family pack valued at nearly $300.00 online, which includes up to 5 flyers. Upon arriving at the facility we were informed that the flights were only 1 min. each (Doesn't mention this online) and that each flyer could fly twice. So basically I had 5 in my party each person flew twice for 1 minute. Our flight instructor informed me that they offer the birthday girl a free high flight. Even after paying online I still ended up purchasing 4 more high flights at $40 and a virtual reality expericience that gave the birthday girl an addition flight at a whopping $50 more. Long story short I felt the staff at the front desk were very rude, told me it was up to the instructor if he wanted to give birthday girl high flight (even though they offer it as birthday offer), told me I was to early to be there and was unpleasant during check-in. Then when we are finally suited they proceed to give me issues over my daughters hair(because she had barrettes on) asking me will it take a long time to take out? And if one of them come out her hair they would have to shut fans off. I ended up putting her ponytails into a bun and I do understand they have to follow safety protocols. However, the staff need to be a little more culturally aware of differences and I felt the tone was a little discriminatory. I paid money like everyone else and should have been treated with the same respect given to other flyers at the time.
---
Flying high
Nickname
:
Banana
Review Date
: July 28, 2018

5
/
5
Stars
Great experience! Chan , Ryan & Jim you guys are the BEST! These three guys gave me a outstanding experience and I say thank you very much. 😁
---
Excellent experience, start to finish!
Nickname
:
Dhamma
Review Date
: May 27, 2018

5
/
5
Stars
We purchased 4-gift certificates online as a long distance birthday gift to our 12 year old grandson in California. The certificates efficiently arrived, as promised, and in suitable-for-giving individual tins. Ricky invited three of his friends and the boys had a blast. Ricky told his mother that he wants to work at iFly when he's older. Not cheap, but a great deal for a lifetime experience to remember.
---
Unbelievable
Nickname
:
Kenny F.
Review Date
: February 18, 2018

5
/
5
Stars
The experience was awesome and the instructor, Ryan Henderson, was funny and extra cautious with me and other first time flyers. Will definitely go back.
---
5 stars this was asesome
Nickname
:
Tamilluvs24
Review Date
: January 29, 2018

5
/
5
Stars
This was awesome had a wonderful time with Nicole she always get the awesome birthday gift
Totally recommend
This was awesome had a wonderful time with Nicole she always get the awesome birthday gift
Totally recommend
---
FLY
Nickname
:
82ND AIRBORNE
Review Date
: January 6, 2018

5
/
5
Stars
it's a great place to feel what it is like to fly--without jumping out of a plane!!!
my granddaughter , Tamara, did this today!!
it's a great place to feel what it is like to fly--without jumping out of a plane!!!
my granddaughter , Tamara, did this today!!
---
unique entertainment
Nickname
:
old dude
Review Date
: October 3, 2017

3
/
5
Stars
first timer and definitely impressed, amazing to see money generated via a big a** fan!!!! pro's....nice facility, exceptional staff friendly atmosphere. cons...lots of cash , minimal fly time ..60 seconds twice....cost 10$ to have instructor fly you up to top of chamber during your 60 seconds, then 20$ to fly additional 60 seconds for first timers its not enough time to learn much as it is quite difficult, and requires practice, time in the tunnel to become any good.
---
Alan Hearl
Nickname
:
GRANDPAMAN
Review Date
: May 7, 2017

5
/
5
Stars
Great Family Fun to the Max. Terrific Instructor Ian.
---
Awesome first flight!
Nickname
:
Val
Review Date
: April 17, 2017

5
/
5
Stars
We came into today for the first time. I was nervous, but Ryan did a great job showing us what to do. It was so much fun! We will certainly do this again! Thanks Ryan Henderson! ?
---
Nickname
:
Tonnie
Review Date
: March 20, 2017

5
/
5
Stars
Thank you Lisa (name??) for helping my Mom's dream of flying come true for her 74th birthday!! You were the perfect instructor for her and you did such a great job! We hope to bring her back soon!
---
Original
Nickname
:
CatiStar3
Review Date
: February 19, 2017

3
/
5
Stars
We took our 12 year old son for his birthday with his friend. Both boys had a great time. Wish I would have known the flight time was only 4 mins, (2 mins each boy). We paid for the high flight for each boy, which brought our total to $160.00, so $40.00 a min. The coaches were good and the boys had a good time. It was definitely an original birthday. My only real complaint is that the 2 video clips that were included in our package didn't work. When we asked the staff they said there was a glitch in the system, so go home and follow the instructions. We did and when we got home we were only given the option to purchase still photos, no videos.
---
Super fun, super smooth!
Nickname
:
Someone who has flown here :)
Review Date
: May 9, 2016

5
/
5
Stars
It feels much bigger than the old 12 footers and is extra smooth. Super fun to fly in.
---