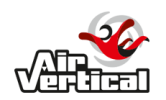 Air Vertical Overview
---
Ever wanted to fly without a parachute? Now you can! Airvertical is giving thrill-seekers the chance to experience freefall with their Indoor Freefall Simulator near Toulon. Get ready for an unforgettable dive at Xtrem Park in Circuit Paul Ricard, where multiple activities await – including flying 6 m high inside of a glass tube! Feel like you're skydiving but enjoy it longer and cheaper than with tandem parachuting. Unbelievable sensations are only one step away - so make sure not to miss out on this unique opportunity because "flying is no longer just a dream; now it's reality"!
Air Vertical Flyer Information
---
Pricing
First-Time Flyers:
Children, 2 flights: €49
Adults, 2 flights: €59
Facility Offerings
Age Limit
5 years and older
Weight Limit
You should not fly if you are pregnant or have previous shoulder dislocations.
FAQs
News & Articles Related to Air Vertical
---
No News Updates or Articles for this location.
Videos
---
Photos
---
Air Vertical Reviews
Wind Tunnel Information
---
Instructor Rating System
Manufacturer
Tunnel Type
Open Flow
Open Since
Flight Chamber Style
Round Wall-to-Wall
Flight Chamber Diameter
N/A
Flight Chamber Height
N/A
Top Wind Speed
180 mph (290 km/h)
---
Air Vertical Competitions & Events
No Upcoming Camps, Competitions or Other Events
If you know of an upcoming event at this or any location, please submit it through our event submission form
---
Recommended Articles
---
Tunnels Near Air Vertical
---