News
Wind Tunnel with Futuristic VR BASE Jump Now Open in Germany
The virtual reality wind tunnel experience allows participants to embark on a 780-meter BASE jump while flying.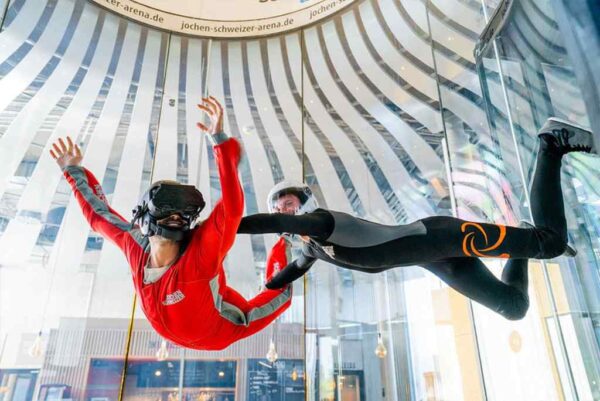 August 23, 2021
Owen Clarke
Virtual reality experiences have long been used to simulate a variety of adventure sports, from high-altitude mountaineering to open water scuba diving. That said, in the past, VR has been (for the most part) a fully stationary experience. Headset and handheld controller motion is tracked, sure, but that's about it.
Now true, authentic wind tunnel flying and virtual reality BASE jumping have been seamlessly combined in a cutting-edge VR experience, which is now open in Munich, Germany's Jochen Schweizer Arena.
In the all-new VR Bodyflying Xperience, participants enter a 14.8-foot (4.5 m) recirculating wind tunnel and fly at speeds of 285 kph (177 mph) while wearing a next-gen virtual reality headset.
Meanwhile, the headset streams a full-fledged BASE jump from the legendary Lauterbrunnen cliff in Switzerland, one of the world's premier BASE and wingsuit destinations.
The experience begins in the antechamber to the wind tunnel when participants don their headsets. "The position right on the door is tracked," Jan Denecken of the Jochen Schweizer Group, which developed the experience, told Indoor Skydiving Source. "When you hold the door frame [to the wind tunnel] you touch the bars of the ramp in the virtual space. When you jump in, your flight starts." When users jump, they'll be leaping from a cliff 780 meters (2,559 ft) high, down into the Lauterbrunnen Valley.
In addition to the fact that participants are actually flying in a wind tunnel, the primary difference between this new VR jump and other virtual reality skydiving experiences is that the Bodyflying Xperience utilizes "6-degrees-of-freedom" to track participants.
Unlike the VR standard "3-degrees-of-freedom," which means that mere rotational movements can be tracked, (such as whether the user turned their head left or right, tilted it up or down, or swiveled it left and right), "6-degrees-of-freedom" means that translational motion can also be tracked. In short, the virtual reality headset tracks whether the user moves forward, backward, sideways, or vertically, and this information is all imputed to augment the flying experience. A brief clip HERE shows the users experiencing the VR Lauterbrunnen BASE jump.
In short, for the first time, users can move entirely freely in space, and the VR headset will track all this movement and use this to modify the flight in return. Jochen Schweizer Group reportedly spent over €120,000 ($140,400) to develop the experience, which is likely the first of its kind in the world.
The VR wind tunnel isn't simply for skydiving newbies, either. "More experienced flyers can move freely in all dimensions thanks to specially programmed orientation aids," Denecken added. For beginners, a two-minute flight without VR goggles is highly recommended prior to flying with the VR headset. That said, a professional flight instructor is at your side at all times, as in traditional wind tunnel first flights.
The Arena has also released a short video showing its owner and founder, entrepreneur Jochen Schweizer, trying out the VR Bodyflying Xperience. Schweizer, an avid adventure sports enthusiast, actually BASE jumped from the real Lauterbrunnen Valley himself nearly three decades ago.
The virtual-reality wind tunnel flight lasts 90 seconds, and costs €69.90 ($81.79) for a single flyer. Participants must be 10 years old and weigh under 120 kilograms (265 lbs).
Jochen Schweizer Arena already offers a number of other high-caliber adventure experiences in addition to indoor skydiving. Activities include bungee jumping, simulated racing, controlled descent skyjumping, helicopter flights, an outdoor adventure park, an artificial wave machine for surfing, and ironically… cooking classes.
A vertical "house running" experience, where participants run down the outside of buildings while on belay, is also available. There are a number of other virtual reality experiences, as well, such as a VR escape room.
Denecken added that the Arena plans to offer more VR-augmented wind tunnel experiences in the future, each with increased interactivity. Many of these experiences are already being tested.
Published: August 23, 2021 | Last Updated: August 23, 2021
Written by,
Owen Clarke
Owen Clarke
is an American action sports and adventure travel journalist. In addition to serving as an executive editor at Indoor Skydiving Source, he is an editor-at-large for
Climbing
magazine and lead writer for the adventure guiding outfitter
Benegas Brothers Productions
. He also writes for Backpacker, Outside, SKI, and Trail Runner, among other publications.
Don't miss an update!
Join our mailing list for the latest indoor skydiving updates delivered directly to your inbox.
"*" indicates required fields