News
Scottish Skydiver and Wind Tunnel Coach to Jump Pyramids of Giza
Skydiving photographer and wind tunnel coach Ewan Cowie is slated to perform his third jump over the iconic landmark October 24.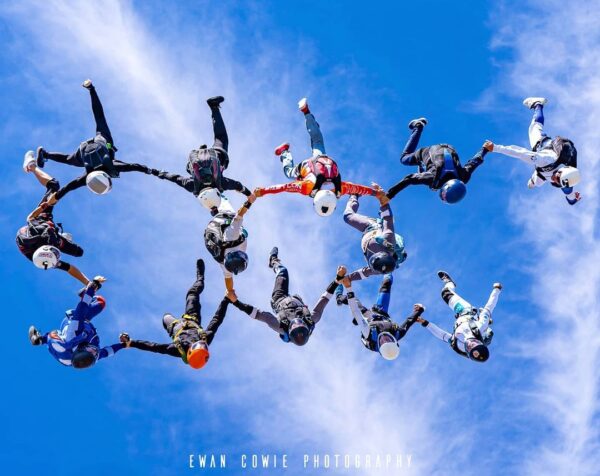 October 20, 2021
Owen Clarke
Scottish skydiving photographer and wind tunnel coach Ewan Cowie will perform his third jump over the legendary Pyramids of Giza on October 24.
Cowie, who hails from Lossiemouth on Scotland's northern coast, is a Class A Tunnel Instructor with over 300 hours on record flying indoors. He has also won Gold, Silver & Bronze medals in the British Skydiving UK Nationals, and is a UK and French freeflying record holder. However, he's perhaps best known as one of the world's most prominent skydiving photographers. To date, the 37-year-old has logged over 5,000 jumps in 22 countries around the world, documenting many of them via videography and photography.
"It's going to be a lot of fun," Cowie told The Northern Scot when asked about his upcoming jump. "[The Pyramids are] mind-blowing just walking around them on the ground. To jump over them and land right next to them is truly incredible. I'm lucky enough to get paid to do this as part of my job. Sometimes I have to pinch myself that this is actually happening."
The largest of the trio of Egyptian pyramids, the Great Pyramid (also known as the Pyramid of Cheops or the Pyramid of Khufu) is not only the oldest of the "Seven Wonders of the Ancient World," it is the only one on the original list of seven that is still in existence. All other Wonders have since been destroyed. Constructed in 2600 BC, the Great Pyramid was the tallest man-made structure in the world for nearly 4,000 years, at an initial height of 146.5 meters (481 ft). However, the majority of the structure's smooth white limestone casing was removed over time, reducing the pyramid's height to the current 138.5 meters (454 ft).
Cowie, who began skydiving as a hobby while working in the renewable energy field, went on to train special forces soldiers for Bahrain and the United Kingdom, and has participated in and documented several world record jumps, including the world's first 69-person BASE jump in Norway in 2018.
"It was a bit of a risk at first to leave a stable job and everything," he said. "I didn't think it would be entirely possible for a lad from [Lossiemouth] to do this but it's worked out really well."
He was the official videographer for an attempt at a 200-person world record over Chicago, Illinois in 2018, but the attempt was unsuccessful. "Even though it failed, it was amazing to see 200 people skydive at the same time," he said. "The noise from the ground is apparently like a jet engine. It's a crazy sight. When everybody separates and pulls their parachute, it's like a massive firework in the sky."
Cowie added that the group would attempt the record again in August of 2022. "Logistically, it's a nightmare," he said, "but I have no doubt they can do it and I'm looking forward to recording it." The globetrotting skydiver has already jumped over Namibia, Brazil, the Maldives, and Dubai in 2021. He is currently based out of Empuriabrava on the Catalonian coast, north of Barcelona.
"It's all about the sense of achievement and doing incredible things over magnificent locations," Cowie said of his work. "I want to be able to take part and record these things for other people to see. I really enjoy that aspect of it."
Published: October 20, 2021 | Last Updated: October 20, 2021
Written by,
Owen Clarke
Owen Clarke
is an American action sports and adventure travel journalist. In addition to serving as an executive editor at Indoor Skydiving Source, he is an editor-at-large for
Climbing
magazine and lead writer for the adventure guiding outfitter
Benegas Brothers Productions
. He also writes for Backpacker, Outside, SKI, and Trail Runner, among other publications.
Don't miss an update!
Join our mailing list for the latest indoor skydiving updates delivered directly to your inbox.
"*" indicates required fields