News
Plans Revealed for New iFLY Indoor Skydiving London in Greenwich
The tunnel will be the sixth in the United Kingdom, but the first in the city of London.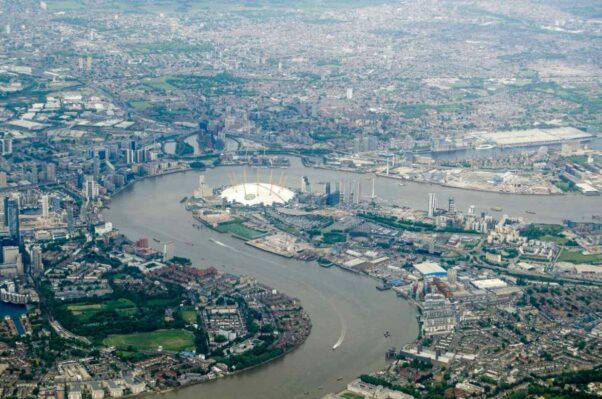 October 15, 2021
Owen Clarke
Plans are laid for a new iFLY indoor skydiving tunnel on the Greenwich Peninsula, in the heart of London, England. The megalithic wind tunnel manufacturer already operates tunnels in Manchester, Basingstoke, Birmingham, and Milton Keynes, but iFLY Indoor Skydiving London will be their first tunnel in the United Kingdom's capital (and the first wind tunnel of any kind in London). In total, there are currently 5 tunnels in the UK. Until now, the Basingstoke iFLY tunnel, a 90-minute drive from the city centre, was the closest wind tunnel for Londoners.
That said, only planning permission has been requested at this stage from Greenwich Council to build the tunnel, not full approval. If approved, iFLY Indoor Skydiving London will be attached to the north side of The O2, the colossal white dome that dominates Greenwich.
Formerly known as the "Millenium Dome," it was originally built in 2000 to celebrate the start of the millennium. It housed a year-long government-backed showcase called the Millennium Experience, with a variety of exhibits, including a large acrobatic performance. Construction cost over £700 million ($953 million), and the dome was originally a financial (and political) disaster, bringing in only 50% of the hoped-for 12 million visitors in its first year. It was renamed The O2 in 2007 and is currently one of the largest domes of its kind in the world.
In the two decades since its construction, it has become one of London's most recognizable and iconic landmarks, a prominent feature in aerial views of the city. It appears in a number of films and works of literature. For example, in the James Bond movie, The World is Not Enough, the eponymous secret agent rolls down the outside of The O2 after a battle with an assassin.
The O2 is 52 meters (171 ft) high at its apex, one meter for every week of the year, and is 365 meters (1,181 ft) wide, one meter for every day of the year. Its canopy is supported by 12 yellow towers, each 100 meters (328 ft) tall. The 12 towers symbolize aspects of time, 12 months in a year and 12 hours on a clock face.
The famous London landmark is home to concert venues, shops, restaurants, and many other attractions. Soon, perhaps, their number will include the city's very first wind tunnel.
Don't miss an update!
Join our mailing list for the latest indoor skydiving updates delivered directly to your inbox.
Written by,
Owen Clarke
Owen Clarke
is an American action sports and adventure travel journalist. In addition to serving as an executive editor at Indoor Skydiving Source, he is an editor-at-large for
Climbing
magazine and lead writer for the adventure guiding outfitter
Benegas Brothers Productions
. He also writes for Backpacker, Outside, SKI, and Trail Runner, among other publications.
Published: October 15, 2021 | Last Updated: October 15, 2021