News
This Ex-Spec Ops Marine is Opening a New iFLY in North Carolina
Veteran skydiver and U.S. Marines special operations officer Patrick Maguire hopes to open the state's second iFLY in 2023.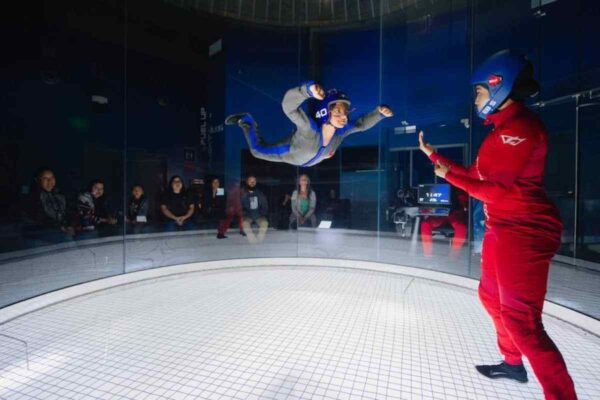 April 26, 2022
Owen Clarke
U.S. Marines special operations officer Patrick Maguire, a veteran skydiver and tunnel flyer who purportedly has thousands of tunnel hours on record, is laying the groundwork for a new iFLY tunnel in Wilmington, North Carolina.
"It'll be very popular," Maguire told StarNewsOnline. "Everywhere that you put an iFLY, it just gets a lot of attraction. [People have] a natural dream of flight."
Maguire isn't just some businessman trying to capitalize on the growing popularity of our sport, however. He's been training in wind tunnels with the Marine Corp for over a decade. Maguire is also highly decorated, a recipient of the Bronze Star, a Purple Heart, and a Defense Meritorious Service Medal. He worked as a logistics officer for the Marines from 2007 to 2013, and since then, has served as a special operations officer with the U.S. Marine Corps Forces Special Operations Command (MARSOC).
An avid skydiver, in 2017 he joined a military freefall team, which saw him travel to a variety of wind tunnels and drop zones around the country, from Arizona to Texas to Florida, to train. All this traveling to train in tunnels, however, made him increasingly cognizant of the lack of a wind tunnel close to the U.S. Marine Corps Base Camp LeJeune, where he was stationed. (LeJeune is just 75 miles northeast of Wilmington, along the North Carolina coast.)
The state of North Carolina is currently already home to two tunnels, iFLY Charlotte and Paraclete XP SkyVenture in Fayetteville. The latter, operating since 2008, was the first 16-foot wind tunnel to open in the United States. Both of these tunnels are at least a couple of hours by car from Wilmington and LeJeune, so not particularly feasible for a single-day outing.
Eventually, Maguire decided it was high time there was a wind tunnel locally, both for the Marines at Camp LeJeune and civilians in the growing city of Wilmington, the eighth-largest city in the state and a vibrant coastal tourist town.
"We need to be and want to be in a place that's a destination," Maguire's father-in-law and business partner George Jamison said. "[The iFLY will be] on the road directly to the beach, so it will have high visibility." According to preliminary plans, the tunnel building will be approximately 5,000 square feet, with two auxiliary rooms for birthday parties and other events. Maguire and his team have raised almost enough cash to secure a loan, they still need to crowdsource $1 million to fill in a few gaps before they can officially begin.
The team hopes to close on a loan in the next few months, and if all goes well, they'll be breaking ground on the tunnel in September. Maguire said this would mean an opening day sometime in the spring of 2023.
By the time iFLY Wilmington opens though, there will likely be a third wind tunnel already operating in North Carolina. An 8.2-foot AEROLAB tunnel is slated to debut in late 2022 as part of the new Urban Air Adventure Park in Morrisville.
While for those of us in the indoor skydiving community, iFLYs seem to be popping up like weeds, a wind tunnel remains an exotic, one-of-a-kind attraction for many Americans. For individuals with physical disabilities, indoor skydiving is unique, as one of the few physical activities where they can participate on equal ground.
"It's easy to take a look at this and think it's another version of a trampoline park … another kind of tourist attraction," Jamison said, "[but] honestly, we hope and believe that this is going to be a crown jewel of Wilmington when it's up and running."
Published: April 26, 2022 | Last Updated: April 26, 2022
Written by,
Owen Clarke
Owen Clarke
is an American action sports and adventure travel journalist. In addition to serving as an executive editor at Indoor Skydiving Source, he is an editor-at-large for
Climbing
magazine and lead writer for the adventure guiding outfitter
Benegas Brothers Productions
. He also writes for Backpacker, Outside, SKI, and Trail Runner, among other publications.
Don't miss an update!
Join our mailing list for the latest indoor skydiving updates delivered directly to your inbox.
"*" indicates required fields