News
Indoor Skydiving Used to Treat Children with Cerebral Palsy in Russia
The Russian government's "Fly with Me" initiative provides funding for young children with cerebral palsy to undergo therapy in wind tunnels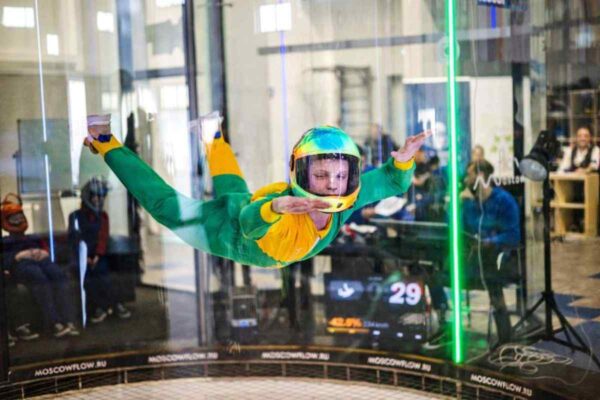 Image Credit: Agence France-Presse
August 30, 2021
Owen Clarke
Maryan Dolik, who suffers from the development disorder cerebral palsy, may have difficulty simply walking down a set of stairs…
But in a wind tunnel, he flies free.
"I've started walking better, become stronger, and have better endurance," the 13-year-old Russian said in an interview with French news agency Agence France-Presse. "I want to achieve a lot, to start doing everything on my own without anyone's help," he added, also mentioning that in the future, he wants to become an indoor skydiving instructor himself.
The program Dolik participates in, "Fly with Me," is sponsored by the Russian government, and was created after Yekaterina Inozemtseva, the mother of a girl with cerebral palsy, appealed to Russian President Vladimir Putin for support. Inozemtseva now runs the "Fly with Me" program.
Russian neurologist Valida Isanova, a member of the All-Russian Society of Neurologists, told AFP that for cerebral palsy patients, "the [wind tunnel] flights help work joints and muscles that are not used in everyday life."
The program consists of a six-minute flying session with a coach each week, among other physical exercises. In May, Dolik's mother noted that after his three months of weekly wind tunnel training in St. Petersburg, both his range of movement and coordination had dramatically improved, not only in the wind tunnel but in his daily life.
In April, Dolik joined an indoor skydiving competition in Moscow, along with seven other children suffering from cerebral palsy. It was the first time disabled children had participated in the competition.
Over 120 children between the ages of five and 14, all suffering from cerebral palsy, have joined the "Fly with Me" initiative, which is now offered in several major cities throughout the country.
In total, it's estimated that over 85,000 children in the Russian Federation deal with some form of cerebral palsy, which can manifest in myriad ways. From the U.S. Centers for Disease Control and Prevention (CDC):
Cerebral palsy (CP) is a group of disorders that affect a person's ability to move and maintain balance and posture. CP is the most common motor disability in childhood. Cerebral means having to do with the brain. Palsy means weakness or problems with using the muscles. CP is caused by abnormal brain development or damage to the developing brain that affects a person's ability to control his or her muscles.

The symptoms of CP vary from person to person. A person with severe CP might need to use special equipment to be able to walk, or might not be able to walk at all and might need lifelong care. A person with mild CP, on the other hand, might walk a little awkwardly, but might not need any special help. CP does not get worse over time, though the exact symptoms can change over a person's lifetime.

All people with CP have problems with movement and posture. Many also have related conditions such as intellectual disability; seizures; problems with vision, hearing, or speech; changes in the spine (such as scoliosis); or joint problems (such as contractures).
As miraculous as the "Fly with Me" program's results are, it's not exactly surprising that wind tunnels have been able to have this impact on Dolik and other children with the same condition.
One of the primary benefits of indoor skydiving is the sport's accessibility, not merely financially or for those of all ages and fitness levels, but for those suffering from physical and mental ailments, as well.
American wind tunnel monolith iFLY offers an "All Abilities Night," focusing on participants with physical and cognitive challenges, including those with partial sight or blindness, paralyses such as paraplegia or quadriplegia, physical deformities, and amputations. One of the various cognitive disabilities that iFLY lists as being welcome on All Abilities Night is cerebral palsy (along with muscular dystrophies, autism, and other neurodevelopmental disorders).
While iFLY's All Abilities Night is focused on experiencing the sport, not direct treatment, the "Fly with Me" program is far from the first instance of indoor skydiving being used in health applications, either.
A Flordia eight-year-old suffering from an auditory processing and sensory disorder spent time in an iFLY wind tunnel as therapy for his condition, and the practice helped him wean off several medications. Some high-end addiction treatment centers already incorporate indoor skydiving as one of many leisure activities to improve participants' mental health while undergoing rehab. Wind tunnel technology has also been used to study lung diseases such as cystic fibrosis and COPD.
We can only hope that as the sport of indoor skydiving grows more widespread and accessible, more and more non-traditional health applications for wind tunnels come into use in the future.
Published: August 30, 2021 | Last Updated: August 30, 2021
Written by,
Owen Clarke
Owen Clarke
is an American action sports and adventure travel journalist. In addition to serving as an executive editor at Indoor Skydiving Source, he is an editor-at-large for
Climbing
magazine and lead writer for the adventure guiding outfitter
Benegas Brothers Productions
. He also writes for Backpacker, Outside, SKI, and Trail Runner, among other publications.
Don't miss an update!
Join our mailing list for the latest indoor skydiving updates delivered directly to your inbox.
"*" indicates required fields