News
India's First Wind Tunnel to Open Next Month
GravityZip, in Hyderabad, India, will open in April 2022. The tunnel is the first of its kind in the country.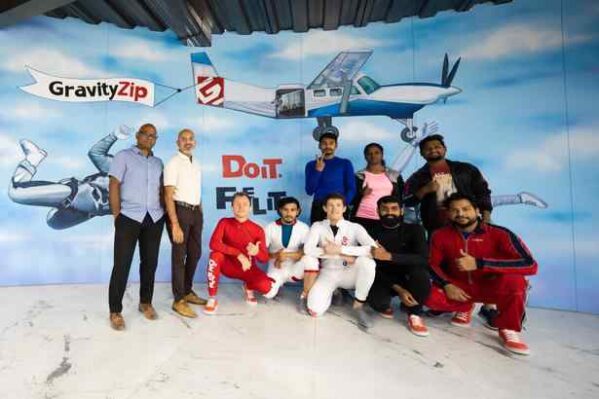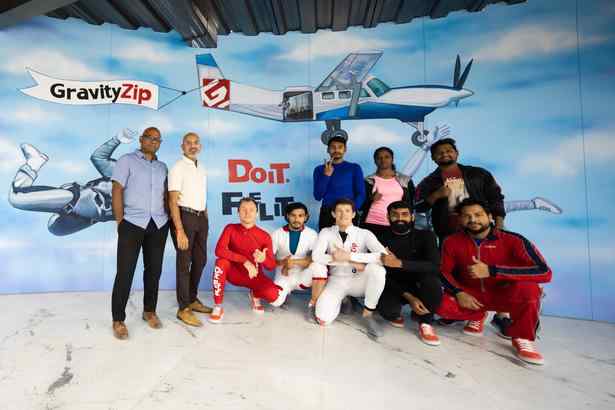 Image Credit: Sanjay Borra
March 14, 2022
Owen Clarke
India may be the world's second-largest country, but until now, the nation of nearly 1.5 billion people hasn't had a single wind tunnel.
With the new GravityZip tunnel, that's about to change.
Located in Hyderabad, the country's fourth-largest city, GravityZip was created by two cousins, Ramana Meda and Sushil Reddy Meda, both of whom were born and raised in the city. The inspiration, according to the duo, came from their years living abroad, seeing the rapid growth of indoor skydiving tunnels in the United States and other Western countries in the last decade firsthand.
"Ram and I have spent a considerable amount of our lives in the [United States]," Sushil, GravityZip's CMO, told the New Indian Express. "Our children enjoyed experiencing skydiving and we wondered why not start something here in the city. Though we have an amusement center in Karnataka [a neighboring state], we wanted to start something in the city that we were born and raised in."
"I wanted to convert the dream of flying into a reality for everyone," Ramana, GravityZip's CEO, told Telangana Today. "[Traditional] skydiving is extremely expensive, and most people do not have adequate training and experience. However, indoor skydiving provides proper training and experience."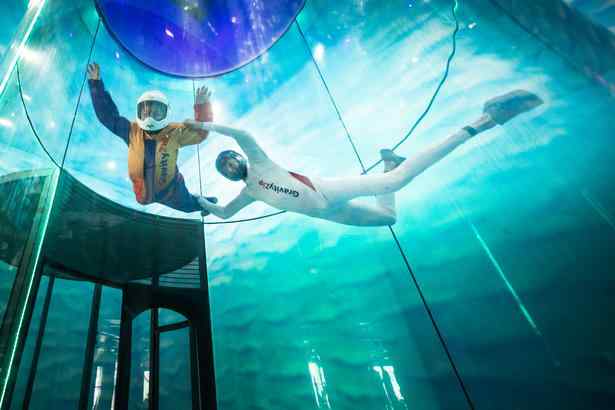 Save for the now-defunct mobile hybrid WeFly tunnel, which was more of a "fan-on-wheels" than a true wind tunnel, India has never had an indoor skydiving facility. As such, the wall-to-wall GravityZip will be the country's first.
Unlike many modern wind tunnels, however, the GravityZip tunnel was entirely custom-made by Sushil and Ramana. Both are engineers by trade.
"[We] decided on starting something like this three years ago," Ramana said. "Just cracking what kind of technology and equipment to use for such a project took us an entire year. We spent over 14 hours a day to realize this dream," he added, noting that the project "wouldn't have been possible without the support of our staff and investors."
The tunnel was intended to open in the summer of 2020. Unfortunately, like many recent projects both inside and outside of the indoor skydiving industry, GravityZip took a massive hit from the COVID-19 pandemic, not to mention the fact that the cousins were designing the tunnel entirely on their own.
"The pandemic didn't just upset us. It made everything uncertain for all of us," said Ramana. "We were determined not to give up because we wanted to see this indoor skydiving wind tunnel in Hyderabad."
"There was no one-stop-shop to procure all the things we needed to put this together," he added. "Also, most of [the materials] cost a bomb. [This], coupled with visiting numerous countries amid the pandemic, conversing with non-English speaking folks, getting technical expertise for safety precautions, securing permissions, shipment of some equipment when the world shut down, and so on, were some of the biggest challenges."
Nevertheless, the cousins persevered, and their tunnel's social media pages are now actively promoting an April 2022 opening date. India's first wind tunnel seems poised to finally become a reality. The tunnel is located next door to the Chaitanya Bharathi Institute of Technology (CBIT), a local technical college.
Judging from the GravityZip webpage, it appears the tunnel will follow fairly standard commercial tunnel protocol, with two-minute standard flight times, no flyers under the age of three, and no flyers over 260 pounds. They'll also be offering a rewards program for regular flyers.
However, like some other custom-built wind tunnels in the developing world, flying at GravityZip will be fairly affordable, at least compared to many commercial wind tunnels in the U.S. and Europe.
While they haven't locked down their prices just yet, the cousins said the cost for two-minute flights will fall somewhere between ₹2,000 and ₹3,000 ($26 to $39 at the current rupee-to-dollar rate of exchange).
Interested readers can learn more about India's first wind tunnel on the GravityZip website.
Published: March 14, 2022 | Last Updated: March 14, 2022
Written by,
Owen Clarke
Owen Clarke
is an American action sports and adventure travel journalist. In addition to serving as an executive editor at Indoor Skydiving Source, he is an editor-at-large for
Climbing
magazine and lead writer for the adventure guiding outfitter
Benegas Brothers Productions
. He also writes for Backpacker, Outside, SKI, and Trail Runner, among other publications.
Don't miss an update!
Join our mailing list for the latest indoor skydiving updates delivered directly to your inbox.