News
French Skydive Champion + Wind Tunnel Coach Domitille Kiger Collabs with Fashion Designer
The famed wind tunnel coach/owner and FreeFly World Champion worked with Dutch designer Iris van Herpen on her latest couture line, "Earthrise."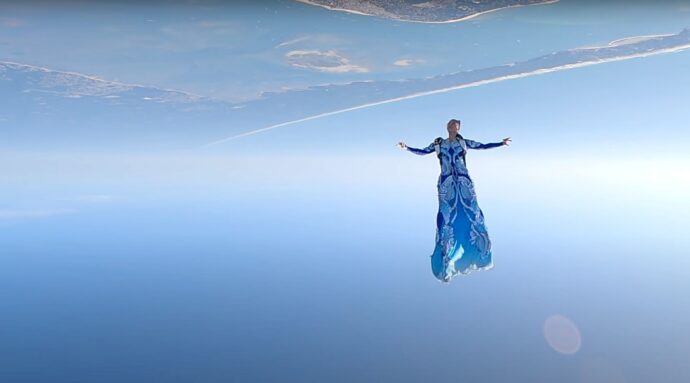 July 14, 2021
Owen Clarke
Expert Parisian skydiver and wind tunnel coach Domitille Kiger has collaborated with Dutch fashion mogul and occasional skydiver Iris van Herpen on a new fashion line. The collection, "Earthrise," is inspired by the freedom of skydiving and was designed largely in wind tunnels with advice from Kiger.
Kiger became "the first such athlete to wear couture during an aerial performance," according to Vogue, when she jumped headfirst from a plane in a dress designed by van Herpen for the haute couture Earthrise collection. The dress was designed with a Neoprene composite with stretch qualities so as not to disintegrate during the freefall. A series of hand-stitched discs integrated into the dress were made using materials from Parley for the Oceans, a movement that recycles ocean plastic. These discs were chosen "to express the turbulence that Kiger, the dress, and the Earth itself are enduring," according to van Herpen and Kiger.
Watch Kiger Jump in the Earthrise Dress:
Iris van Herpen ~ Earthrise
"Throughout my flying career, I have always loved mixing sport and art," wrote Kiger on Instagram. "Working with Iris on the Earthrise collection took this inclination to the next level. What a privilege to work with such a fascinating artist on having those two worlds of fashion and skydiving collided! I have been deeply inspired by this collaboration, and by Iris as a person. And I'll forever be grateful to her for the way she saw, and is now showing to the world, how a human body can fly."
Kiger, who was a key member of the French National Freefly Team from 2008 to 2012, won the Fédération Aéronautique Internationale (FAI) World Championship in Dubai in 2012. She later became immersed in indoor skydiving, and recently collaborated with several others to launch the zerOGravity wind tunnel in 2020. This new wind tunnel, of which Kiger is co-owner and sports manager, is located at the Futuroscope amusement park near Poitiers and became the first indoor skydiving location in western France.
Kiger was a featured panelist at the inaugural Indoor Skydiving Global Summit last year and is regularly a judge, competitor, or commentator at a variety of international indoor competitions.
"Skydiving is all about presenting your body to the wind in a certain way that it implies a certain movement, either speeding up or slowing down or moving left or right, forward, backward," Kiger told Women's Wear Daily. "So when you have fabric lapping around, it catches the air and it makes some small modification to your movement. What was really interesting about this collaboration with Iris was giving them feedback on what was possible, what was survivable. The dress that I ended up jumping in was the fruit of this discussion. So it was a really, really cool experience for me to be part of this process."
Published: July 14, 2021 | Last Updated: August 16, 2021
Written by,
Owen Clarke
Owen Clarke
is an American action sports and adventure travel journalist. In addition to serving as an executive editor at Indoor Skydiving Source, he is an editor-at-large for
Climbing
magazine and lead writer for the adventure guiding outfitter
Benegas Brothers Productions
. He also writes for Backpacker, Outside, SKI, and Trail Runner, among other publications.
Don't miss an update!
Join our mailing list for the latest indoor skydiving updates delivered directly to your inbox.