Tunnel Talk
iFLY Montreal and its Veteran Indoor Skydiving Team
Let's hear from iFLY Montreal—the oldest operating wind tunnel in Canada—which is now offering virtual reality flight experiences!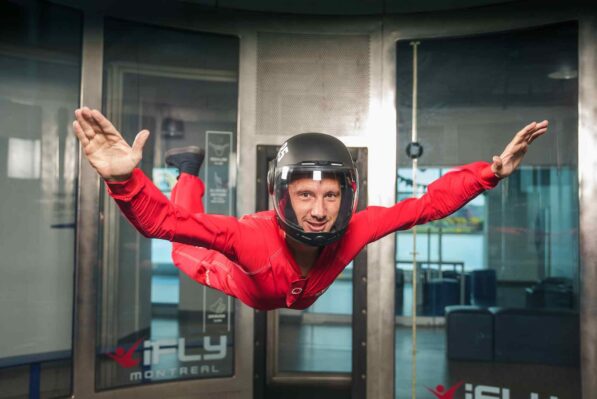 October 24, 2022
Owen Clarke
iFLY Montreal is Canada's oldest operating wind tunnel. Formerly known as SkyVenture Montreal, the 14-foot (4.3 m) recirculating tunnel sports a 9-foot (2.7 m) flight chamber, and reaches speeds up to 162 mph (261 kph). The iFLY Montreal facility has welcomed flyers since 2009, but closed in March 2020, amid the early days of the coronavirus pandemic.
From 2009 until its pandemic closure in 2020, it was part of a trifecta of privately owned Canadian SkyVenture tunnels, along with the tunnels that are now iFLY Toronto Oakville and Whitby. During the dark days of the pandemic, SkyVenture Montreal and its sister tunnels were all bought out, re-opening in March 2022 under the iFLY banner.
iFLY Montreal Joining the iFLY Family
Indoor Skydiving Source spoke with Jean-Christophe "JC" Ouimet, iFLY Montreal's general manager, to learn a bit more about the tunnel's unique story.
Ouimet has worked at iFLY Montreal since it opened in 2009, back when it was the only operating tunnel in the country. Although he said he's always been happy working at the tunnel, he feels things are slightly better nowadays, under iFLY, than when they were independent, and particularly for the instructors. "We all lost our jobs (when the tunnel closed in 2020), but most of the full-time instructors got rehired by iFLY," he said. "I'm not part of the instructor team anymore, as a GM, but I talk to the instructors daily and they get more commission, are paid more—basically they're much better compensated now."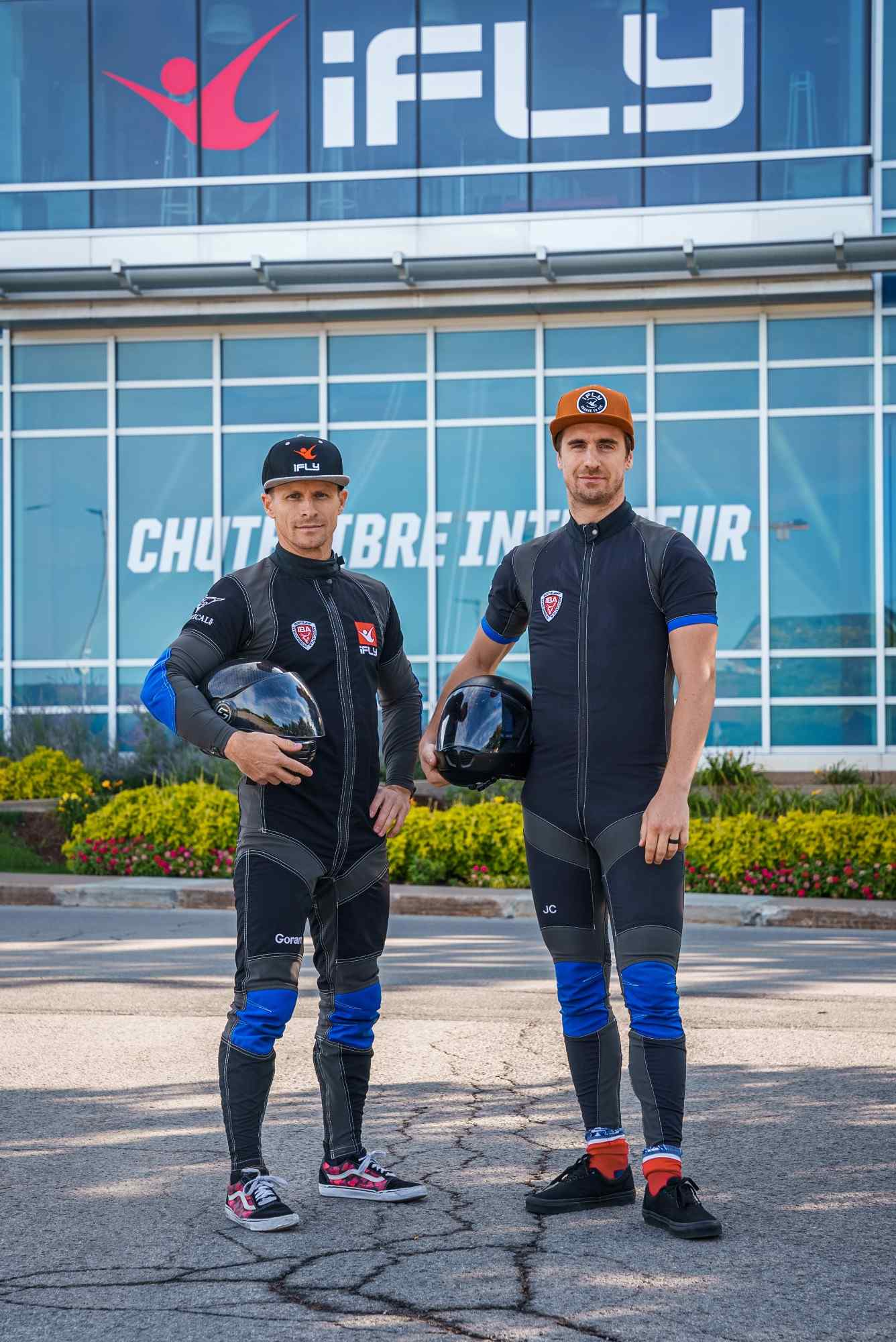 He added that being a part of the larger iFLY family also makes the day-to-day operations of the tunnel much easier. "The fact that we're working with a bunch of other tunnels and having this large network makes it more efficient," he said. "We were doing fine [as SkyVenture Montreal], but we were really behind on some things. For example in 2020 when we closed, we didn't even offer online bookings. We have that now. Stuff like that makes things run much smoother."
iFLY Montreal's Veteran Indoor Skydiving Team
One thing that's unique about iFLY Montreal is that it has an extremely experienced team of instructors and coaches, several of whom have flown and worked there for nearly 15 years, like Ouimet, who began working as an instructor when he was only 19 years old. Many other instructors have been there for at least a decade, or close to it.
This is something that can't be said about newer tunnels, naturally, and few older tunnels have staff that stay on that long. Ouimet credits this longevity to a strong feeling of family and community that has persisted at iFLY Montreal, even from the early days. "The skydiving scene in Canada was way different back then [in 2009]," he said. "And [the other instructors and I] knew that if we stuck around the tunnel, we would become much better flyers, and make our way through the sport at a faster pace than most people did in the past. Lots of us started competing because of that—being part of that first team gave us opportunities both in the tunnel community and in the sky."
Ouimet competed at Skydiving Worlds up until 2019, in both vertical formation skydiving (VFS) and formation skydiving (FS), medaling in 2014, 2016, and 2018, and also flew Dynamic in the tunnel in several international events.
A Community of Indoor Skydivers at iFLY Montreal
Out of all the Canadian wind tunnels (six in total), Ouimet reckons iFLY Montreal has the largest community of skydivers and professional flyers. This is primarily because there are four drop zones within an hour's drive from the tunnel, and many more nearby. (For more on outdoor skydiving and skydiving drop zones, check out our sister site: Skydiving Source.) "Obviously, we're a first-time flyer business," said Ouimet, "and on weekends we do a lot of first-time flights at the tunnel, but during the week we're packed with skydivers all the time."
He noted that since the tunnel is a fairly new addition to the iFLY fold, and they're still working out some kinks, they haven't started doing any adult leagues, kids clubs, or other events for serious flyers, but all of that is in the works for this coming winter. "At the moment, I think we have 40% pros and 60% first-time flyers coming to fly," he said.
Virtual Reality… The New Frontier in Indoor Skydiving?
Although iFLY Montreal is the oldest wind tunnel in Canada, it remains on the cutting edge of the indoor skydiving movement. Like other iFLY Canada locations, it's now offering virtual reality flights—an experience Ouimet said is surprisingly thrilling, even as an experienced skydiver. "As a skydiver and a tunnel flyer, when I tried it at first I was like, 'Ok, that's gonna be fun, but whatever.' Actually, I was really surprised at how cool it was."
The experience lets flyers choose between a wingsuit flight or several different experiences taking you through footage from drones flying wingsuit lines. "What we discovered that really makes it thrilling is the proximity and feeling of speed, so if we had the VR show a normal skydive jump you wouldn't get that sense of speed. A drone flying close to mountains, waterfalls—that's what we found works best." A single VR flight is fairly affordable, with a three-flight VR package (two normal flights and a third VR flight) coming in at around the same price as four normal tunnel flights. Each package costs 119.95 CAD (87.41 USD).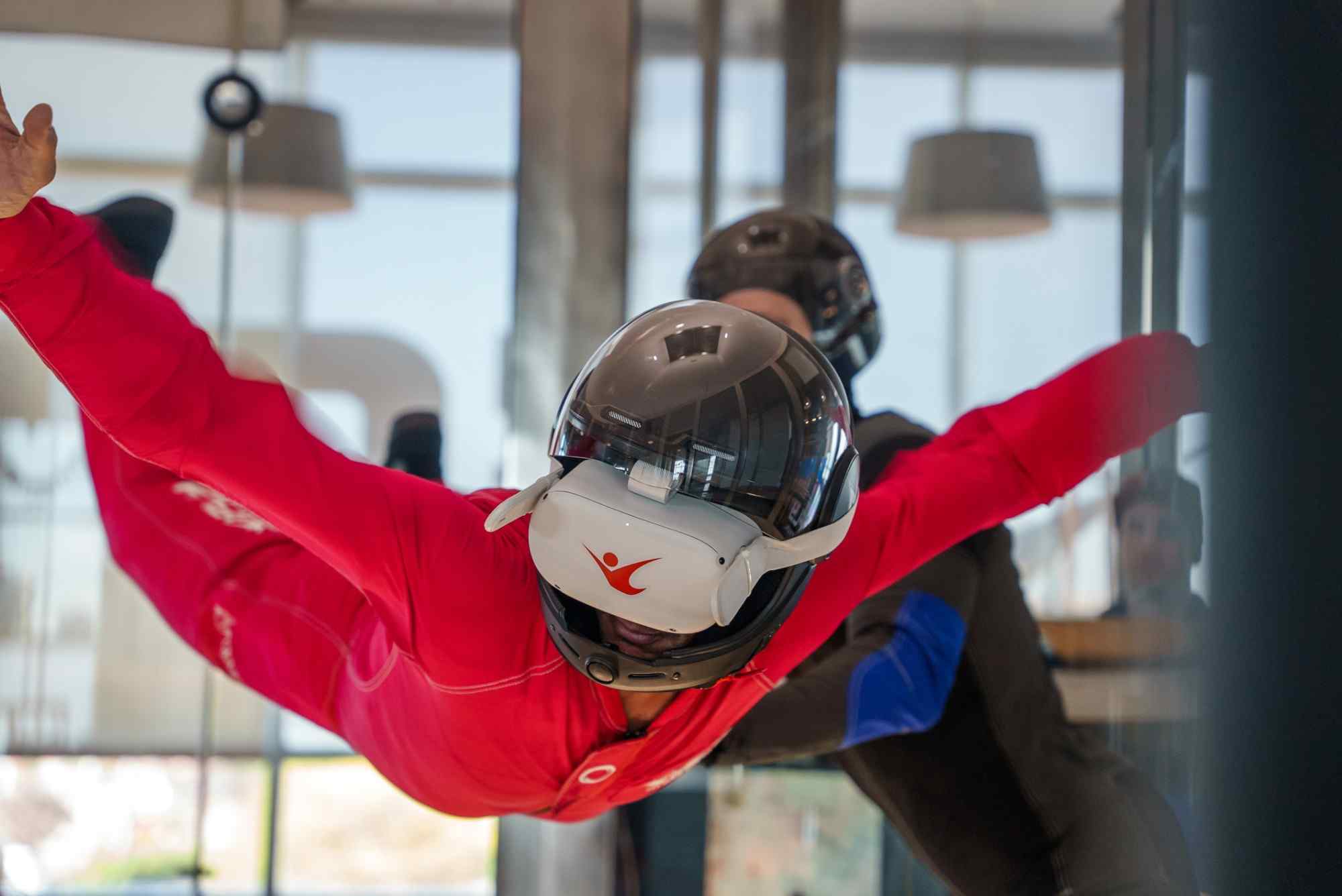 Ouimet said that without a doubt, flyers should try virtual reality their first time in the tunnel. "If they're interested, it's a really incredible experience for first-time flyers," he said. "You'll fly in the tunnel a couple of times, and get that feeling of freefall, and then you'll put the headset on and get the visuals as well. It's the full package. Even as a skydiver and tunnel flyer, it was amazing for me to try. I can't even imagine how cool it is for a first-time flyer."
He's worked in the tunnel for close to 15 years, so he's seen hundreds upon hundreds of flyers have their first experience indoor skydiving, and VR truly ups the ante. "People used to come out and talk about the high flight being the best part, but now everyone is saying the VR is the best," Ouimet said. "When they take the headset off, you can even see it in their eyes."
As exciting as the virtual reality experience is, Ouimet said he didn't see much potential for VR to train experienced flyers, simply because it's too far removed from reality. "Even as experienced instructors, we need someone in the tunnel to hold us when we're flying with VR because we have the headsets on and can't see anything," he said. "Also, the visuals [you see on the headset] sort of disorient you—they make you want to fly the line you're seeing, which obviously isn't possible." Because of that, he said, "I don't see how we could develop VR as a training tool… but who knows."
When I asked him what else he feels makes iFLY Montreal unique among other tunnels around the world, Ouimet laughed. "Well, we speak French and broken English," he said, chuckling, "but there's a real community here. We have many staff and flyers that have flown in this tunnel for a long, long time, and still love flying here today."
Published: October 24, 2022 | Last Updated: November 4, 2022
Written by,
Owen Clarke
Owen Clarke
is an American action sports and adventure travel journalist. In addition to serving as an executive editor at Indoor Skydiving Source, he is an editor-at-large for
Climbing
magazine and lead writer for the adventure guiding outfitter
Benegas Brothers Productions
. He also writes for Backpacker, Outside, SKI, and Trail Runner, among other publications.
Don't miss an update!
Join our mailing list for the latest indoor skydiving updates delivered directly to your inbox.