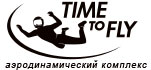 Time to Fly Overview
---
Time to Fly is a Tornado recirculating tunnel. It is the first stationary vertical wind tunnel in Siberia!
Time to Fly Flyer Information
---
Pricing
First Time Flyers:
2 Minutes: 2000 P
4 Minutes: 3000 P
6 Minutes: 4000 P
10 Minutes: 6000 P
Sport Flyers:
15 Minutes: 8000 P
30 Minutes: 10,000 P
60 Minutes: 15,000 P
Facility Offerings
Group/Event Hosting
Party Rooms
Age Limit
Flyers must be at least 4 years old.
Weight Limit
120 kg max
You should not fly if you are pregnant or have previous shoulder dislocations.
FAQs
News & Articles Related to Time to Fly
---
No News Updates or Articles for this location.
Videos
---
Photos
---
Time to Fly Reviews
Wind Tunnel Information
---
Instructor Rating System
Manufacturer
Tunnel Type
Recirculating
Open Since
2013
Flight Chamber Style
Round Wall-to-Wall
Flight Chamber Diameter
8.2ft (2.5m)
Flight Chamber Height
24.6 ft (7.5 m)
Top Wind Speed
168 mph (270 km/h)
---
Time to Fly Competitions & Events
No Upcoming Camps, Competitions or Other Events
If you know of an upcoming event at this or any location, please submit it through our event submission form
---
Recommended Articles
---
Tunnels Near Time to Fly
No other tunnels found within a 150 mile radius of this location
---