Gwada Fly Overview
---
Gwada Fly simulateur de chute libre en Guadeloupe
Gwada Fly is the first and only Guadeloupe Free Fall Simulator located on the beautiful Saint Francis airfield – a must-visit destination for all adrenaline seekers. With its unique free fall experience, Gwada Fly offers an exciting and safe way to get your heart racing without experiencing any feelings of vertigo or fear of emptiness.
Experience the incredible feeling of freefalling in a glass tube 6 m high, as if you were skydiving from 4200 m – at a fraction of the cost! This is an affordable and accessible experience with no need for special skills or qualifications, making it perfect for beginners who want to try something new.
At Gwada Fly, you'll be provided with all necessary equipment, such as jumpsuits and helmets, ensuring your safety at all times. Our instructors are highly experienced professionals who provide excellent training before each jump to ensure an unforgettable experience. You can also take advantage of our range of other services, including coaching sessions and personalized packages, making this an unbeatable choice for all types of indoor skydiving trips.
Come visit us today and indulge in one of the most thrilling experiences available on the French Caribbean island! Get ready to feel like your floating in mid-air while enjoying stunning views over the breathtaking scenery around Saint Francis! Gwada Fly is here waiting to provide you with a truly unforgettable experience that promises to leave you wanting more.
Gwada Fly Flyer Information
---
The Indoor Skydiving Experience
The entire first time flight experiences take roughly 1-2 hours. After arriving and checking in, you take part in a personalized training session before gearing up to fly. During your flights your instructor teaches you to fly your body. You take turns flying one at a time with other first time flyers.
Indoor Skydiving Gear & Training
You will be provided with all the equipment you need. This includes a jumpsuit, helmet, goggles and earplugs. Check out our
Gear Guide
if you're interested in taking your own equipment with you.
Age Limit
5 years and older
Weight Limit
People who weigh more than 105 kg must contact us before purchasing their service.
You should not fly if you are pregnant or have previous shoulder dislocations.
Pricing
Flights starting from €39
For first time flights we recommend between 2 and 6 minutes of flight time per person. This gives you enough time to understand the basics of flying your body and is plenty of time for a great experience. For more pricing information, read our
pricing article
.
Facility Offereings
FAQs
Wind Tunnel Information
---
Instructor Rating System
Manufacturer
Tunnel Type
Open Flow
Open Since
August 2020
Flight Chamber Style
Round Wall-to-Wall
Flight Chamber Diameter
8.2ft (2.5m)
Flight Chamber Height
N/A
Top Wind Speed
N/A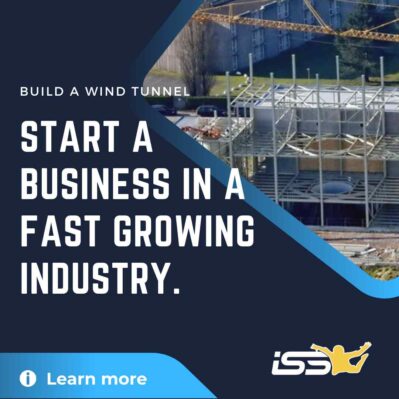 News & Articles Related to Gwada Fly
---
No News Updates or Articles for this location.
Gwada Fly Competitions & Events
---
No Upcoming Camps, Competitions or Other Events
If you know of an upcoming event at this or any location, please submit it through our event submission form
Tunnels Near Gwada Fly
No Other Tunnels Found within a 150 Mile Radius of this Location
Gwada Fly Reviews