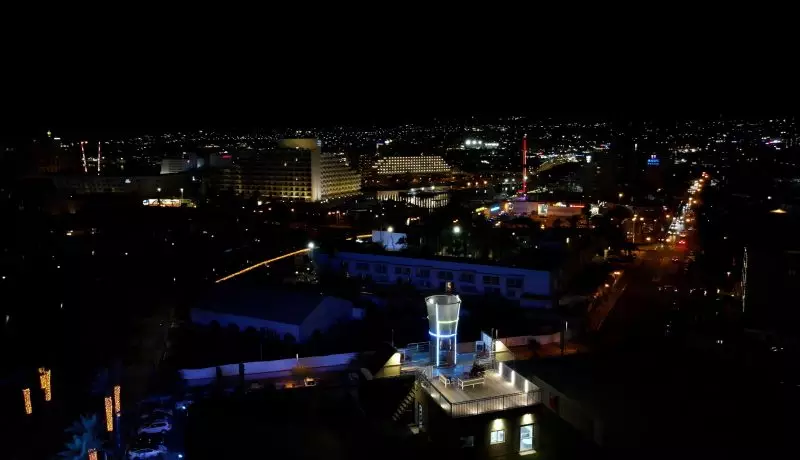 FlyXpress Eilat Overview
---
Come fly over the city!
A new extreme attraction has opened on the roof of the Icemall, which is
going to blow your mind:
FLYXPRESS EILAT – a wind tunnel that allows you to… fly! Real, without strings, just fly, like this, as you are, just like a bird. Exactly like a superhero as you have always dreamed about since you were a child.
The entry ticket to the aviation experience at FLYXPRESS EILAT includes:
Short explanation, aviation equipment rental (helmet, suit, seals and aviation goggles).
Flight time from 120 seconds, which is like the time of 3 freedives!
There is also a short flight demonstration by the instructor at the end.
If you're going to fly, let there be a view! FLYXPRESS EILAT is on the roof of the Icemall so you are actually flying over the city, with a fantastic 360-degree bird's eye view of Eilat.
In short, FLYXPRESS EILAT is going to take your vacation to new heights!
*The activity is suitable for the whole family from the age of 4.
FlyXpress Eilat Flyer Information
---
Pricing
We do individual fly and group events, for prices contact us.
Facility Offerings
Age Limit
From 4 y.o
Weight Limit
110 kg
You should not fly if you are pregnant or have previous shoulder dislocations.
FAQs
News & Articles Related to FlyXpress Eilat
---
No News Updates or Articles for this location.
Videos
---
Photos
---
FlyXpress Eilat Reviews
Wind Tunnel Information
---
Instructor Rating System
Manufacturer
Tunnel Type
Propeller Below
Open Since
01.08.2022
Flight Chamber Style
Round Wall-to-Wall
Flight Chamber Diameter
Flight Chamber Height
N/A
Top Wind Speed
N/A
---
FlyXpress Eilat Competitions & Events
No Upcoming Camps, Competitions or Other Events
If you know of an upcoming event at this or any location, please submit it through our event submission form
---
Recommended Articles
---
Tunnels Near FlyXpress Eilat
No other tunnels found within a 150 mile radius of this location
---