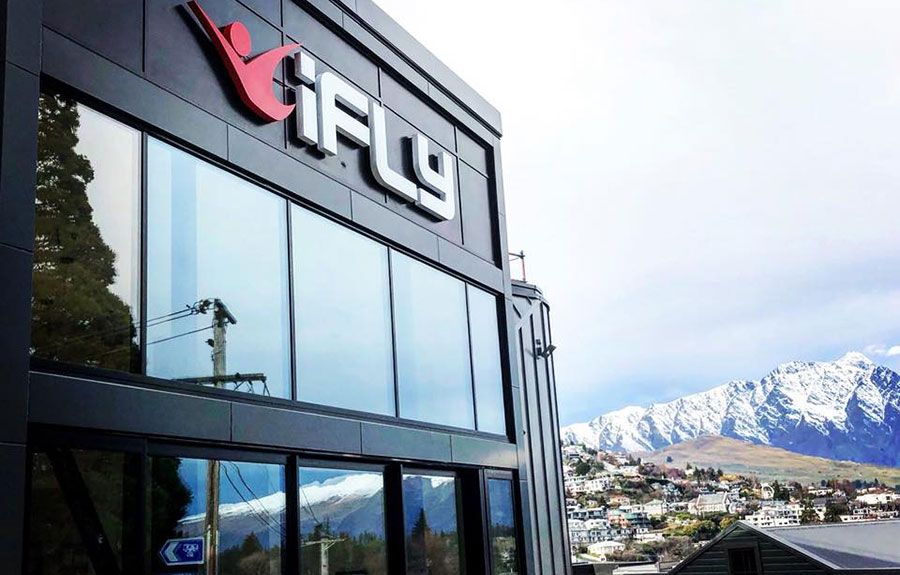 iFLY Queenstown Overview
---
iFLY Indoor Skydiving NZ has constructed a $15 million dollar indoor skydiving facility in Queenstown, New Zealand. The location sits on a plot near the Skyline gondola terminal on upper Brecon St. The location opened to the public on August 16th, 2018.
iFLY Queenstown Flyer Information
---
The Indoor Skydiving Experience
The entire first time flight experiences take roughly 1-2 hours. After arriving and checking in, you take part in a personalized training session before gearing up to fly. During your flights your instructor teaches you to fly your body. You take turns flying one at a time with other first time flyers.
What is Indoor Skydiving Video
What is Indoor Skydiving? - How & Where to fly!
Indoor Skydiving Gear & Training
You will be provided with all the equipment you need. This includes a jumpsuit, helmet, goggles and earplugs. Check out our
Gear Guide
if you're interested in taking your own equipment with you.
Age Limit
Flyers must be at least 3 years of age.
Weight Limit
136kg (300lbs) Max. Over 117kg (258lbs) must call ahead.
You should not fly if you are pregnant or have previous shoulder dislocations.
Pricing
For first time flights we recommend between 2 and 6 minutes of flight time per person. This gives you enough time to understand the basics of flying your body and is plenty of time for a great experience. For more pricing information, read our
pricing article
.
Facility Offereings
Group/Event Hosting
Party Rooms
Conference Facilities
FAQs
Ready to Fly!?
Reserve a Flight
Wind Tunnel Information
---
Instructor Rating System
Manufacturer
Tunnel Type
Recirculating
Open Since
Sep, 2018
Flight Chamber Style
Round Wall-to-Wall
Flight Chamber Diameter
12ft (3.7m)
Flight Chamber Height
N/A
Top Wind Speed
N/A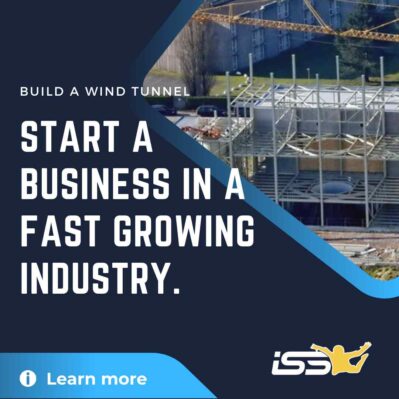 News & Articles Related to iFLY Queenstown
---
No News Updates or Articles for this location.
iFLY Queenstown Competitions & Events
---
No Upcoming Camps, Competitions or Other Events
If you know of an upcoming event at this or any location, please submit it through our event submission form
Tunnels Near iFLY Queenstown
No Other Tunnels Found within a 150 Mile Radius of this Location
iFLY Queenstown Reviews
---
Air is air
Nickname
:
Humble yourself
Review Date
: November 13, 2018

5
/
5
Stars
To all those that claim any one specific tunnel sucks and isn't good, you need to work on your flight skills. There is not a single trick or flight style that I am unable to achieve in any tunnel I have flown in. Yes I have to change how I approach the skill but it purely depends on your ability and determination. If you can fly a smaller tunnel and slower speed, then you can fly anything. Being spoiled is not a good thing.Get outside your current skill level and stop blaming the tunnel.
---
A must do !
Nickname
:
onehappydad
Review Date
: September 17, 2018

5
/
5
Stars
An amazing experience for my 88 year old father. He can't stop telling people about his flight... The staff, every one of them, were fantastic, and really went out of their way to make it a memorable experience for him. If my Dad, an 88 year old can do it, most can. Highly recommended. Go on - give this a go while in Queenstown!
---
Nickname
:
Fun flyer
Review Date
: September 4, 2018

4
/
5
Stars
---
Great addition to Queenstown
Nickname
:
Caroline
Review Date
: September 3, 2018

4
/
5
Stars
I think it's about time Ifly has made its way to Queenstown, one of the most adventurous places in the world! I got to do this with a few friends and it was a lot more exciting and a bit more nerve racking than I had anticipated. Great activity to do on a rainy day or if you're not keen to jump out of a plane! Also, just good fun for anyone. At first they take you up to get a feel for it, but they also let you go in with a professional who spins you up in the air... Very cool, and you feel like you're going super fast but it's all so well controlled by the instructor. Definitely something I'd recommend:)
---
Awesome experience!
Nickname
:
Sunnymom12
Review Date
: August 18, 2018

5
/
5
Stars
Fantastic staff and amazing experience from start to finish. MUST DO IN QUEENSTOWN!
---
Brilliant first flight
Nickname
:
Rose
Review Date
: August 8, 2018

5
/
5
Stars
We were invited for a famil today . Never ever thought I would have a go but amazing staff convinced me and I am so happy I did . So much fun Thankyou . Such a lovely building with the nicest friendly and kind staff.
---
No power -door issue- defusing
Nickname
:
Doc
Review Date
: April 23, 2018

1
/
5
Stars
Obviously nobody learned from building the tunnel on the Gold Coast. Too small for dynamic stuff and you get starved because it's diffusing when you fly up. The door needs a cap because othereise the air is yoo disturbed. Leave your DEEM at home because all you can make is headstands in the net.
---
First tunnel in New Zealand and it's a 12R2?
Nickname
:
Slow and small
Review Date
: September 26, 2017

2
/
5
Stars
You spend $15 mil on a tunnel and it's a crappy 12r2. Not only is every 12r2 in the states failing right now your entire Instrcutor core has explained to you this tunnel is slow, small, and hard to fly in. It is only for first timers. This tunnel doesn't allow any type of really dynamic or static head down flying. What a waste.
---
Cool
Nickname
:
T
Review Date
: May 27, 2016

5
/
5
Stars
Lets to this!
---
Nickname
:
Tygersan
Review Date
: March 24, 2016

5
/
5
Stars
We tried the iFly in union city, CA, USA last March 2016. The kids totally love it, it was worth the trip from Suisun city, CA. My daughter (she is 7 years old) rated the iFly experience as her most enjoyable experience in our US trip, together with Disneyland adventure. We will be in Queenstown in 2017 hope you guys are open by then. My kids would be delighted to renew their iFly experience. Kia Kaha!
---